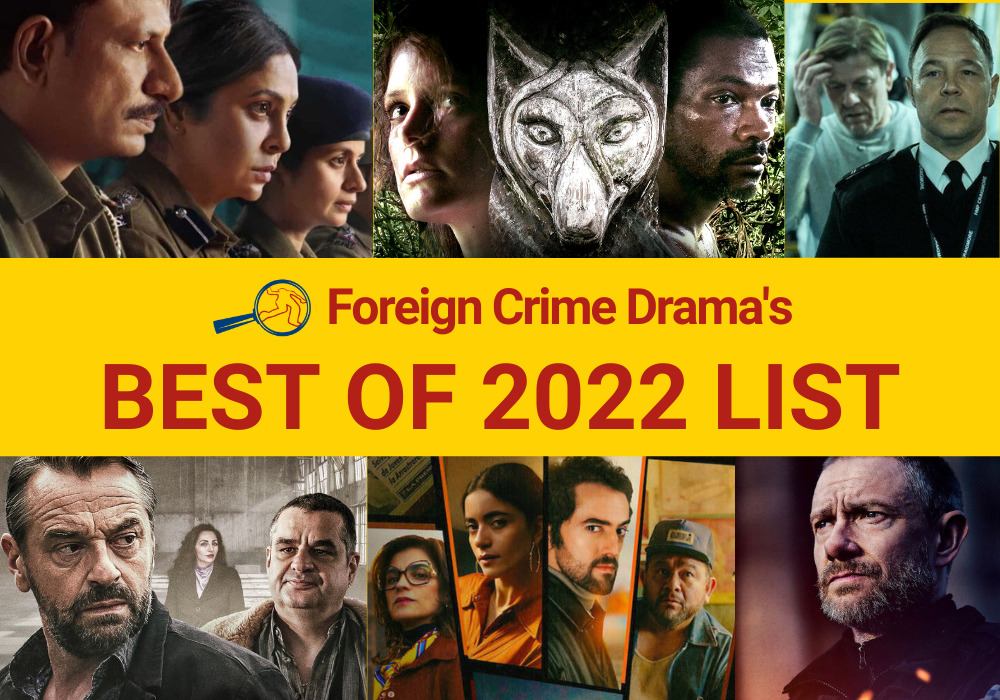 It was a banner year for world drama once production resumed post-COVID. We have 8 entries on our list, with half being sequels. While we found Peaky Blinders 6 to be too bleak, and Entrapped (Trapped season 3) uneven, we loved the second seasons of The Truth Will Out, Delhi Crime, Wisting, and the third season of Undercover. And despite the widely anticipated 1899 being too clever for its own good, there were some (mostly British) standouts in new releases as well: Time, Sherwood, The Responder, and Iskander. We've also included 4 honorable mentions. What were your favorites this year?
Best Sequels
The Truth Will Out Season 2, Sweden, Acorn
Season 2 finds the cold case team back together, led by a gloomy Peter (Robert Gustafsson) and an unofficially promoted Barbro (Ia Langhammer), ensconced in a racquetball court in a leaky basement. When a colleague dies, the team is assigned to find out why he had several of their files in his house, "but nothing else." Naturally, they aren't going to stop at that. The mystery is disturbing and twisty, if a little tidy, but still satisfying. What I love about this series, and it continues in season 2, is the chemistry between Peter and Barbro, as well as the theme of finding a chosen family.
Delhi Crime Season 2, India, Netflix
Deputy Police Commissioner Vartika Chaturvedi (Shefali Shah) and her loyal inspector Bhupendra Singh (Rajesh Tailang) are back, again with a case based on actual crimes. A ruthless gang is breaking into the homes of wealthy elderly people, murdering them with crude implements, stealing valuables, eating their food, and then defecating on the floor as a final insult. The crimes mimic those of the Kaccha Baniyan, who terrorized Delhi in the 1990's. When her superiors push Vartika to solve the case quickly, she must choose between what is right and what is expedient. Delhi Crime season 2 is beautifully produced, and takes the time to check in on the subplots of our characters' lives.
Wisting Season 2, Norway, Sundance Now/AMC+ 
Wisting Season2, based on the novel The Inner Darkness by Jørn Lier Horst, was a much better adaptation than season 1 . Chief Inspector William Wisting and his team are escorting a convicted serial killer from prison to a crime scene in hopes that he will lead them to the remains of one of his victims. Instead, he fakes a fall, trips a pre-planted flash grenade, and escapes into the woods. Now Wisting has TWO people to find-the killer and whoever helped him escape. At the same time, he has both Kripos (FBI) and the Oslo PD breathing down his neck, while at the same time keeping him in the dark about what they know. It's a taut and fast-paced mystery over 4 gripping episodes. Note that I didn't feel season 3, also released in 2022, was as strong, but still much better than season 1.
Undercover Season 3, Belgian/Dutch, Netflix
Season 3 of Undercover is a murderous version of The Odd Couple. Drug kingpin Ferry Bouman (Frank Lammers) is sprung from jail to go undercover and bring down a rival Turkish gang. The catch is that he has to work with Bob Lemmens (Tom Waes) the very cop that put him in jail. While Ferry is an unflinching bluffer who is excellent at negotiating, he is also a loose cannon. And Bob has a hard time pretending to be the boorish Ferry's longtime business partner. Truly nobody can trust anyone in this series, and it makes for some stomach clenching tension. Plus, Ferry is just fun to watch. You don't even need to watch the first two seasons to enjoy Undercover Season 3.
New Releases
Time, UK, Britbox
Time features tour-de-force performances by its two leads: Stephen Graham and Sean Bean. Mark (Sean Bean) is a mild-mannered teacher headed to prison for killing someone while driving drunk, and McNally (Stephen Graham) is the guard on his wing. McNally, who is excellent at his job, is forced to make a damaging compromise when a gang threatens his son in another prison. Through Mark's eyes, we see what a hell prison is with its playground rules and ignorant population. Yes, it's heavy, but it's only 3 episodes, and the acting is truly riveting.
The Responder, UK, Britbox 
The Responder is another British character study featuring Martin Freeman as Chris Carter, a Liverpool cop working the night shift populated with junkies, hookers and petty gangsters. He has a rapport with all of them, but he's fried. Meanwhile, he's been saddled with a rookie, his wife may be cheating, and his mom is dying of cancer. In fact, he is not sure he will make it through the week, despite mandated therapy sessions. I was worried that The Responder would be too grim to enjoy, but I was wrong. Martin Freeman is fantastic, and there are some funny and genuinely touching moments.
Sherwood, UK, Britbox
Sherwood is a classic British small-town murder mystery, but extremely well done. Nottinghamshire is a Northern England town that was split between strikers and "scabs" during the miners' strike of 1984-85. Families were divided, friendships ruined, and people have held 30-year grudges. When one of the most vociferous of the union loyalists is killed, local DCI Ian St. Clair (David Morrissey) leads the case, even though it's way below his rank. But he knows all the players, and through the eyes of the investigation, we get to know them too. Meanwhile, another murder further complicates matters. The show is not a "cozy", and it's got an all-star cast. Sherwood is as much about solving a murder as it is about overcoming history, and it's excellent.
Iskander, France, Topic 
Iskander is set in French Guiana, a former penal colony on the northeastern tip of South America. Chloé (Stéphane Caillard) is sent from Paris to Cayenne, the capital, as punishment for insulting a superior. She is assigned to work with local detective Dialo (Adama Niane), who is not happy about it. When a white couple is murdered and their son kidnapped, Chloé and Dialo are drawn into the dark heart of a voodoo-like religion to solve the case and find the boy. With its exotic locale, titillating horror of dark rituals, and Nordic-noir elements, I loved Iskander and binged all 4 episodes in one sitting.
Honorable Mentions
I have 4 honorable mentions this year, which are usually shows that stuck with me, but may not appeal to all of my readers. Echos on AMC+ is a German series about the repercussions of a fire breaking out at an illegal rave in the Munich subway. It's a drama about rich versus poor, and even though it features a lot of over-privileged teens, it's exceptionally well done.
Annika, on PBS/BBC, is an adaptation of a radio show, both featuring Nicola Walker as a DI newly transferred to the Scottish Marine unit. Each week, the team solves a new crime, and Annika ties the case to a piece of literature, such as Moby Dick. Like The Office, Annika addresses the audience directly, which actually works here. If you like Vera or Shetland, you will like Annika.
Although I watched and loved Pagan Peak season 1 on Topic in 2022, it's a few years old. Season 2 arrived in the US in 2022, but wasn't as strong. Nonetheless, I wanted to mention the series because it's a good one. Loosely based on The Bridge, Pagan Peak has cheery German detective Ellie Stocker (Julia Jentsch) working with brilliant-but-burned-out Austrian detective Gedeon Winter (Nicolas Ofczarek) to catch a murderer who left his victim on the border between the two countries. I love the True Detective-like sense of foreboding and the gorgeous cinematography of this series. Although season 2 doesn't get Gedeon and Ellie working together until episode 5, it's still good. Just not as good as season 1.
Belascoarán, on Netflix, is a Columbo-like detective series based in 1978 Mexico City. Héctor Belascoarán (Luis Gerardo Méndez) is a newly minted private investigator who makes up for his lack of experience with bravery and smarts. He relies on the hookers and push cart vendors of the neighborhood to give him clues, and presses his office-mate, a plumber, into helping solve cases. And there are strong women, too-his communist professor sister and his race car driver girlfriend. The series is based on the books by Paco Ignacio Taibo II. I found this show to be extremely enjoyable, in the same way Jack Irish is. It touches on the politics of the day, but doesn't preach. You do have to suspend some disbelief, however, which is why it didn't make the official Best of list. Still, I highly recommend it.
Looking for more of the best in foreign TV?  Don't miss our other great reviews HERE!