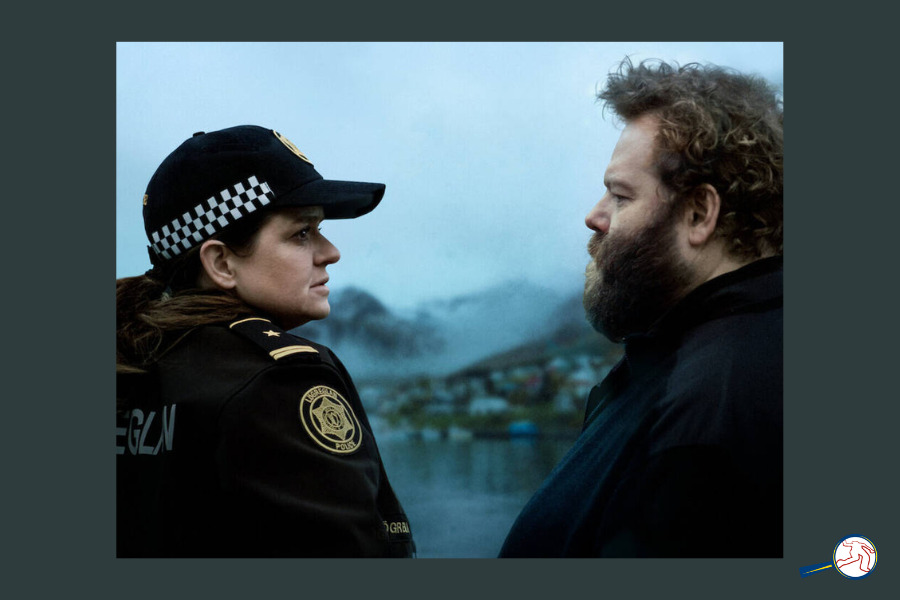 Entrapped on Netflix is technically season 3 of the Icelandic series Trapped, starring Ólafur Darri Ólafsson as Reykjavík police detective Andri Ólafsson. When Ívar (Jóhan Kristófer Stefánsson), a young man that was involved in one of Andri's old cases, is murdered, Andri goes north to solve the crime with his colleague Trausti (Björn Hlynur Haraldsson). Conveniently, the murder happened right outside Siglufjörder (we finally get a name!), the town where Andri used to be police chief, so he is reunited with friend and colleague Hinrika (Ilmur Kristjánsdóttir). The main suspect is Gunnar (Haraldur Stefansson), the head of a motorcycle gang that is in a land dispute with The Family, a religious sect Ívar belonged to. The case is further complicated by the fact that Ívar was the main suspect in the disappearance of his girlfriend Lína (Christina M. Goldstein) 7 years earlier in Reykjavík.
For more recommendations of Icelandic crime dramas, click here.
The complications
Naturally, the case is anything but straightforward. The Danish arm of the motorcycle gang arrive, led by the menacing "Danish Hopper" (Thomas Bo Larsen), ostensibly to help with the land dispute, but actually to expand their Nordic drug network. Soon Andri, Trausti and Hinrika are shut down by Sonja (Svandis Dora Einarsdottir), a detective on the narcotics squad who has been working for years with the Danish police to catch Hopper in the act of receiving a drug shipment, and put him away for good. Ívar's murder investigation is jeopardizing her undercover assets. Trausti in particular is incensed. "I outrank her!" he tells the superintendent (Skúli Gautason). "Do what she says," is his response. To Andri and Hinrika's frustration, Trausti "accidentally" tips off the gang by asking questions about drugs, when he should be focused only on the murder and the land dispute. The superintendent is forced to banish Andri and Trausti from the investigation. Yeah, right.
To see what other foreign crime dramas on Netflix we like, click here.
Andri's story
Entrapped gives us some backstory on Andri that doesn't jive with our view of him as a kind cop who has a way with people. In flashbacks to 7 years ago, we see Andri and Trausti working together in Reykjavík on a case of a missing woman, Lína. Lína's boyfriend, Ívar, is in the interrogation room and he is insisting he didn't kill her, but Andri is sure he did. They get into an argument, and Andri slams Ívar against the wall forcefully enough to draw blood. Andri is transferred to Siglufjörder as punishment, and Lína is never found. Ívar's parents malign Andri for causing their son to live with the stigma of everyone thinking he's guilty. Flash forward to the present and Ívar has joined The Family, rising to the right hand of Oddur (Egill Ólafsson), the leader. When Ívar is murdered, Andri is compelled to do right by the family and find his killer. I'm not sure I buy Andri as a bad cop, but OK, it's a plot catalyst, I get it.
Love Nordic Noir? Find more suggestions here.
Our Take on Entrapped
There are some definite problems with Entrapped. One is that, because the murder investigation gets paralyzed by the drug sting, the show sags. It pivots to the undercover assets, who I won't spoil here, but all of sudden there are a whole new set of characters with their own dramas, none of which I care about, even though they are key to the resolution. Two, the whole thing is a little complicated, made worse by the action moving between Reykjavík and Siglufjörder every episode. Three, the subplot about The Family turns out to be a non-starter. Four, and this is minor, Thomas Bo Larsen is wasted here; they don't give him anything to do but look scary and make threats. Nevertheless, I enjoyed it. I just love being in that world with Andri and Hinrika. As always, I relish the subplots about their personal lives-Hinrika and her husband have taken in their young nephew, and Andri is making amends with his father-in-law and his mother. Even though the plot meandered and I got a little restless, I binged Entrapped, savoring my time in the gorgeous landscape with some of my favorite characters.
Looking for more of the best in foreign TV? Don't miss our other great reviews HERE!