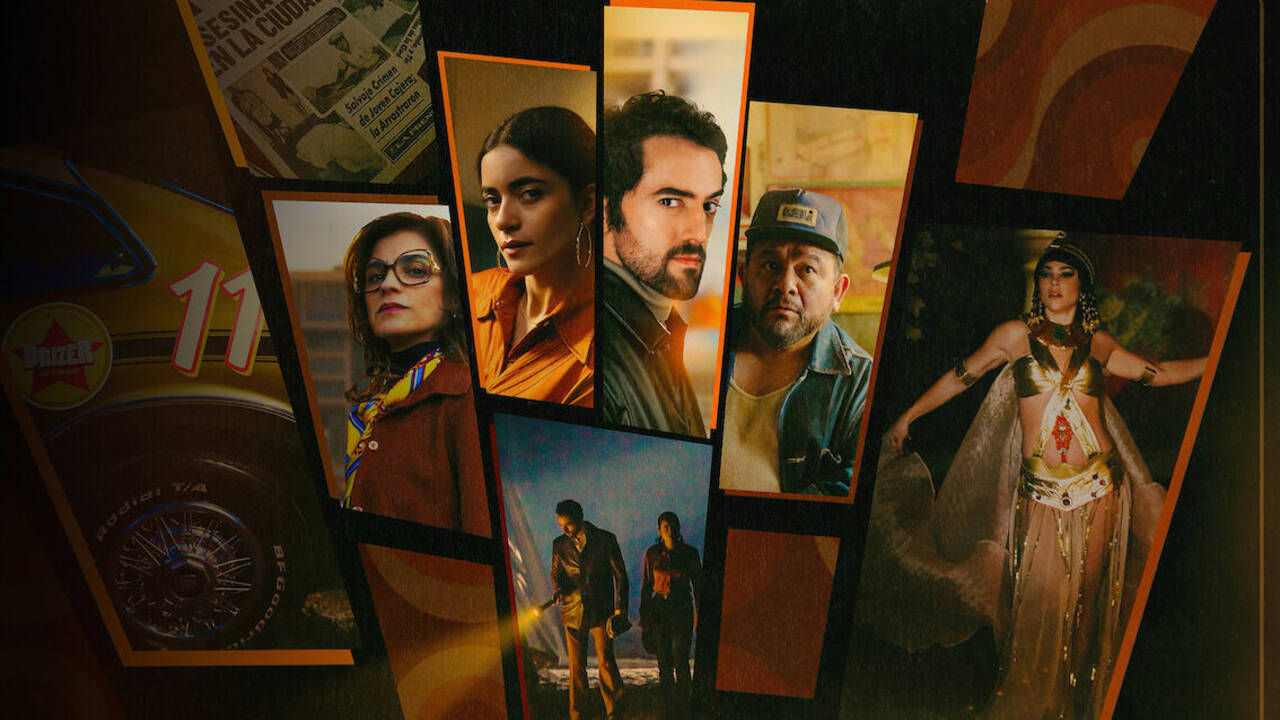 Belascoarán, PI is a Columbo-style Mexican detective series on Netflix. Héctor Belasoarán Shayne (Luis Gerardo Méndez) is a self-proclaimed private investigator in 1978 Mexico City. Based on a series of books by Paco Ignacio Taibo II, (affiliate link) Belascoarán dispatches with his wife, engineering job and comfy home to embrace his dream of becoming an "independent detective". What he lacks in experience he makes up for in smarts and bravery. Each of the three episodes are around 90 minutes long, and solve one mystery. There is a likable cast of recurring characters that provide comic relief. While the cases are dark, the series isn't, and neither is Belascoarán. He is refreshingly stable and cheerful, even. The production clearly had a nice budget, and while I had to suspend some disbelief (where did he get those hand-to-hand combat skills?), the best adjective I can think of to describe Belascoarán, PI is enjoyable. 
The Characters
Belascoarán is pleasant, clever and a bit foolhardy. His first case, which he assigns to himself, is catching a serial strangler that is tormenting Mexico City. To get the strangler's attention, he appears on the $64,000 Question gameshow as an expert on stranglers. His tactic works, and soon he is playing cat and mouse with the killer. Meanwhile, he meets Irene, aka "the girl with the ponytail," (Paulina Gaitan) who is a race car driver. They hook up and she becomes his girlfriend, although they spend a lot of time apart. As you can imagine, her driving skills come in handy several times over the course of the series. Belascoarán's sister is Elisa (Irene Azuela), a lefty professor and activist who takes after their mother. She and Belascoarán are very close. Gomez (Silverio Palacios) is a plumber who shares an office with Belascoarán, and gets roped into helping solve cases. Paniagua (Enrique Arreola) is the crooked cop of whom Belascoarán runs afoul in the strangler case, and he is the Big Bad throughout the episodes. 
Our take on Belascoarán, PI
Belascoarán, PI is halfway between a Nordic Noir and a British "cozy" in feel. It reminds me a bit of Jack Irish, but with a different sense of humor. Belascoaran is a wonderful character-friendly, loving, obsessed with justice, dogged. He relies on the pushcart vendors, nuns and hookers of the neighborhood to help him solve cases. And he's not a superhero-he takes his lumps. The production value is outstanding, with quick montages of actual footage giving us a taste of what was going on Mexico City in 1978. My only beef is that they took some shortcuts with the plot, but I think that stems more from the adaptation than anything. In fact, I suspect the books are darker and more political than the series. But if you are looking for a fun, engaging break from heavier fare, Belascoarán, PI is for you.
Looking for more of the best in foreign TV?  Don't miss our other great reviews HERE!