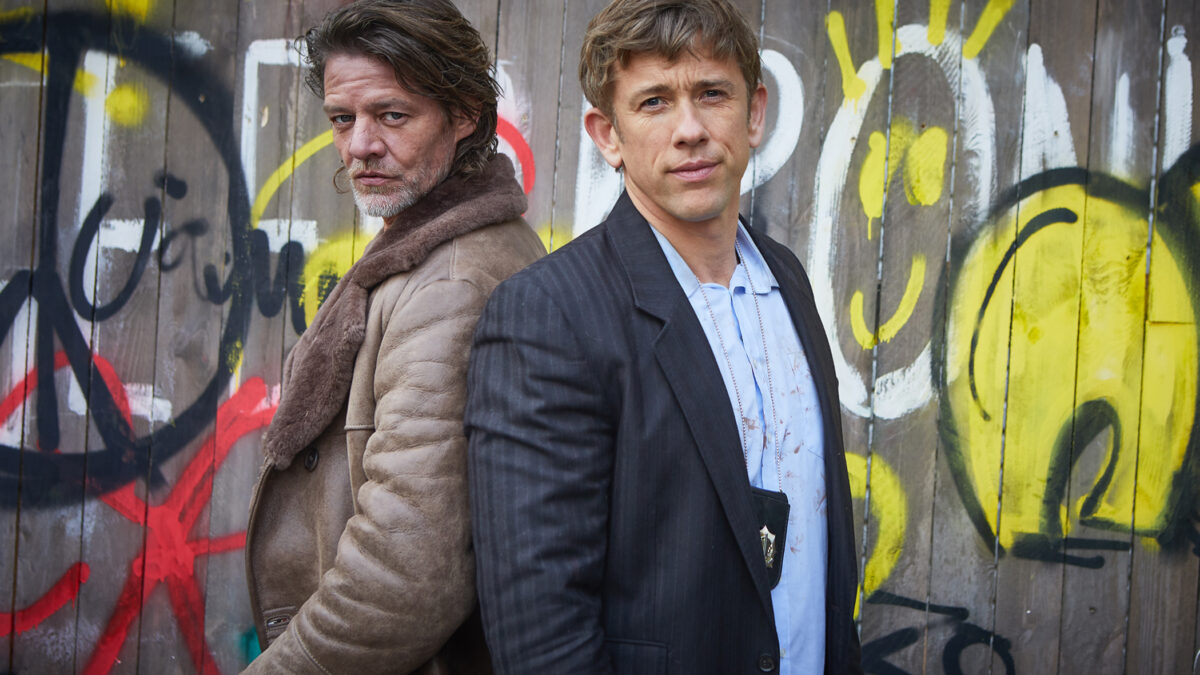 Amsterdam Vice, the Dutch series on Mhz Choice, is actually a prequel to the popular series Baantjer, about good-guy cop Jurre de Cock, who works the red-light district in Amsterdam. As such, in Dutch it's known as Baantjer Het Begin (Baantjer-The Beginning) The series starts with de Cock (which translates as "Cook" or "Cox"), here played by Waldemar Torenstra, on day one of his new job on the filthiest beat in the grittiest city in Europe in the 1980s. His streetwise partner Tonnie Montijn (Tygo Gernandt) doesn't want a Boy Scout from the country as a partner, but the chief (Peter Bolhuis) insists. The royal family has chosen their beat as the location to coronate Princess Beatrix, and everyone is tense. Not least because there are anarchist squatters that are no doubt planning an attack.
            Jurre de Cock is the main character in a popular Dutch book series by AJ Baantjer.(affiiliate link)
An Education
Day 1 doesn't go so well for de Cock and Montijn. When de Cock finds a floater in the canal and insists on pulling him out, Tonnie dresses him down. "You don't fish out drunks that fell in as they pissed in the canal. It's too much paperwork." But this corpse is different. It has the word "RAT" carved onto its torso. As the team works Montijn's shady contacts to stop the anarchists, de Cock (and the audience) gets an education in the ways of Amsterdam. He also meets Montijn's sister, Pien, and immediately falls for her, which causes a serious lapse in judgement later on, because she IS one of the anarchists. Meanwhile, it's becoming clear that there are bigger fish to fry here-drug trafficking and turf wars, arms dealing, and corruption. Worst of all, de Cock becomes convinced that Tonnie is on the take.
For more recommendations of Dutch Crime Drama, click here.
The Grit is Real
The production design of Amsterdam Vice is top notch. Amsterdam really was seedy and violent in the 1980s. Squatters settled in abandoned buildings, protesting a lack of housing, and rioting when authorities evicted them. Drug use was open and rampant. The production left no stone unturned in recreating the grime, much like The Deuce did for 1970s New York City. The characters are gritty, too. The anarchists use deadly force to make their point, the gangsters are irredeemable, and even Tonnie punches de Cock in the face to make him look more like a squatter before he goes undercover. I see that fealty to realism as a mark of quality, but some may feel it's harsh or depressing. Yet, the series is not humorless. I have seen shows that are unrelentingly bleak, and I can't get through them.
See what else we recommend on Mhz Choice
Our Take on Amsterdam Vice
The plot of Amsterdam Vice is a little complicated, especially since the writers are purposefully keeping us in the dark about who to trust. When one character is hied to a warehouse by some toughs, he says, "I didn't say anything to the police!" The goon responds, "We are the police." I was as surprised as he was. As a character, Jurre de Cock can be annoying, self-righteous and naïve, but he does learn from his mistakes. Because this is a prequel, the whole point is to see de Cock's innocence stripped away, painfully, until he becomes like Tonnie, who has a more flexible moral code. Overall, Amsterdam Vice is a well-paced, engaging series that takes place in a true wreck of a city that has been sanitized over time.
Looking for more of the best in foreign TV?  Don't miss our other great reviews HERE!