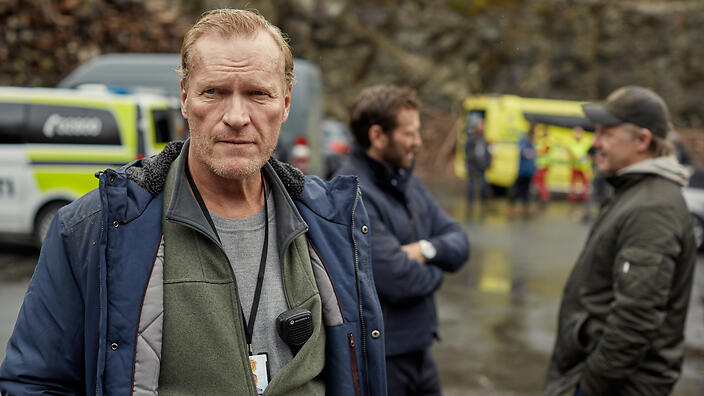 Wisting season 2, on Sundance Now or AMC+, is based on the Norwegian novel The Inner Darkness by Jørn Lier Horst.(affiliate link) Inspector William Wisting (Sven Nordin) and his team are caught on their heels when a convicted serial killer Tom Kerr (Odin Waage) escapes their custody while searching for remains at a crime scene. It's clear that Kerr had help from the outside, so not only is the team hunting Kerr, but also his unknown accomplice. Meanwhile, Kripos (Norway's FBI) and Oslo PD are brought on the case, causing some serious jurisdictional tension. A desperate manhunt is a good structure to hang a series on, and I much preferred season 2 over season 1, which I found confusing. This time out, the showrunner kept the adaptation tight and the pace swift, with some interesting red herrings.
Love Nordic Noir? Click here for more suggestions.
Cold Case
We open on Wisting and his prickly partner Nils (Mads Ousdal) in the woods, talking about the fact that the dogs haven't found the remains they are looking for. Then we cut to Line ("Lena") Wisting (Thea Green Lundberg), filming a prisoner in chains (Tom Kerr) as he is led out to a police caravan. She is filming a documentary on the nature of evil, and Tom Kerr is one of her subjects. Agent Stiller (Kyrre Hellum) from Kripos stands next to her, reminding her that anything she records belongs to Kripos. The caravan meets up with Wisting and Nils in the woods. Apparently, Kerr is going to lead the team to the remains of a young man that Kerr killed 5 years ago, but whose body was never found. Instead what happens is that Kerr falls down, grabs a grenade that was planted there for him, and uses the explosion to cover his escape. Whoops. After they recover from the shock, and with the help of Line's footage, the team realizes that the escape was planned and someone helped him do it.
Check out more Norwegian crime dramas here.
The Other One
When the murders happened 5 years earlier, there was a rumor that Kerr had help. His accomplice was known as "The Other One", but the theory was discredited by the Larvik police department, which is headed by Wisting. However, Kripos knows more than they are letting on. Turns out, there was a murder with the same MO that happened AFTER Kerr went to jail, but that was kept quiet-even Wisting wasn't told about it. Before the search, Stiller put trackers in Kerr's shoes because he was betting on Kerr escaping with the help of "The Other One." This was Kripos' chance to prove their theory and find the accomplice. Boy, is Wisting's team livid for being left in the dark and basically used as bait in a Kripos operation. To make matters worse, and for an unexplained reason, Inspector Idar Semmelman (Hallvard Hollmen) from the Oslo police department is brought in to help with the manhunt. Wisting handles the jurisdictional politics with his usual aplomb, but it's beyond the pale for Nils.
Click here to see what other foreign crime dramas are on Sundance Now.
Our Take on Wisting Season 2
Adaptations can be difficult, because it's hard to know what to cut out. But Trygve Allister Diesen, the creator of the series, found his rhythm with season 2. He kept the story focused, and the character motivations understandable. I like the way he unspooled the story, and the red herrings around, "Who is The Other One?" are feasible. Sven Nordin is fantastic as Wisting; determined yet sympathetic, and a good leader. I have nothing against Thea Green Lundberg, but I just don't like the character of Line Wisting. I find her cold and ambitious and meddling, and I feel sorry for her long-suffering boyfriend (Mads Sjøgård Pettersen). But other than that, Wisting season 2 is gripping, and at 4 episodes, easy to binge.
Looking for more of the best in foreign TV? Don't miss our other great reviews HERE!