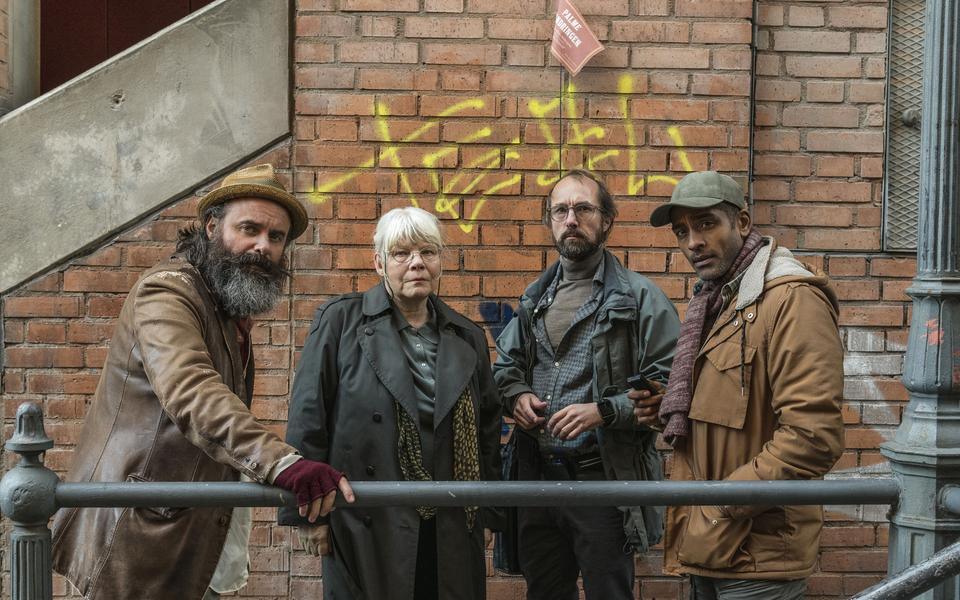 We Got This, a hilarious Swedish series on Sundance Now by Schiaffino Musarro, is about an American living in Sweden who embarks on a quest to solve the 1986 murder of Prime Minister Olof Palme. Just to clarify, the Olof Palme case is, in Sweden, the equivalent of the JFK assassination in the U.S. The only difference is that the government of Sweden offers a $5 Million reward to anyone who finds the killer. When the unemployed George (Schaffino Musarro), discovers that he has a $50,000 tax debt, he decides that solving the Palme case is the answer to his problems. Naturally, his intentions are met with derision.
Our Hero, George
George is a bit of a character. He has a look that stands out in Sweden, complete with a ratty leather coat, a straw hat, a long graying beard and a twirled mustache. He refuses to speak Swedish, even though he can. The reason he is unemployed is because, as a director of commercials, he got blackballed when he offended one of Sweden's most famous actors. He announces his new mission to anyone who will listen, much to the chagrin of his long-suffering wife (Sandra Andreis), cringing teen daughter (Ida Hedlund-Stenmarck), and journalist best friend Alex (Alexander Karim). Schiaffino Musarro is not the greatest actor (think Jerry Seinfeld), but it doesn't matter because he is a good enough writer to give himself strong material.
The Motley Crew in We Got This
What triggers George's interest in the case is the death of his neighbor. George is returning her escaped cat and discovers her hanging body. Seems like a suicide except that her corpse is wearing a bullet proof vest. While in her apartment, he finds a wall of information about the Palme case. George assumes she was killed for what she knew regarding Palme, and he immediately recruits a reluctant Alex to help him with the solve the murder. Soon enough, George has surrounded himself with a ragtag team of conspiracy theorists. There is Bjorn (Olle Sarri), the Palme Conspiracy authority, who wrote the "definitive" book on the assassination. Eva (Anki Larsson) is a taciturn librarian who is a treasure of information. Sture Norberg (Hans Mosesson) is Alex's former editor, an irascible paranoid who knows more than he is letting on. Meanwhile, a mysterious man who poses as a cop is following George and his group around, and as the team digs deeper, bad things start to happen.
Our Take on We Got This
As of this writing, I've only seen 3 episodes of We Got This, but they are really funny. Alexander Karim is especially a revelation, because I've only seen him in serious roles. His ability to play for laughs is impressive. Musarro's take on a typical conspiracy theory story is really creative. It takes a good team to pull it off, and he has one. The directing, the music, the graphics are all fantastic. But the real genius here is that both Swedes and Americans can laugh at themselves in We Got This. The clash between our cocksure belief in American ingenuity, and the Swedes' respect for rules and procedure elicits a knowing laugh from both audiences. It's also been interesting to learn about the Palme case, and to know that every country has its unsolved mystery ripe for conspiracy theories. Although I haven't seen the entire season, I've been just delighted by what I have seen and I recommend it.
Want to read about more Swedish Shows? Click here.
Looking for more of the best in foreign TV?  Don't miss our other great reviews HERE!