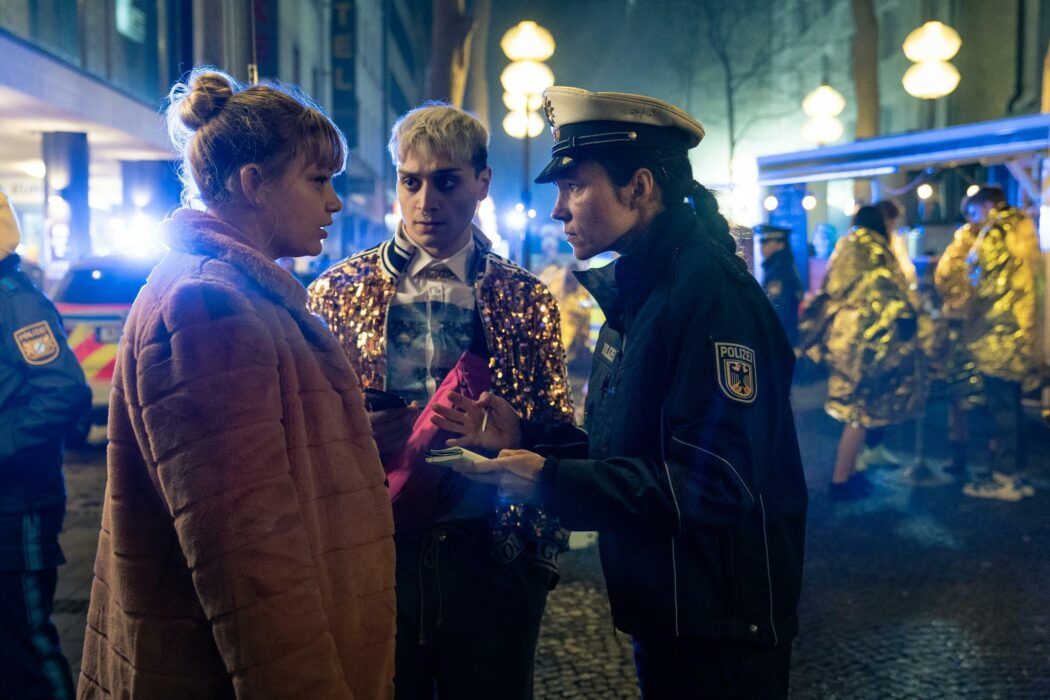 ddEchos (Katakomben) is a German series on AMC+ that starts with a secret rave taking place below the city of Munich. It looks fabulous-rich kids in couture clothes dancing to trance music while glittering confetti falls on them. But when a fire breaks out, started by the marginalized residents who live underground, its repercussions fan the flames of a clash between rich versus poor, social-justice minded versus profit motivated. Echos is more drama than crime, and if twenty-something identity crises, however well portrayed, don't interest you, then you may want to skip it. But I found the series to be a richly plotted treatise on greed, regret, and the struggle to keep one's head above water, no matter what your socioeconomic status.
You can find more excellent German crime dramas here.
Troubles for the Rich
Instagram Influencer Janosch (Yasin Boynuince) drags best friend Nellie (Lilly Dreesen) to a secret party under the Main Station of the Munich subway. Nellie's charming drug-addicted brother Max (Nick Romeo Reimann) is at the party also, with 2 friends. When the fire breaks out, Nellie and Janosch can't find Max and his friends. Nellie and Max are the kids of Anna Mahler (Aglaia Szyszkowitz), a city councilor who secretly promised an American developer a lucrative contract to build a high profile skyscraper over the Main Station. Unfortunately, that contract went to local firm Limberger Living, and Anna is being threatened by the Americans to make it right.
Limberger Living is having problems of its own. The fire and subsequent death of one of the missing kids is wreaking havoc on Limberger's image and finances. Lisa Limbeger (Marleen Lohse) had secured subsidies from Munich to incorporate low income housing into their building, but the city cancels the subsidies after the fire, which happened on (well, below) their job site. This sets the social-justice minded Lisa at odds with her father (Daniel Friedrich) and his partner (Reiner Schöne), who want to take the financing private, and pre-sell these desirably located apartments to the highest bidders.
Click here for more foreign crime dramas on AMC+
Troubles for the Poor
Below ground, Tyler (Mercedes Müller) is having troubles of her own. Squatting with gravely ill friend Liljana (Lea Mornar) and her young son in a den located off the myriad tunnels under the city, she navigates a harrowing life among the drug addicted and desperate. When Max and his friends stumble into her territory during the fire, she and her friend Spider (Adam Venhaus) kidnap two of them, leaving the third to die from smoke inhalation. When Nellie shows up searching for Max, Tyler offers to "help her find him" in exchange for money, which she uses to buy medication for Liljana. Her intention is to keep Max hidden and continue extorting Nellie so she can keep treating Liljana, but Spider has other plans.
Meanwhile, there is a cop, the vulpine Magdalena Kaltbrunner (Sabine Timoteo), who is on a terminator-like mission to find her estranged daughter among the drug addicts in Munich. Magdalena is incredibly unlikable; sneaky, insubordinate, manipulative, and dismissive of her mother who is in an Alzheimer's ward. At first, her story seems superfluous, but it becomes critical by the end.
Caught In Between
The search for Max drives the plot, and Nellie is desperate to find him. She loves her brother, but is tired of being blamed for "not watching out for him" by her mom. Meanwhile, she is struggling with tremendous guilt because she left the fire without finding him. She lives an extremely privileged and sheltered life, but she's not a bad person. Although their relationship starts out transactional, Nellie and Tyler become friendly, and Tyler is able to show Nellie that good people can and do fall through the cracks of society. For Janosch, running into the underground community unearths his greatest fear-that he will end up like them. Janosch is from a working-class family, a shameful fact that he desperately hides from Nellie and his social media followers, much to the chagrin of his loving father (Michael A. Grimm).
Read a spoiler-free interview with the creators of Echos in Drama Quarterly here.
Our Take on Echos
Although it is a little overly complicated, I enjoyed Echos. Each episode starts back at the rave, revealing new facts that explain each character's motivation for their future actions. I could have done without the Magdalena Kaltbrunner story altogether, even though it provides some emotional moments near the end. But the other stories were engaging. The production design is excellent. The muffled opening shots of distressed party kids pouring out of a subway track onto a platform from the point of view of a homeless woman are haunting. And the overhead view of the fabulous rave is a cover for the bleak realities of drug addiction, extreme poverty and mental illness just offscreen. Although it has a swiftly moving plot, Echos is an affecting meditation on not just the haves and the have-nots, but on the motivation of all people-ambition, greed, regret, loneliness, love, and loyalty.
Looking for more of the best in foreign TV? Don't miss our other great reviews HERE!