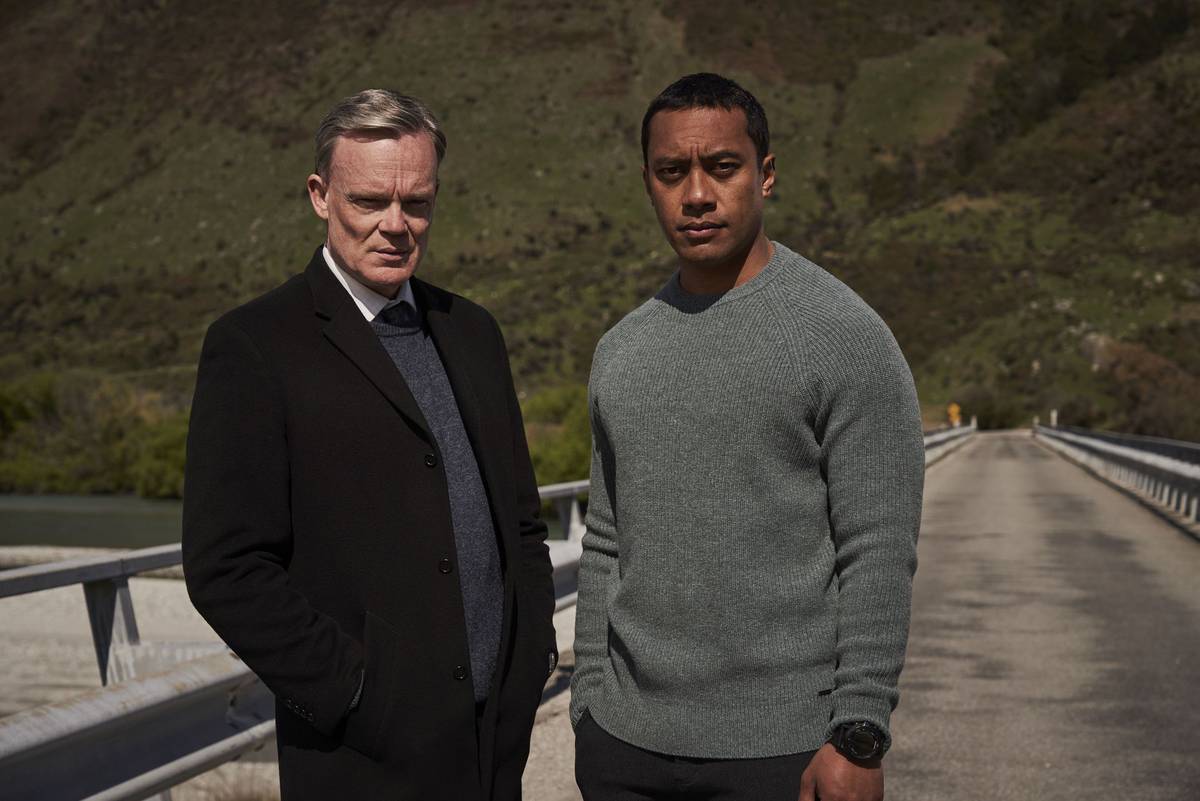 One Lane Bridge is a crime series from New Zealand playing on Sundance Now. What seems like your average "small-towns-have-dark-secrets" series is made more interesting by one of the detectives being plagued by mysterious visions every time he crosses the one lane bridge into town. At first he dismisses them, but when the town's golden boy is found dead in an apparent, yet unlikely, suicide under the bridge, he is forced to reckon with his "gift". Sundance Now is releasing one episode a week, on Thurdays, so I have only seen a few episodes at this point, but it has my attention.
A Bridge with a past
The series starts with the arrival of detective Ariki Davis (Dominic Ona-Ariki) to the picturesque Queenstown area, in the mountains of New Zealand. He has uprooted himself from Auckland and taken the job largely to work with a cop he admires, Stephen Tremaine (Joel Tobeck), who is the chief. The entry to the town is a causeway that includes a one lane bridge. Ariki runs, bikes or kayaks every day, and any time he goes over the bridge, he sees mysterious things that immediately disappear, such as dead people laying on the rocks below the bridge, or a wheelchair in the water, or a gecko. Neither he nor the audience know if he is seeing the past, the future, or pure hallucination. While others refer to "that bridge" in a knowing way, it's clear that nobody else is seeing the visions Ariki is. It's worth mentioning that Ariki is Maori, and these visions may be what's known as "matakite", or second sight.
A Prominent Death
Meanwhile, Stephen knows everyone in town, and it's clear he is hiding their, if not his own, secrets. When Grub Ryder (Dean O'Gorman), the scion of a prominent local farming family dies suspiciously, the town starts to crack apart. Originally ruled a suicide by Stephen, at Ariki's urging the police change the investigation to a homicide. There are the usual suspects: his deeply unhappy wife (Aidee Walker), who fills her water bottle with vodka; his wealthy neighbor "Haggis" (Phil Brown), who suspects that Grub is having an affair with his wife, Charlotte (Michelle Langstone); his father (Peter McCauley) who is in the throes of dementia, and I'm sure more will appear as the series continues. The question is, what do Ariki's visions have to do with the case?
Our Take on One Lane Bridge
I'm enjoying One Lane Bridge for several reasons. I like the lead character-both the actor and the actual character, who is Maori, dealing with some discrimination due to the color of his skin, and clearly running from his demons with his intense workouts. The dysfunctional Ryder family seems legitimate, with real family problems-the farm is broke, dad's dementia is becoming harder to deal with, the daughter is troubled, etc. And I like the supernatural element, especially as it ties into the history (and future?) of the town. In addition, the scenery is gorgeous. We'll see how it goes, but so far, I recommend One Lane Bridge.
Looking for more of the best in foreign TV? Don't miss our other great reviews HERE!