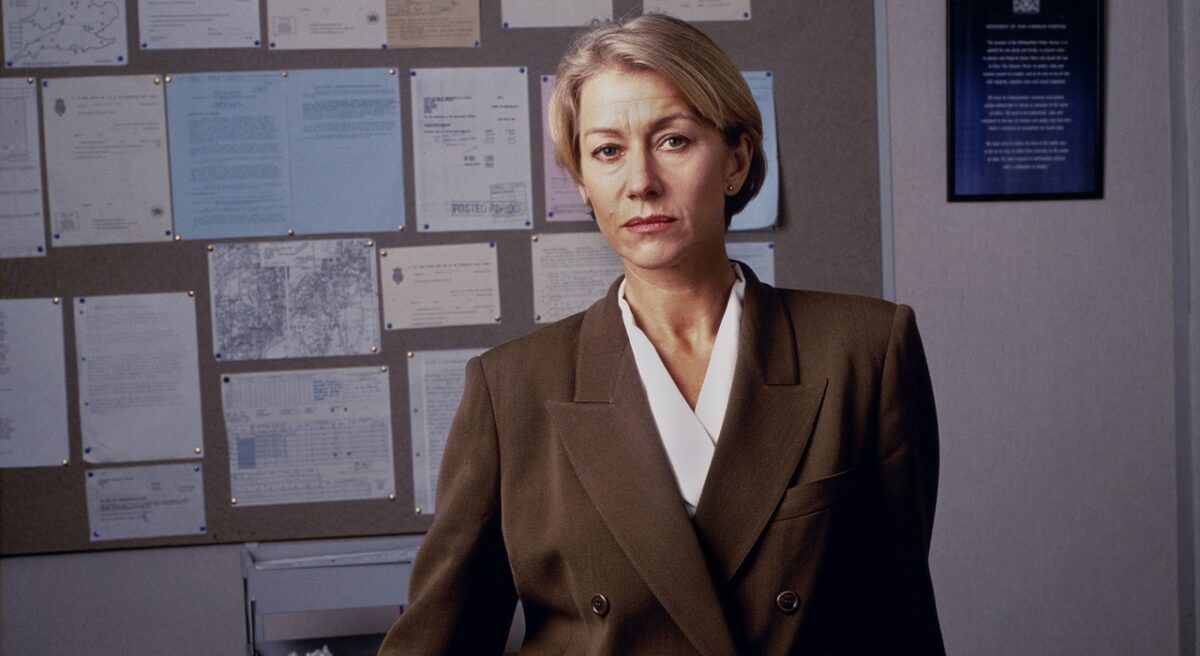 Prime Suspect is a groundbreaking British series starring Helen Mirren as Detective Chief Inspector (DCI) Jane Tennison. Tennison was the first female DCI to lead a series, and possibly the first female DCI ON a series. (If you are wondering where a DCI is in the ranks of UK police, see our article here.) As played by Mirren, Tennison is the standard to which all TV detectives, especially females, aspire to. Prime Suspect aired sporadically from 1991-2006, earning numerous awards-Emmys, a Peabody, and BAFTAs, and it's on many lists of best TV shows ever. You may have seen it on PBS' Masterpiece Mystery in the U.S., but if not, it's worth going back to watch via Amazon, Hulu or Acorn TV. The editing may be slower than we are used to now, but the workplace, social and political issues remain sadly similar to the present.
What Made It Great
Aside from Helen Mirren's understated and authentic performance, the writing was fantastic. For the first time, we saw a female detective that was as determined and as damaged as her male counterparts. It's hard to imagine TV now without a brilliant female detective fighting her demons, but before Prime Suspect, that character didn't exist on TV. In addition to the typical dysfunction that TV police detectives face, such as alcoholism, loneliness, and strained family relations, Prime Suspect was upfront about showing the sexism that Tennison battled in the police department. While her superior believed in her enough to place her in a high profile job (after the male detective died), her underlings give her no relief from their chauvinism, whether it's blatantly disobeying orders, throwing snark, or leaving her out of important conversations. The creators never get preachy with it, but present it as a matter of fact.
Each season, with one exception, the series tackled one crime and the 2-3 episodes were about 90 minutes each. This structure, an obvious precursor to the binge-watching era, allowed the show to look more deeply at social issues such as racism, child sexual abuse and a distrust of immigrants.
An A-ha! Moment
 I binge-watched Prime Suspect in or around 2013. From that moment on, I was hooked on British crime drama. I preferred the gritty, "realistic" UK detectives over the flouncy American ones. I still do. Apparently, Kyra Sedgwick's Deputy Chief Brenda Leigh Johnson in The Closer is the American version of DCI Tennison. As appealing as Brenda is, you don't believe that she exists in real police departments, unlike her UK counterpart. Alternatively, you may remember that NBC tried to remake Prime Suspect, but our Tennison came off as humorless and hard. I believe U.S. TV producers still don't get it right, frankly, and this is why I watch foreign crime drama.
On a side note, one of the most fun things about going back to watch old Prime Suspect episodes is that you'll see a Who's Who of British actors before they got big-Ralph Fiennes (The English Patient), Peter Capaldi (former Dr. of Dr. Who), Ciaran Hinds (The Terror), Jonny Lee Miller (Sherlock in Elementary), Brendan Coyle (Mr. Bates!), and more.  As I mentioned, the pacing may be too slow now, certainly it's not flashy, and the writing may seem old hat, but without Prime Suspect, you wouldn't have Bodyguard, Happy Valley, Unforgotten and more of our favorites.
Looking for more of the best in foreign TV?  Don't miss our other great reviews HERE!