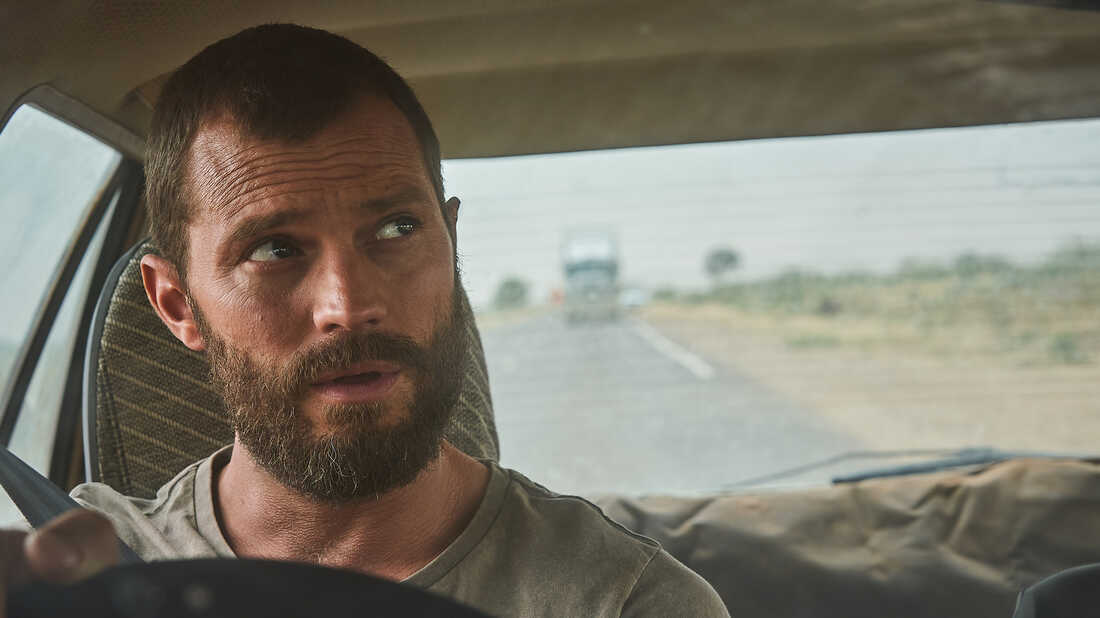 The Tourist is a British/Australian series on HBO starring Jamie Dornan as a man who has lost his memory in a car crash, and has to outrun ruthless killers while trying to remember who he is.  Because we don't know his name, I'm going to refer to the lead character, known only as The Man, by the actor's real name. After he is run off the road by a semi-truck, Dornan awakens in a hospital without any memory. With the help of a reticent local police detective-in-training and a free-spirited waitress, Dornan begins to piece together recent events, and he's shocked at what he discovers. "Why would someone want to kill me?" He doesn't have long to speculate, because said killers are bearing down on him. The amnesiac racing against a ticking clock is a winning and well-trod premise (Jason Bourne, anyone?), and although it's not executed perfectly, The Tourist is still bingeable.
A Bulky Plot
Episode 1 opens with Irishman Dornan driving across the Australian outback, singing along to "Bette Davis Eyes". He seems happy. He stops at a gas station to use the restroom, and carries on. Suddenly, out of nowhere, a semi-truck bears down on him, and eventually smashes into him. When Dornan wakes up in the hospital, he has no idea who or where he is. Self-effacing detective in training Helen Chambers (Danielle Macdonald) questions Dornan, feeling bad for the obviously distraught man. Helen decides to help Dornan get his memory back, much to her fiancé's (Greg Larsen) dismay. A note found in his belongings sends him to another town for a meeting. The person is a no-show, but the waitress there, Luci (Shalom Brune-Franklin) spills coffee on him, and hustles him to another location to clean him up. As they leave the diner, it explodes behind them. Meanwhile, Billy (Ólafur Darri Ólafsson), a cheerily menacing trucking company owner shows up at the hospital looking for Dornan. The explosion catches the attention of the Major Crimes Division, and DI Lachlan Rogers (Damon Herriman) heads from the city to the small town of Burnt Ridge, location of the diner. Throw in a Greek drug lord and his underlings, and you have a large cast of characters on the hunt for Dornan as he frantically tries to piece together his recent past.
Our Take on The Tourist
The Tourist is frankly uneven. The pacing goes from glacial to frantic and back again. The series could have been at least 1 episode shorter, and the whole subplot about DI Rogers could have been cut out. The show tries to be more than just a plot-heavy amnesia thriller. The creators, Harry and Jack Williams, who are behind The Missing and Fleabag, make time for some character development, with Constable Chambers outgrowing her belittling fiancé and Dornan having an existential crisis as he learns more unsavory things about himself. They also wedge in some humor, but it doesn't quite land. Also, I'm sad to say, the usually fantastic Ólafur Darri Ólafsson is miscast. He's magnetic as always, but there are things about his character that don't work. All of that being said, I and my picky partner did binge the whole series. The episodes all landed on cliffhangers, and I really wanted to find out who Dornan was. But there are a few too many twists, with the final one really feeling unfair. If you are between binges, you could check out The Tourist and see what you think.
Looking for more of the best in foreign TV?  Don't miss our other great reviews HERE!