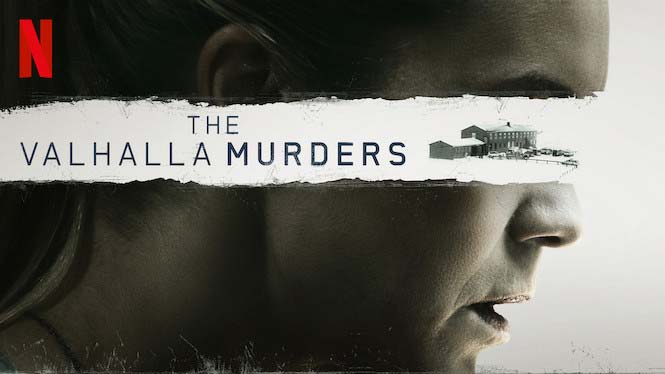 The Valhalla Murders on Netflix is a fine entry into the Nordic Noir pantheon. It's a solid procedural set in Reykjavik, Iceland, where a series of gruesome stabbings between seemingly unrelated men is the "biggest crime Iceland has ever seen," according to the police chief. So big, in fact, that he imports a detective from Oslo, Norway to help his senior detective solve the case. Soon, the team turns up a connection between the victims and Valhalla House, a home for boys outside of the city.
Valhalla is not heaven
We open, after a short prologue, on a sleazy middle aged couple getting it on in a bathroom, then emerging into a bar to continue the party. The man gets a call and goes onto the pier where he is stabbed repeatedly by a figure dressed in black. When police investigate the next day, they note that the victim's eyes are slashed horizontally. Soon enough, we meet the second victim, a well-heeled man bringing home takeout to his bed ridden wife. When she urges him to investigate a mysterious noise, he meets his end on the floor above the bedroom. Again, slashed eyes. While investigating, the team finds a group photo from long ago that features both victims. Turns out the victims used to be staff at The Valhalla House, a boys' home that was only open for 2 years in the 1980's. Before they can track down the third staff member in the photo, she is murdered, too. Upon finding some of the boys in the photo, the detectives are told that horrific abuse happened at Valhalla, specifically that the boys were visited by "the man", who branded them with a hot knife after molesting them. The team now has two mysteries to solve-find the killer, then find "the man", who most likely isn't the same person.
Tormented Man, Single Mom
Reykjavik detective Kata (Nína Dögg Filippusdóttir) is having a bad week. She got passed over for a promotion she was sure she was getting, her ex-husband is dogging her to talk about their troubled teenaged son, and she was just told that a detective from Norway is coming in to help on the hot new serial killer case. "It's nothing to do with you," says her chief, Magnús (Sigurður Skúlason) Yeah, right. Soon we meet Oslo detective Arnar (Björn Thors), who is clearly a friend of Magnus', and skews toward anti-social. Arnar is actually from Reykjavik, but he is estranged from his religious family, who are rigid Jehovah's Witnesses. While they aren't exactly buddies immediately, Arnar and Kata do work well together, as they are both good at their jobs. Although newbie showrunner Thordur Palsson thankfully didn't dwell on the usual "new partner tension" trope, he stays true to the genre in that Arnar is a typical tormented detective and Kata a single mom detective who is not supervising her teen properly. We've seen a lot of that lately.
Unoriginal, but solid
The Valhalla Murders is Netflix' first co-production with Iceland, and it's well produced. It's a satisfying procedural with fine acting and solid writing. And it's always a treat to be in Iceland with its dramatic scenery and endless winter. But The Valhalla Murders doesn't have the magic of Icelandic hit Trapped. Creator Palsson found his footing in his first series, and I hope his next one has a little more quirkiness or unexpected twists. Meanwhile, Valhalla is worth watching, especially if you are between binges.
Looking for more of the best in foreign TV? Don't miss our other great reviews HERE!