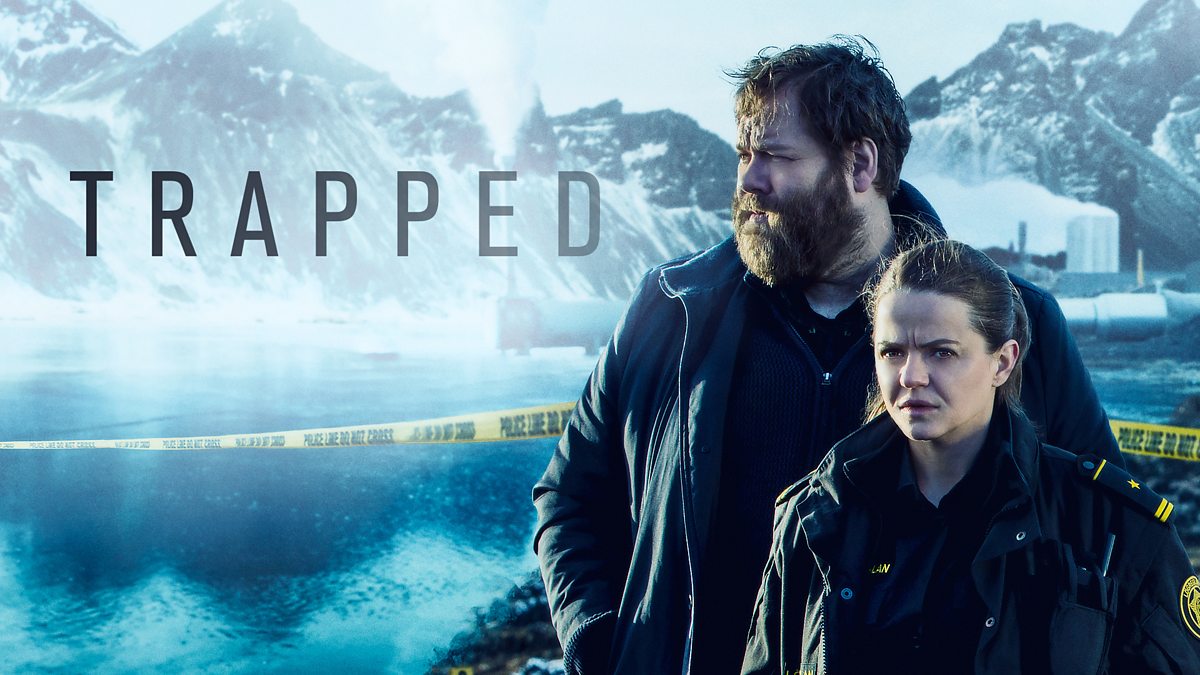 Going Back to my hometown
In the sophomore season of Iceland's hit series Trapped (Amazon Prime), some years have passed since the events of season 1. Detective Andri Ólafsson (Ólafur Darri Ólafsson) is now working in capital city Reykjavik, but a shocking crime leads him back to his tiny hometown of season 1. Happily for us, he is reunited with Hinrika (Ilmur Kristjánsdóttir), now the chief of police, and Ásgeir (Ingvar Sigurdsson), the self-described "country detective". Andri's rebellious teenaged daughter Thórnhildur (Elva María Birgisdóttir) is also there, studiously ignoring her father.  It's tense in town. The mayor has plans to expand an American-owned aluminum plant, which local farmers and fishermen are vehemently protesting. As Andri works to solve the first crime, the manager at the aluminum plant is found murdered in his barn. Was it Hammer of Thor, an environmental terrorist group, or one of the many people who hated the jerky manager? Andri and the team look for connections between the two crimes.
Good Pacing, 3-D Characters
I do love this show. And as I watched season 2, I really examined what I love about it. Of course, the aching performance by lead actor Ólafur Darri Ólafsson is the main draw for me, and the relationship between Hinrika, Ásgeir and Andri for sure, as well as the desolate beauty of Iceland, this time without a hellish blizzard.  But it's more than that. Trapped is a well-paced, well-written show, with deep character development and dense mysteries.  Environmentalism, politics both national and small-town, and complicated family dynamics all come into play. You could compare Trapped to Broadchurch in that it's about a small town and the murder suspects are people that everyone has known for their whole lives, but Trapped goes deeper into character development than Broadchurch in a way that is unnecessary but satisfying.  Not only do we meet interesting side characters, such as Ebo, the African temporary plant worker who is in a forbidden gay relationship with local man Víkingur, and Ketill, the irascible farmer leading protests against the plant, but we see them again and again, much like the myriad characters in Fortitude (see our review here).
Tiny Nitpicks
If I could nitpick, I would say that Andri's daughter, Thórnhildur, is written as greater-than-the-usual-tv-teen dense and rebellious, which affects how I feel about the subplot of the fraught father/daughter relationship. (Although the final scene in the series repairs that for me) The other slight bummer was that one of the red herrings, who we spend a few episodes on, goes away for the second half of the show.  But overall, Trapped season 2 is a chewy mystery with that feeling of pervasive sadness that those of us Nordic noir fans love.
Looking for more of the best in foreign TV?  Don't miss our other great reviews HERE!