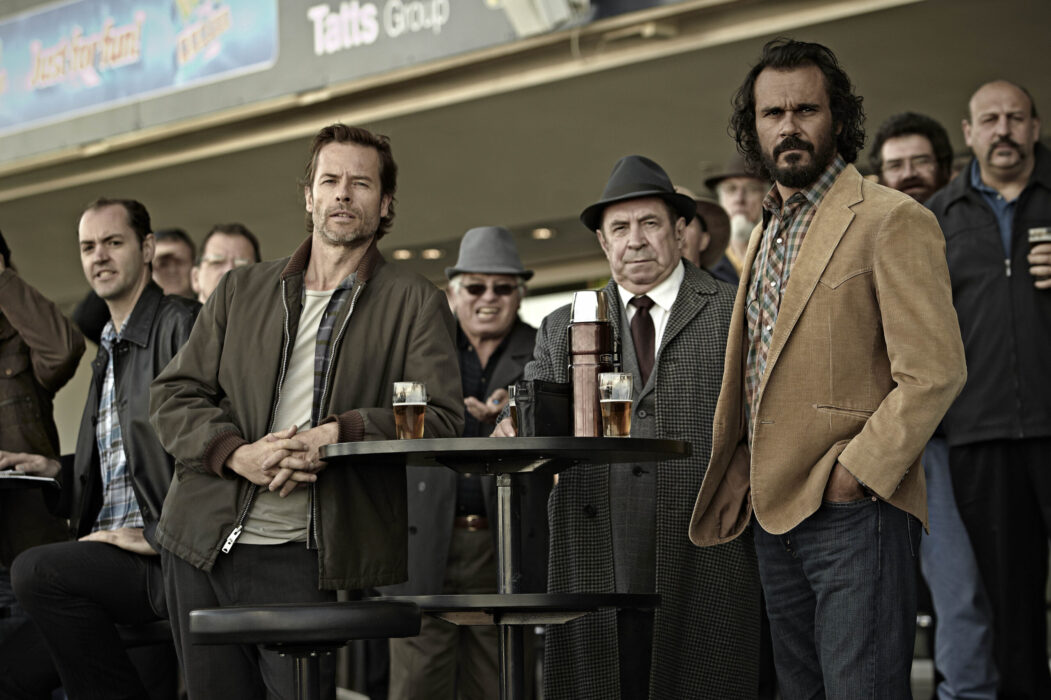 Jack Irish, a popular Australian series now on Acorn TV, (based on the popular books by Peter Temple, which you can find here) features Guy Pearce as the scruffy, dry-witted detective. Jack was a lawyer, but now spends his days making furniture with the taciturn German, Charlie (David Ritchie), or heading to the horse track with gambler Harry (Roy Billing) and his muscle Cam (Aaron Pedersen), then retiring to the Prince of Prussia bar to visit with the lovelorn owner, Stan (Damien Garvey), and his elderly regulars (John Flaus, Terry Norris and Ronald Falk). When we meet Jack, he is being left by his girlfriend, Linda (Marta Dusseldorp), a journalist who is taking a post in Manila. Neither seem that sad. When Travis Dilthey (Jeremy Stanford) contacts Jack to find his ne'er do well brother, Wayne (Dan Hamill), Jack ends up framed for Wayne's murder. He is bailed out by beautiful stranger Sarah Longmore (Claudia Karvan). Sarah implores Jack to find her sister, Tina (Brooke Satchwell), who is being chased by the same thugs who killed Wayne Dilthey. Meanwhile, Linda is determined to find Australian terrorist Hadji Adhib (Osamah Sami) in the Philippines, but first has to negotiate daily life in third world Manila.
 Funny until it's not
Jack Irish starts out funny, until it gets serious. The missing Tina and Wayne Dilthey were both members of the Way of the Cross church, which features a charismatic Joel Osteen type pastor (Marcus Graham). Behind the scenes, the church is up to no good at all, which is something that both Tina and Wayne discovered.  In a far-fetched coincidence, the church's bad doings happen to be in Manila, where Linda can handily investigate and report back to Jack. But if you suspend disbelief on that one plot point, you will be rewarded with a complex and satisfying mystery.
 Our Take on Jack Irish
Guy Pearce is fantastic as the mild-mannered Jack, and the supporting characters are all excellent. One of my favorites is Jacek Koman as Orton, the lay-about office manager in Manila who has a secret of his own. Don't let the quirky characters and their comical antics throw you off though. Underneath the droll exterior exists a dark mystery with many tentacles covering religious intolerance, greed, addiction, family drama, and government cover-ups. The plot is well-crafted, with clues provided along the way, but not in a clunky telegraphed manner. Although this may stem from the original books, Jack Irish clearly has a top-notch writer and director adapting the series. As of this writing, I'm in the middle of season 2. Season 3 will be dropping on Acorn TV later this year. Although the lovable-loser-solving-a-major-case concept isn't new, (Goliath, anyone?)  Jack Irish is so well-executed that it feels fresh.
Looking for more of the best in foreign TV?  Don't miss our other great reviews HERE!
This page includes 2 affiliate links.