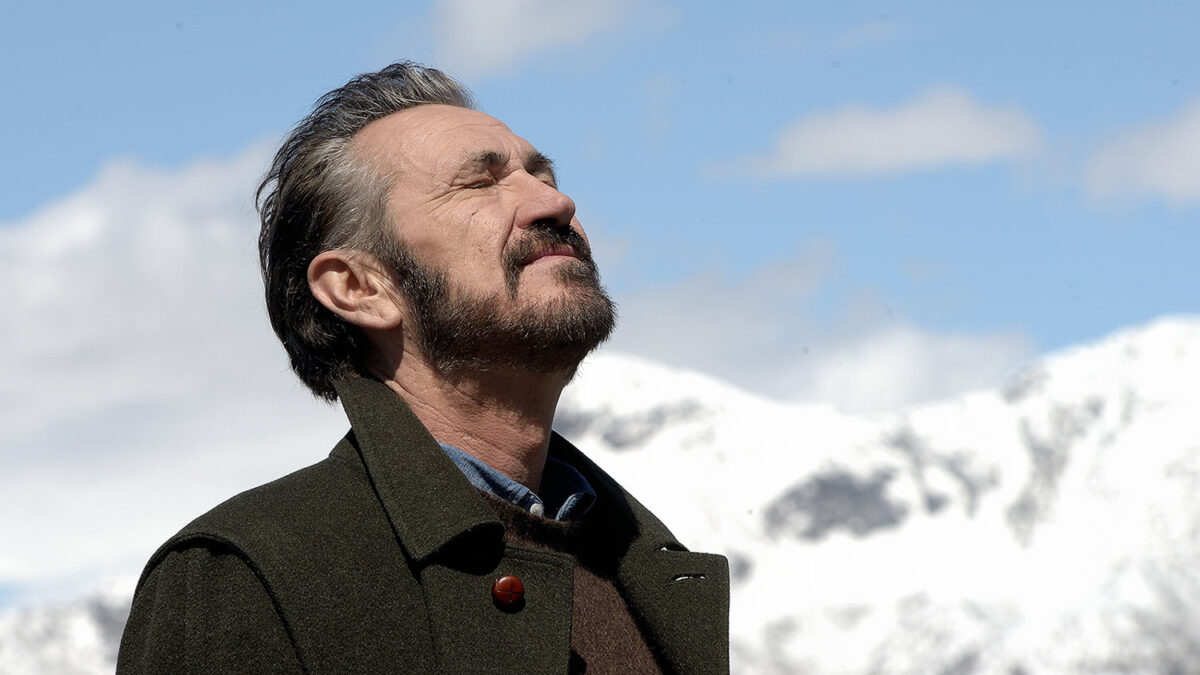 Rocco Schiavone Season 3, on Walter Presents, opens with the gruff detective (Marco Giallini) fighting a fever. Coroner Fumagalli  (Massimo Reale) notes that 37.3˚ (99˚F) doesn't count as a fever, but Rocco insists he's ill. Young neighbor Gabriele (Carlo Ponti di Sant'Angelo) astutely points out that he is not sick, but merely sad. And Rocco is sad. His best friend Sebastiano (Francesco Acquaroli) won't talk to him, one of his best officers (and nascent love interest) turned out to be a plant from Rocco's Roman enemies, and he still longs for his late wife Marina (Isabella Ragonese). Rocco has to make a choice-wallow with his ghosts, or join the living.
If you love Rocco Schiavone as much as I do, you can have more of him by reading the popular books by Antonio Manzini. Click here to check them out. (affiliate link)
The Characters
In Rocco Schiavone season 3, the main characters are back, and their interactions are still hilarious. The opening episode, where a bed-ridden Rocco is on his phone directing Italo (Ernesto D'Argenio), D'Intino (Christian Ginepro) and Deruta (Massimiliano Caprara) as they investigate a crime scene had me laughing out loud. In season 2, the department brought in a new forensic investigator, the talented yet highly critical Michela Gambino (Lorenza Indovina), who causes Fumagalli to flee crime scenes in order to avoid her. Rocco spends season 3 crabbily refereeing their battles. Rocco's Roman friends make appearances too. When Italo gets in over his head playing poker, Rocco summons Brizio (Tullio Sorrentino) to come help him out. "While you were in school, I was in a gambling den," he tells Italo.
The Action
In season 3, Rocco Schiavone is firmly planted in Aosta, for better or worse. The cases aren't as compelling as in seasons past. It's clear that the writers are really using them to open Rocco's eyes to his lonely situation. The first two cases involve elderly men who live alone and die alone. The third case takes the team to the casino, where Rocco encounters the destruction wrought by gambling addiction, which triggers him to reckon with the misery that his thieving has brought upon his life. Throughout the season, journalist Sandra Buccellato (Valeria Solarino) pushes Rocco to go on the record about his past with Roman mafioso Enzo Baiocchi (Adamo Dionisi), who has decided to cooperate with authorities. He turns Sandra down, but Rocco realizes he is in big trouble.
Our Take On Rocco Schiavone Season 3
The world of Rocco Schiavone is so well-realized that the characters feel like our own friends. Marco Giallini absolutely embodies Rocco. His casting reminds me of Ian McShane's casting as Al Swearingen on Deadwood.  The actor and the part are simply made for each other, and it's a joy to watch. Despite the weakness of the cases this season, Rocco Schiavone season 3 still ranks in the upper echelon of cop shows. I'm looking forward to season 4, which will hopefully have Rocco moving on with his life.
You can find Walter Presents selections on the PBS Masterpiece streaming service, Roku or Xfinity1.
Looking for more of the best in foreign TV?  Don't miss our other great reviews HERE!