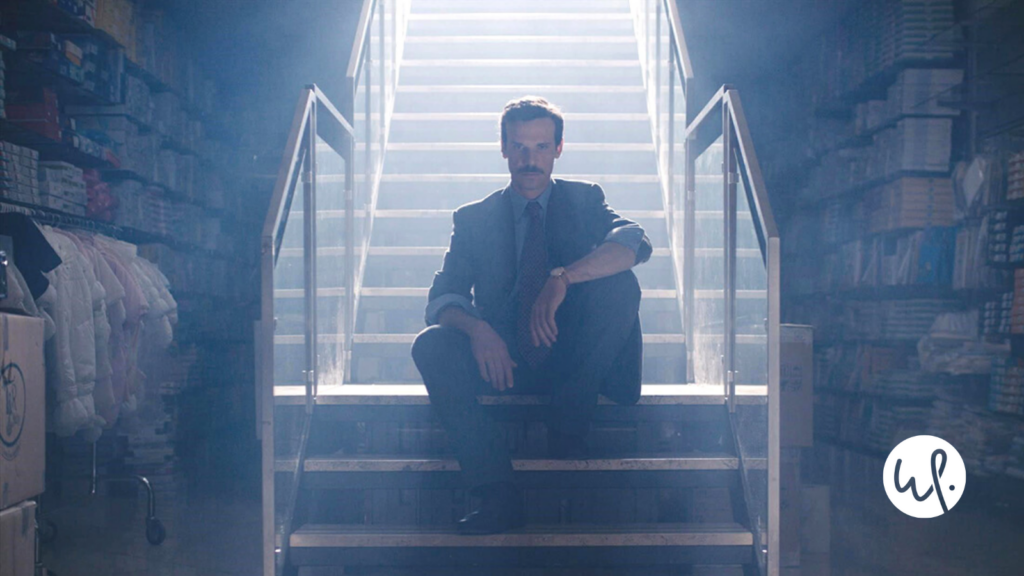 The Hunter, on Walter Presents, is a deep dive into the real-life war between the mafia and the state prosecutors in 1990's Sicily. The series focuses on two main characters, young prosecutor Severio Barone (Francesco Montanari) and mob boss Leoluca Bagarella (David Coco), one climbing up in his organization, the other trying to maintain his kingdom. Because The Hunter gives equal screen time to both sides of the law, it's more comparable to The Wire than The Sopranos or Gomorrah. Over the course of the season, we realize that the mafiosos aren't much different than their legal counterparts. They both neglect their families, they obsess over their work, there is infighting, and they are constantly trying to outsmart each other. The Hunter is long and satisfying, with complex characters and intricate plot points. My only beef is that at first, it's difficult to keep the characters straight, especially since many have nicknames, but eventually you get to know who's who.
SEVERIO BARONE
The Hunter is based on the book Il Cacciatore di Mafiosi, by prosecutor Alfonso Sabella, who actually did hunt down and arrest up to 300 gangsters in Sicily in the 90's. Here, Sabella is dramatized in the character of Severio Barone. Barone is arrogant, ambitious and frankly annoying, yet his courage and his sense of humor save him from being tiresome. When we meet Barone, he is about to turn in his boss for corruption so that he can take his job. Instead, the head of the anti-mafia unit in Palermo plucks Barone from that thorny situation, and assigns him to catch some "small-fry" mafiosos. Barone is grumpy that he has to start at the bottom. Turns out that Barone is actually great at catching bad guys. By focusing on the psychology of gangsters and utilizing unorthodox methods, Barone starts taking down mafiosos in droves. But the cost is his family life. Barone's girlfriend, high school sweetheart Giada (Miriam Dalmazio), gave up her life as a curator in Rome to follow Barone to Sicily, only to be completely neglected by her work obsessed husband.
LEOLUCA BAGARELLA aka DON LUCHI'
When The Hunter opens, Bagarella is getting out of prison and taking over as boss in the Montalto family of the Corleone mafia (yep, it's real!). The show cleverly introduces him through his new driver Tony (Paolo Briguglia), who is told that Bagarella is notorious for being murderous. Despite his work reputation, Bagarella is kind to both Tony and his beloved wife, Vincenzina (Roberta Caronia). But as he fights to maintain control of his territory, he slides into cruelty, and his relationships suffer. By the middle of the 90's, the all-out war between mafia families has led to a truly astonishing amount of bloodshed, and Bagarella becomes the number one target for Barone.
OUR TAKE ON THE HUNTER
For non-Italians, The Hunter is a fantastic view into another culture. For example, when Barone joins the anti-mafia squad, he is immediately assigned a bodyguard/driver, and the HQ is surrounded by men with machine guns. We don't usually see this on TV. The show also takes the time to develop several characters. When Vincenzina, out of boredom, starts playing Bacci at a club, she realizes she needs a fake ID to enter a tournament, because she doesn't want to be known there as the Don's wife. It's a beautiful way to demonstrate the small realities of mafia life. And this is what makes The Hunter so satisfying. The series, at 12 hour-long episodes, takes the time to slowly develop the plot and build our allegiance to the main characters, so that the emotional impact of their fates hits us hard. Because of the nature of how cops catch big criminals, i.e. using informants, there are a lot of characters that we meet for a short time because they play a key role in how Barone climbs closer and closer to Bagarella. This can be confusing, but not enough to be frustrating. The Hunter doesn't have the flair of some other recent gangster series, but the story is fascinating. It's like reading a good book that you don't want to end.