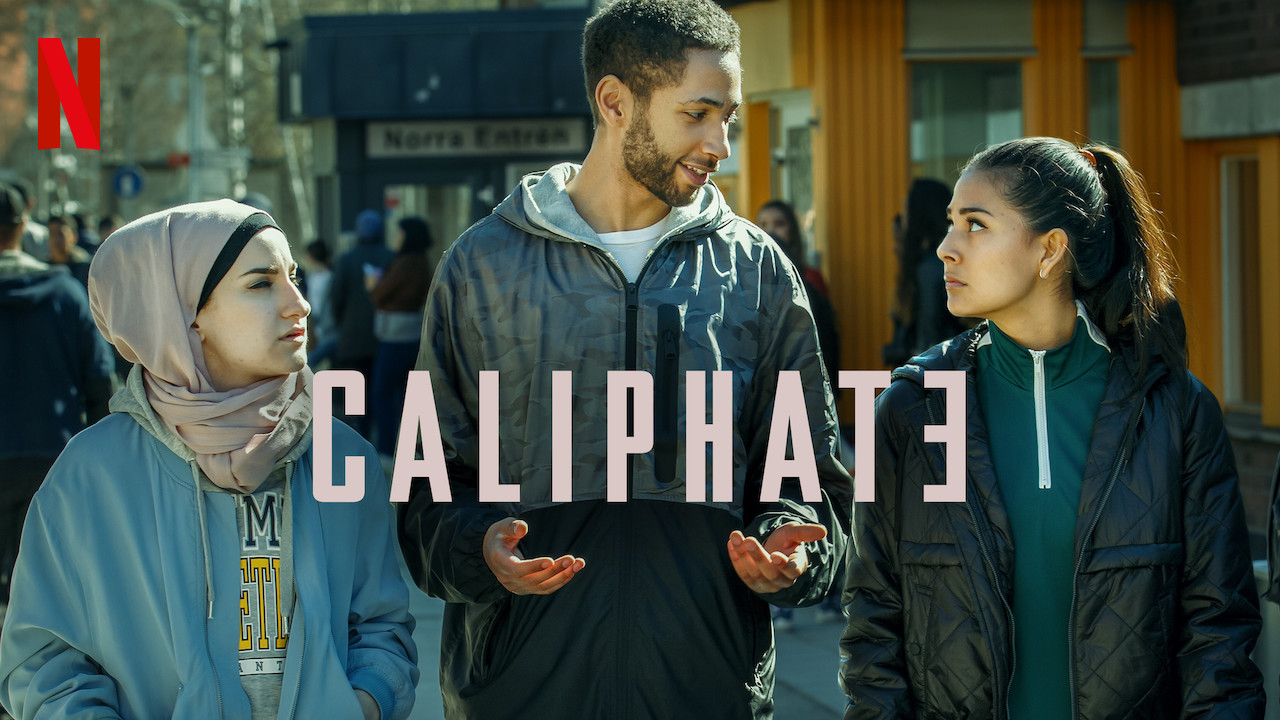 Caliphate, on Netflix, is a harrowing drama about how ISIS radicalizes and then recruits women in Western countries, in this case Sweden, to run away to Syria and marry their fighters. The story is told through three plot lines: a Swedish Muslim woman in Syria who is desperately trying to get back home, a female cop in Stockholm who is trying to help her, and a charismatic young recruiter who poses as a teacher's aid in a school for Muslim teens in Stockholm.   Created by veteran Swedish producer Wilhelm Behrman, who is behind the Before We Die series, Caliphate delivers the same white knuckle tension, but in a very different story.
An ugly truth
We have all heard about westerners being radicalized and decamping for the middle east to fight with ISIS, but actually watching it happen is ugly. As shown in Caliphate, the way the recruiter preys on young girls, feeding them anti-western propaganda and lying to them about how beautiful and glorious it is in Syria is almost as bad as watching a sexual predator at work. Ibbe (Lancelot Ncube), although only 25, is a skilled recruiter, and he is also a cold-blooded killer. While working with the teens, he keenly spies the vulnerable ones, and lasers in on them, telling them they are smarter than the others. He shares links to anti-Western propaganda, never telling them how to feel but instead asking them what they think. Once he gets them on the hook, he sweeps them off to Syria via an underground network, leaving behind devastated families.
Meanwhile, In Syria
Pervin (Gizem Erdogan) used to be one of those girls. Now she lives in a bombed out apartment in ISIS-controlled Raqqa, Syria. She and her husband Husam (Amed Bozan), both of whom are Swedish Muslims, ran away to Syria several years ago. Husam is a nervous wreck, haunted by the ghosts of children he killed in the name of Allah. Pervin spends her day caring for their infant daughter, determined not to let her daughter grow up in this oppressive and violent culture. When a friend slips her a forbidden cell phone, she calls a friend in Sweden to get her out. The friend puts her in contact with Fatima (Aliette Opheim), a policewoman who has an extraction network, but her superiors won't allow her to spend the resources unless there is a quid pro quo.  Because Pervin's husband is in the upper echelon of ISIS, she happens to know that there is a bomb about to go off in Sweden. Fatima pushes her for more information before she can help her leave. As with all embedded informant situations, there are many nail biting moments in this story, but with the added obstacle of Pervin having to negotiate the deadly sharia law put in place by ISIS.
 Race against Time
Fatima is frantically trying to piece together the bomb plot from the small bits of information she can get out of Pervin. Meanwhile her superiors keep telling her she doesn't have enough, and that her intelligence is flawed. Fatima is positive that she is being stonewalled because the year before she reported a colleague to Internal Affairs. When her friend is killed in front of her apartment, she is the main suspect and becomes the hunted instead of the hunter. How these three storylines, hurtling toward the same event, come together is what makes Caliphate a great binge. I won't lie-it's grim story matter, and there were times I had a pit in my stomach thinking about these recruiters (some are women!) preying on the vulnerable, but it's an eye-opening, gripping series that is definitely worth the watch. Note: the first episode is kind of a slow set-up-don't let that deter you.