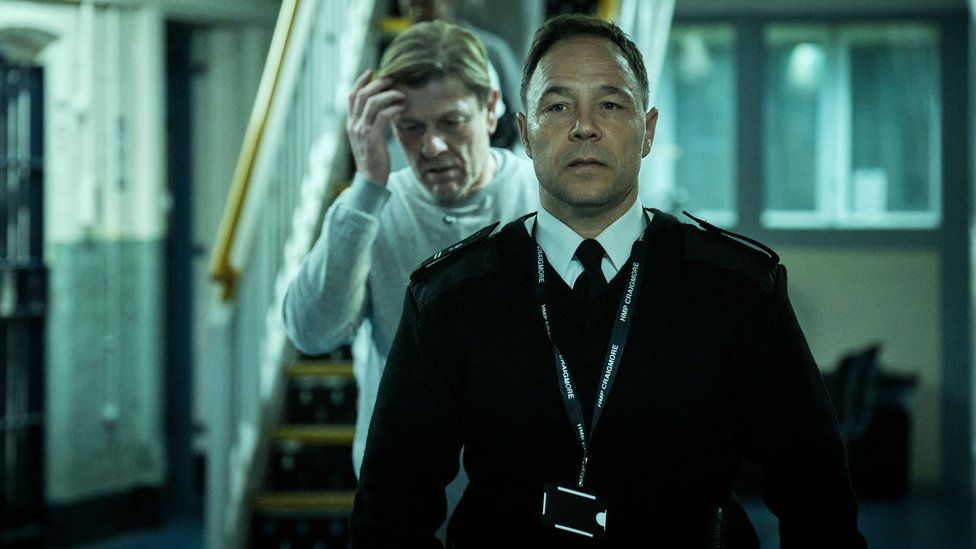 Time is a TV series on Britbox starring Sean Bean as an inmate and Stephen Graham as a guard in a prison. Mark Cobden (Bean) is a sheepish former teacher who killed someone while driving drunk and now has to face a degrading prison stint. Eric McNally (Graham) is a fair yet unwavering guard who is clearly excellent at his job, but is forced to make a damaging compromise. Time is a meditation on the misery of prison, on both sides of the bars, and the toll it takes on both men. It's not gratuitous or salacious, but it is harrowing nonetheless. Both Graham and Bean give career-high performances, which is saying something for these guys.
 Mark
Mark is an everyman. He is us. We meet him on the prison bus, bewildered and wretched, surrounded by ignorant loud mouths yelling about which one of them is a "rat". It's nerve shattering, and puts us right in his shoes. He is shuffled through the orifice check and into a first night cell. Stephen Graham comes to meet him. "You'll call me 'Boss'", he says. The next day, he meets his new roommate Bernard (Aneurin Barnard), an unstable man who cuts himself (and bleeds) to release anxiety. On the floor, Mark is bullied by lunkhead Johnno (James Nelson-Joyce), who smells his fear. McNally, and everyone else, tells Mark he's going to have to fight Johnno to make it stop. What a hell. An educated man, Mark is stuck on an eternal playground with ill-behaved children. But there is some light here, in Mark's potential to mentor younger prisoners.
McNally
Through various interactions, we see that McNally, while firm, is compassionate. He won't break the rules, but he will try to ease his charges' pain if he can. He has an unimpeachable reputation, and is respected by inmates and superiors alike. But he has a problem. His son David (Paddy Rowan) is in another prison, and the gang inside McNally's prison know about it. They threaten to hurt David if McNally doesn't do favors for them. McNally tries to convince David to go to the VIP wing, with extra security, but David won't do it. McNally is stuck. His wife, played by Graham's real-life wife Hannah Walters, is crushed, and begs McNally to leave his job. But you can tell that he likes his job, has pride in his work, and quitting is his last resort.
Our Take on Time (TV Series)
Time is about facing bad situations, whether it's a decision that will compromise your very being, or rising (or lowering) to circumstances you never thought you'd be in. For a character based show to stand out, you need 2 things: good writing and stellar performances, both of which Time has. Veteran TV writer Jimmy McGovern (Accused , Cracker ) created the series after visiting prisons for research on his other shows, and he includes uninventable details that will clench your stomach. Although the entire cast shines, Sean Bean is an understated marvel as the broken Mark, who has to find some hope in his new life. Graham is always excellent, but his humanity in this performance puts it at the top of his work. Other standouts include Siobhan Finneran as the prison chaplain, and Brian McCardie as the quietly menacing gang leader.  At 3 episodes, it's not a huge commitment, and it's definitely worth your time. (I couldn't resist)
Looking for more of the best in foreign TV?  Don't miss our other great reviews HERE!