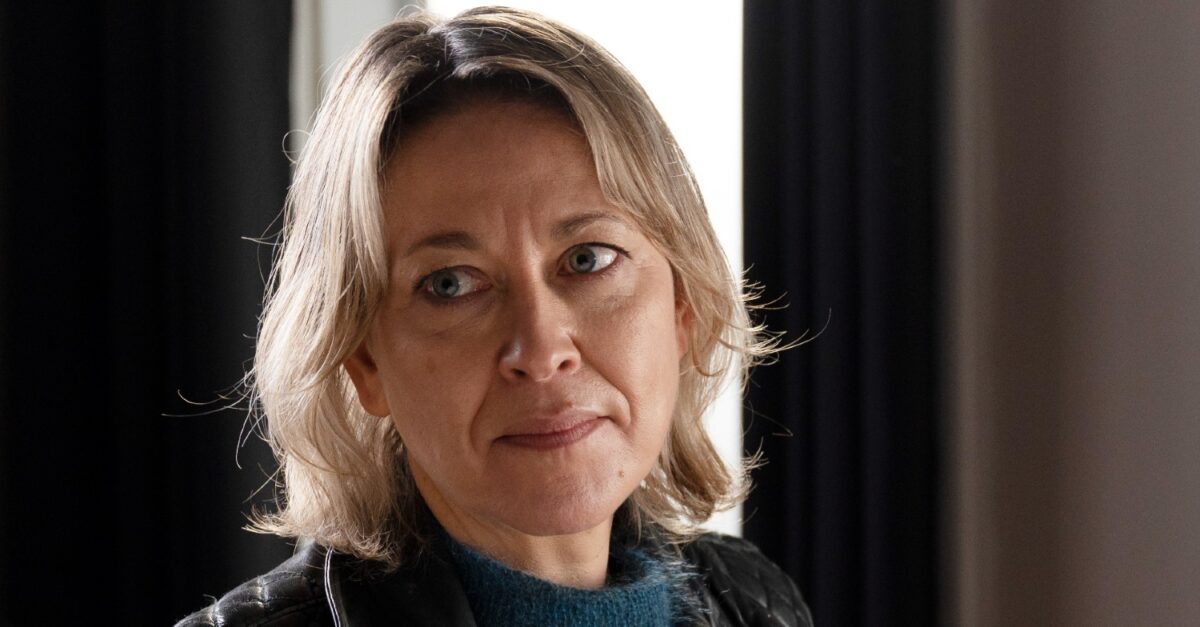 Annika, on the PBS Masterpiece digital channel, is a fairly light British murder show based on the BBC radio show Annika Stranded . In this episodic series, Annika Strandhed (Nicola Walker) and her team solve murders that happen in the waterways of Western Scotland. Annika has just been transferred to the Marine Homicide Unit as a Detective Inspector or DI (you can see our breakdown of British police ranks here), landing the job instead of the current DS, Michael McAndrews (Jamie Sives), who is miffed, but not bitter. What makes the show unique is that Annika talks to the audience directly (like in The Office). Now, this can backfire royally, but it works here, largely because Nicola Walker is such a skilled actress. Also, the Annika character is pretty funny, unlike the beloved yet serious DCI Cassie Walker she played in Unforgotten. Annika is no Doc Martin or Father Brown, but skews a little darker, closer to Vera or Shetland. Note: Annika will debut on broadcast PBS this fall.
For other UK crime series picks, click here.
 Literary References
Each week, Annika talks to the audience, and her teammates, about a piece of literature that tangentially relates to the crime. For example, in the first episode a whale-watching tourism operator was killed, so she discussed Moby Dick and the futility of Ahab's quest. The literature references don't tell us who the murderer is, but they do contribute to the theme of the week. Also, she is Norwegian, but has spent a lot of time in the UK, (which I think is supposed to explain her complete lack of Norwegian accent), so she often brings up Scandinavian folklore, such as the Valkyries. This bald enthusiasm for literature annoys her daughter and team, but I think they secretly like it.
For more foreign crime selections on PBS, click here.
The Characters
Annika's teenage daughter, Morgan, is troubled, of course, but not as much as other teens we see in crime series. She's more anxious about her life, and her mother's safety, which leads to some bratty behavior. Yet she comes around, and even congratulates her mother for a case well-solved. Annika has a past with Michael, because they make a passing reference to it, but halfway through the season, it hasn't been revealed yet what it is. Michael is quick to get over his disappointment and anger that he lost a promotion, and he is a team player, sparring wittily with Annika. There is definitely chemistry between them, but it may stay platonic. DC Blair Ferguson (Katie Leung) and DS Tyrone Clark (Ukweli Roach) round out the team, and they do a lot of the grunt work. It's a likable group with good chemistry. So far, the only real subplot is about Annika struggling with single-motherhood.
Our Take on Annika
Annika is funnier than I anticipated, and it's nice to see Nicola Walker in that role. The character also embarrasses, but doesn't humiliate, herself a fair bit, which is fun to watch. The pace is swift, each case wrapping up neatly in 45 minutes. The series is lighter fare than we usually watch or review, but I'm enjoying it, largely because of the cast and the chemistry they share. If you are looking for pure entertainment after a long day, Annika is for you.
Looking for more of the best in foreign TV?  Don't miss our other great reviews HERE!