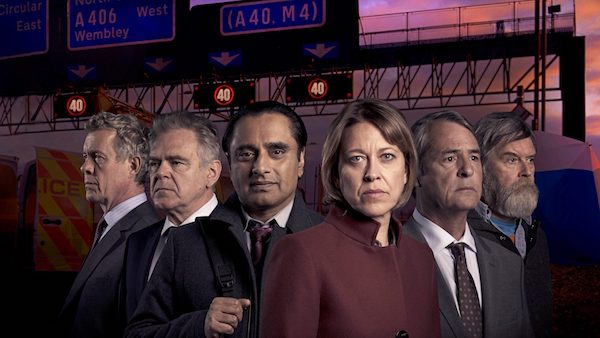 Unforgotten is a British crime drama that follows DCI Cassie Stuart and DI Sunny Khan as they solve cold cases. (If you are wondering what those initials stand for, you can read our article about it here.) Each season begins with the unearthing of bones, usually during excavation on a construction site. Cassie and Sunny are brought in to answer the questions of whose bones were found and how they got there.
 The Central Relationship
Cassie and Sunny, who are played by the fantastic Nicola Walker and Sanjeev Bhaskar, are beloved characters in the UK, and it's easy to see why. They are refreshingly free of the deep dysfunction that seems to plague television cops. Their relationship is not only warm, but also respectful. They don't doubt each other, there are no sexist overtones, no challenges to Cassie's authority as the boss. Even if they disagree, it's done quietly and in private. The characters are still richly developed, complicated people, but they aren't fighting those particular daily battles. The battle they are both fighting is loneliness, as divorced singles who work crazy hours. The theme of loneliness resonates through the cases, with those long forsaken bones under the ground, waiting to be discovered and vindicated.
 The Formula for Each Season
Every season follows a formula. In the first episode the bones are found and the investigation starts.  Meanwhile, the audience is introduced to 3-4 other characters, one of whom is the killer, or who witnessed the crime. As Cassie and her team work to solve the case, the truth is slowly revealed to the audience at such a pace that we and Cassie's team figure out the answer at the exact same time, usually in the last episode. The grieving family is always featured, too. While Cassie is not necessarily tormented by the case, she is determined to give the family closure, and that drives her.
 Is This the End for Cassie and Sunny?
At the close of season 3, Cassie is considering retirement. She's seen too much of the same disregard for life, especially young women's. She's had to deliver bad news to too many shattered families. And she recognizes that it's time for her to get a life of her own. It certainly is typical of the BBC to kill a show after 3 seasons, but we will see what happens. Although she is tired, it's also plausible that she could get sucked into "one more case". Certainly, we are hoping for that. Unforgotten seasons 1-3 is on PBS Passport, which is available to donors of at least $5/month.