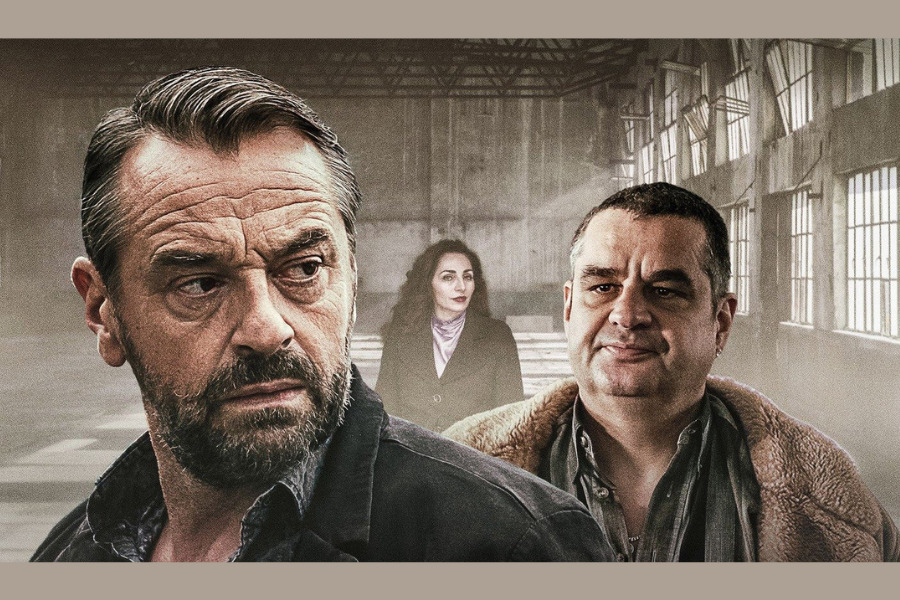 Undercover Season 3, on Netflix, is a Belgian/Dutch series about a convicted drug kingpin, Ferry Bouman (Frank Lammers), who is sprung from jail to go undercover and bring down his rival, a Turkish gang led by Serkan Bulut (Murat Seven). The hitch is that he must work with Bob Lemmens (Tom Waes), the very cop who busted him. While both men are totally against this at first, Bob recognizes that Ferry's reputation will get them in the door with Serkan, and Ferry sees an opportunity to reclaim his business, with the help of the police, to boot. The complications that ensue are typical for undercover shows, but heightened by bringing a loose cannon like Ferry into an operation. Although they never trust each other, nor certainly like each other, the pair do work well together, and they get into some seriously hairy situations. I binged the heck out of it.
 To read our review of Undercover Season 1, click here.
The Plot
When Undercover Season 3 opens, we see Bob, who was fired from the federal police force in disgrace, struggling to make ends meet as a handyman. When his old boss, Patrick (Jeroen Van de Ven), approaches him to help find a mole in the drug squad, Bob can't really afford to turn him down. Now here you have to suspend disbelief a bit. Patrick decides to let Ferry Bouman out of jail early in order to infiltrate the Bulut gang and sniff out the mole. Ferry will approach the Buluts saying he needs to get back on his feet and wants to be a supplier for them, and Bob is to pose as his business partner. Serkan Bulut is in a wheelchair and basically hides out at home, so his wife Leyla (Nazmiye Oral) and his henchman Timur (Gökhan Girginol), who has quite possibly the dumbest hair cut I've ever seen, run the show. Leyla is elegant, smart and suspicious. The guys have to work hard to earn her trust before they can be a vendor. She puts them through the ringer.
 For more reviews of Belgian Crime Drama, click here.
Bob and Ferry
Naturally, the real story here is Bob and Ferry being thrown back together. In season 1, Bob busted Ferry by becoming his friend, so there is legitimate anger and some hurt feelings on Ferry's part. Meanwhile, Bob can't trust Ferry, not only because he is so angry, but also because he is a lying drug dealer who only looks out for himself. One of the biggest challenges for them is pretending to be long time business partners who trust each other. But it turns out that Ferry is really good at what he does, which is make deals. His bluff and bluster are rock solid. Bob gets better at the game, and is also a better fit for working with Leyla, who grits her teeth at Ferry's boorishness. They make a good team while working together, but will they turn on each other once the job is done?
To read an English article featuring Tom Waes (Frank Lemmens), click here.
Our Take on Undercover Season 3
I didn't love season 1 of Undercover, because I found Ferry so much more interesting than Bob and his partner. So, I skipped season 2 altogether. But I really enjoyed this season, which starts slowly, but quickly becomes stomach-clenching, like the Swedish version of Before We Die. I liked that the plot goes in some unusual directions that I won't spoil here. The show focuses on Leyla's story as well. She has her own troubles, not least of which is that she is a woman boss in a male dominated culture. And as always, I enjoyed peeking into the Turkish diaspora. Frank Lammers was a break out star as Ferry in the original Undercover, and it's always fun to spend time with the charming lout. Truthfully, you don't even need to watch the first 2 seasons to enjoy Undercover Season 3.
Looking for more of the best in foreign TV?  Don't miss our other great reviews HERE!