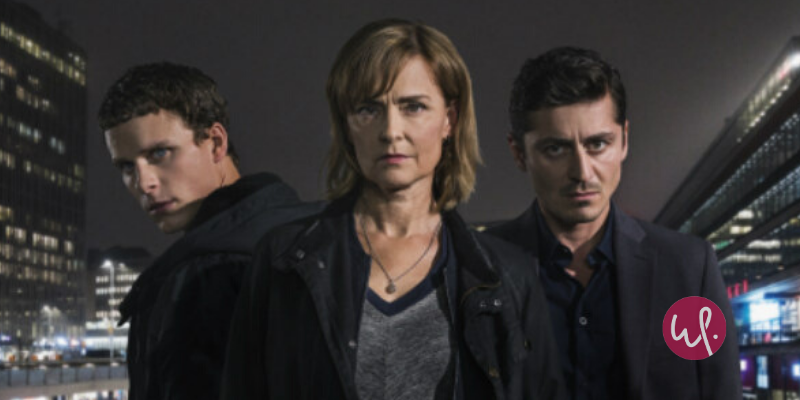 Before We Die, a Walter Presents* selection from Sweden, is one of those shows that has a very unlikely premise but it doesn't matter. You will be rewarded if you roll with it and enjoy the ride. And it is a ride-a white knuckle, jaw-clenching ride about a cop whose lover, a fellow cop, disappears, uncovering some shady associations. While investigating his disappearance, she leans on one of his informants, Inez, who is embedded in a sinister Croatian mafia family.
Good Cop, Bad Mom?
We open on Christian (Adam Pålsson), a teenaged boy, selling drugs at a party. Minutes later the cops burst in and arrest him. Turns out the arresting officer is his mom, Detective Hanna Svensson (Marie Richardson). "I warned you," she tells her son. Cut to 2 years later and Hanna is on the phone with her lover Sven, also a cop, when he gets abducted, which she overhears. She is frantic to find out what happened. The case gets bumped to Organized Crime where a shabby and curt detective, Bjorn (Magnus Klepper) arrives from the Federal bureau to help out on the case. Personalities clash, but eventually Bjorn and Hanna learn to work together.
Christian Goes Deep
Meanwhile, Christian gets out of jail, where his cell mate was Stefan, the nephew of a Croatian crime boss named Davor, who is living in Sweden after fleeing the Balkan war. Davor (Alexej Manvelov) and his family run a restaurant as cover for their myriad criminal enterprises. Stefan vouches for Christian and gets him a job at the restaurant. Soon enough, Christian is running errands for Davor that his parole officer would not approve of. What the audience knows is that Christian has embedded himself in the family in order to find out what happened to Sven, who had his own friendship with Christian separate from his relationship with Hanna. This is important because neither Christian nor Hanna know that the other is working on the case since they don't speak after the drug arrest. Hanna finds out Sven had a mole in the Croatian family who is named Inez, and she pushes Inez to do more and more dangerous things in order to get information. Of course what she doesn't realize is "Inez" is her son.
Before We Die is complicated
Hoo-wee does Before We Die get complicated. Hanna and Bjorn realize there is a mole in the police department that is keeping the Croatian family one step ahead of the cops. So they are trying to keep their investigation secret while Christian is trying to keep his real identity hidden from Davor, et al. Meanwhile, Christian moves in on Stefan's girlfriend, who happens to be Davor's sister, so Stefan starts following Christian. Will he find out Christian is an informant? This show is SO tense. Davor is a smart and dangerous guy. He could give Machiavelli pointers. The audience knows this is a time bomb and we are just waiting to see who finds out what.  I really enjoyed the plot, but the character development is fantastic, too. We have the Croatian family that feels they are justified in whatever crimes they commit because they survived such horrors back home. We have Christian's relationship with Davor, who is giving Christian more responsibilty within the family. And we meet Bjorn's very pregnant immigrant wife, and Hanna's ex-husband. I recommend Before We Die but make sure you have time to binge!
Also, season 2 of Before We Die is coming out March 20 if you want to get caught up now.
*Walter Presents is a curated collection of foreign-language dramas. You can find Walter Presents selections on Amazon Prime's PBS station or the Walter Presents channels on Roku or Xfinity On Demand. (If you use the link above, ForeignCrimeDrama receives a small commission at not cost to you)

Looking for more of the best in international TV?  Don't miss our other great reviews HERE!