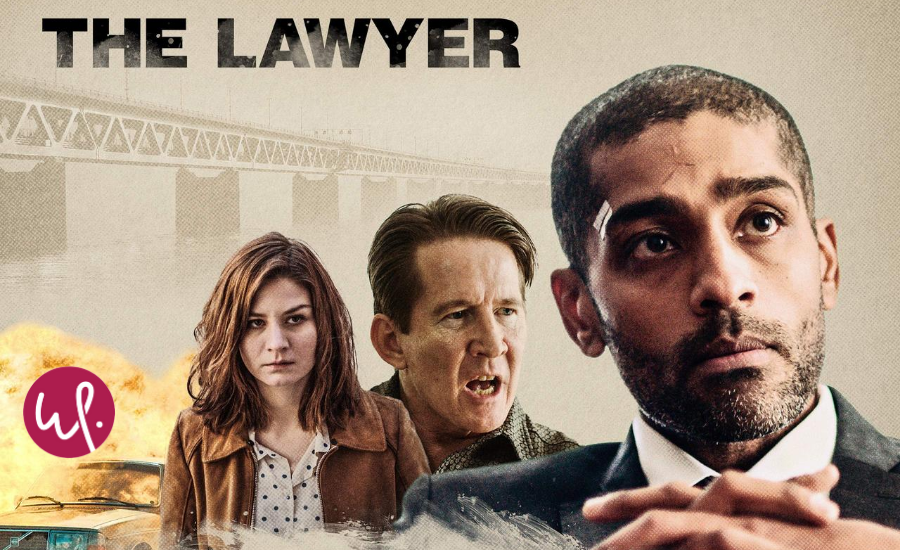 The Lawyer, or Advokaten, on Walter Presents, is a riveting Swedish series about an idealistic, promising young lawyer Frank Nordling (Alexander Karim) and his drug-addicted police detective sister Sara Khalil (Malin Buska) whose parents were murdered decades ago. As kids, the siblings witnessed the murder, which was a car explosion, and both suffer PTSD as adults. When they discover that the killer was local crime boss Thomas Waldman (Thomas Bo Larson), they decide to seek revenge. Sara uses her police contacts to gather information on Waldman and his cronies, and Frank takes a job at the law firm that represents Waldman. But what they imagine to be a straightforward take-down gets VERY complicated and causes a lot of collateral damage.
The Set-Up of The Lawyer
When we meet Frank, he is working for a small law firm. Svend-Erik Wisén (Nicolaj Kopernikus) is trying to poach him to his high dollar firm, but we get the sense that Frank is too idealistic to sell his soul to Big Law. The series takes place in Malmö, Sweden and Copenhagen, Denmark, which are connected by a bridge over a strait in the Baltic Sea. Frank knows both Danish and Swedish law, so he is a catch to any law firm, but he insists he is happy where he is.  However, when he discovers that Waldman killed his parents, he decides to take Svend-Erik up on his offer, because Svend-Erik is Waldman's lawyer. Immediately Frank is put to work defending various goons of Waldman's, and he does a good job. But as a colleague says to him, "You are a promising lawyer, Frank. Do you really want this to be your career?" This is the crux of Frank's dilemma. He does NOT want to be defending criminals, but he needs to stay close to Waldman until he can get the evidence he needs to bring him down. Meanwhile, Sara, who works in narcotics, is working through her channels to gather evidence of drug smuggling.
Things Get Messy
Sara and Frank were pretty naïve to think that they could quietly dig around in a drug smuggler's business and make a tidy case to bring him down. Not only are there complicating factors such as Waldman's beloved daughter Therese (Sara Hjort Ditlevsen) working at the law firm, murderous henchmen on their tale, and unstable witnesses to protect, but Frank and Sara have their own issues. Sara is a junkie. She smokes heroin, even though she insists she's clean. Frank had washed his hands of her, but she roped him back in with this revenge scheme. Frank feels guilty for allowing them to get split up after the murder, growing up in different homes, so allows himself to be manipulated by her. Meanwhile, Sara has part-time custody of a young son, but proves to be a reckless, if loving, mother. And Frank is having an affair with a married prosecutor, which presents ethical issues at work.
Our Take on The Lawyer
The Lawyer rips along, with engaging plot twists. When Frank and Sara's original methods for setting up Waldman fail, they have to get more creative. Their actions unleash several forces that they can't control, and they get in way over their heads. I found myself clenching my stomach a few times, and stating out loud, "Oh man, this is a mess."  As for the characters, Frank is very sympathetic, if a little naive.  You can feel his regret as his world unravels and he goes deeper into the dark side. Sara, on the other hand, is hard to like, and it's implausible that she is a narcotics detective. She has no partner and no schedule and no other cases. Thomas Bo Larson gives Waldman menacing charisma, and Nicolaj Kopernikus as Svend-Erik does a good job of being oily but still a decent guy. Season 2 of The Lawyer is being released this week, on August 28, so now is a good time to catch up on this gripping series.
You can find Walter Presents selections on the PBS Masterpiece streaming service, Roku or Xfinity1.
Looking for more of the best in foreign TV?  Don't miss our other great reviews HERE!