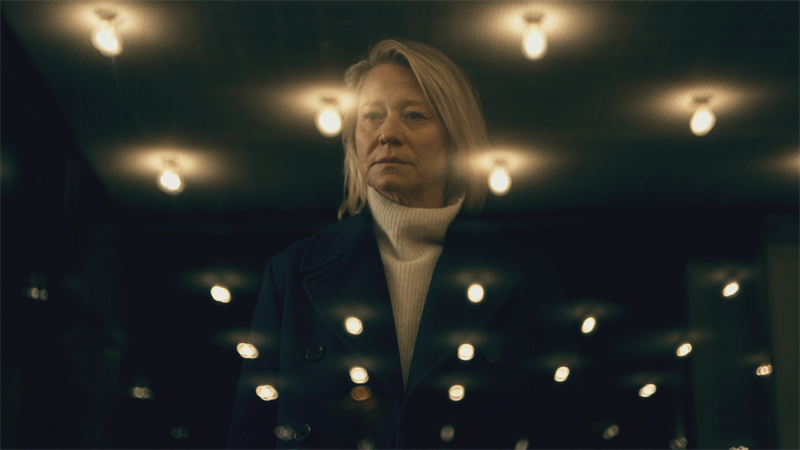 Face-to-Face (Forhøret) season 2, a Danish series on Walter Presents, takes place 3 ½ weeks after the events of season 1. Susanne Egholm (Trine Dyrholm) is still reeling from the death of her daughter, Christina, which her estranged police detective husband Bjørn (Ulrich Thomsen), insisted was murder, not suicide as the medical examiner determined. When a new client named John (Olaf Johannessen) comes to Susanne for hypnosis to quit smoking, he inadvertently admits he is a killer, and that he will kill again tonight. Shaken, Susanne goes to the police, who try to blow her off, but she is aggressively persistent with them until she gets a piece of information she can act on. And so on. Like season 1, each 23-minute episode is one scene between Susanne and one or two other characters, played by Denmark's finest, in which Susanne gets enough information to move forward on her quest. Through each conversation, we learn more about who Susanne really is.
You can read our review of Face to Face (Forhøret) season 1 here.
Hypnotic Confession
Susanne is lost in a reverie of grief when her buzzer rudely jars her back to reality. At the door is a small man, in his late 50's, with a distracting birth mark around his left eye. He says his name is John and he wants to quit smoking. What follows is a disturbing scene. Under hypnosis, John, who previously referred to his wife as a "lump of grey flesh", confesses that he smokes because he can't stop thinking about "the girls." He proudly describes how he uses homemade chloroform to render them useless. Then he tells her that tonight he will kill "white flesh, black bird." It's a fantastically creepy performance from Olaf Johannessen, and it's a great hook into the series.
For more recommendations of Danish crime series, click here.
The Hunt Begins
Completely freaked out, Susanne goes to police commissioner and family friend Richard (Søren Malling) to report John. He is cagey. "We have no missing girls," he says. It's a ridiculous statement, and triggers a heated argument between him and Susanne. With the help of Richard's wife Charlotte (Ditte Hansen), Susanne wrangles a key piece of information from him, but not before he slays her with a comment about how Christina killed herself because she was running from her parents. Thus begins a pattern. Everyone that Susanne visits is either annoyed with her or has been betrayed by her. She cops to her mistakes, but boy has she broken a lot of trust as a therapist. And much like Bjørn in Face to Face season 1, Susanne seems paranoid, especially when this case seems linked to Christina's death. But you know the old saw, "Just because you're paranoid, doesn't mean you're not right."
Love Nordic Noir? Click here for more recommendations.
Our take on Face to Face Season 2
Face to Face Season 2 is a little uneven. The acting is fantastic, but a few of the episodes felt forced, especially the one with Richard and Charlotte. Episode 5, in which Susanne locates a young sex-worker (Fanny Bornedal) who may be John's next victim, stands out for its emotional heft. My other beef is that the plot gets confusing, probably because the writers are leaving room for a season 3, in which we find out who is pulling the strings in the trafficking and murder of "off the grid" young women in Denmark. One thing I like about this series is that the main characters are not heroes. In season 1, Bjørn was violent, and although Susanne is not, she is revealed to be treacherous, untrustworthy. It makes for an interesting shift in point of view, which is undoubtedly the plan of creator Christopher Boe. Although the novelty of the format has worn off for me, Face to Face season 2 is definitely worth watching. I look forward to season 3 to see how the story is resolved.
You can find Walter Presents selections on the PBS Masterpiece streaming service, Roku or Xfinity1.
Looking for more of the best in foreign TV?  Don't miss our other great reviews HERE!