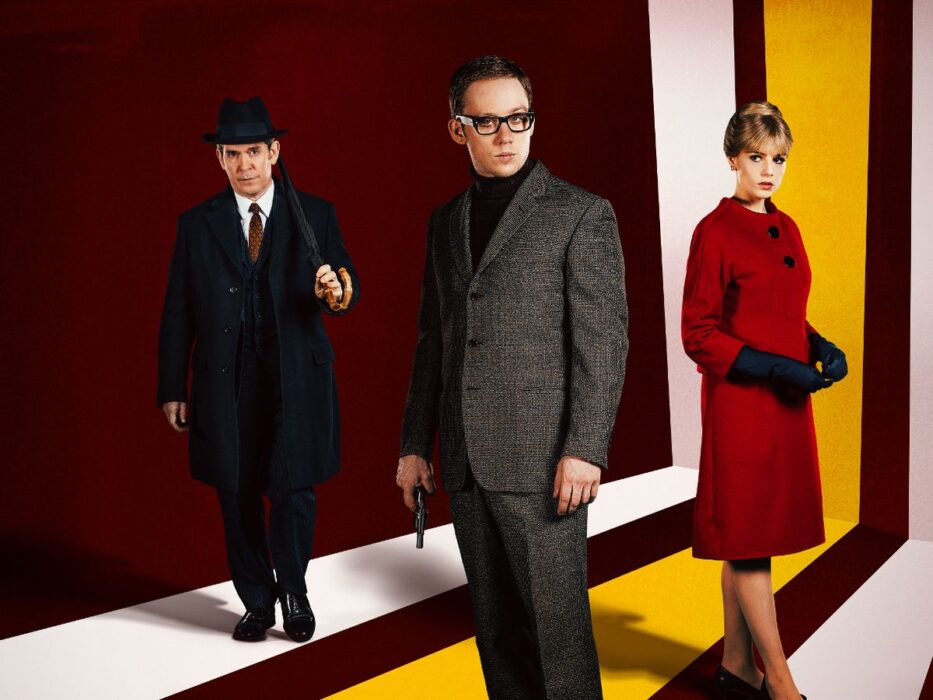 The Ipcress File is a stylish British series on Sundance Now (AMC+) based on Len Deighton's novel of the same name (affiliate link). It's 1963. Harry Palmer (Joe Cole) is a UK corporal stationed in post-war Berlin. He is "the man who can get anything", thanks to his network of shady characters. When we meet him, he is getting busted and dumped in military prison back in the UK. Fortunately (or not) for Harry, a nuclear scientist named Dawson (Matthew Steer) was just kidnapped, and an off-the-books branch of UK intelligence needs help finding him. Naturally the Brits think the Russians have him, and they can't abide that. Harry and his multinational underground connections in Berlin are just what they need, so he is bounced out of prison by a Mr. Dalby (Tom Hollander), under the condition that Harry work for him.  What follows is a complicated, swiftly-moving spy tale with an excellent cast and fantastic production design.
For more excellent British shows, click here.
The Players
Although his first contact is a bust, Dalby recognizes that the unflappable Harry has a knack for the spy game. His handler is the lovely Jean Courtney (Lucy Boynton), a cool and competent spy who is struggling with the endemic chauvinism of the 1960's. She is engaged to be married, but can't tell her fiancé she is a spy, so he doesn't understand why she works such odd hours. Jean notes to Harry that Dalby's wife never questions his cover story. "It's so much easier for men to lie," she sighs. As the series progresses, working-class Harry and high-society Jean strike up a friendship, providing both operational and moral support for each other.  Meanwhile, Jean is trying to play the CIA to find out what they know, but she doesn't want to give away that the UK is missing one of their most important scientists. For his part, Dawson has been recently treated for stress by a mysterious psychiatrist who has in his office an empty film canister labeled, "The Ipcress File." Something tells me this is about more than neutron bombs.
Want more great crime drama on Sundance Now? Click here for suggestions.
 Our Take on The Ipcress File
Many will compare The Ipcress File to the well-known 1965 film starring a young Michael Caine, but I'm not going to do that here. On its own merits, this series is compelling, with just the right amount of action and ever-changing scenery as the team makes its way to Berlin and then Beirut and beyond. The creators take the time to develop the characters of Harry, Jean and even Dalby, who confesses that he witnessed "the shadows where the people were vaporized," as the bomb dropped in Nagasaki. When the film was made, the cold war was still on; this series is historical fiction. Yet, the global political machinations remain, so the treachery is still relevant. Joe Cole is excellent as Harry-observant, tight-lipped, witty and daring. And Dalby is the role that Tom Hollander was born to play. If you like a byzantine spy thriller, The Ipcress File is for you.
Looking for more of the best in foreign TV?  Don't miss our other great reviews HERE!