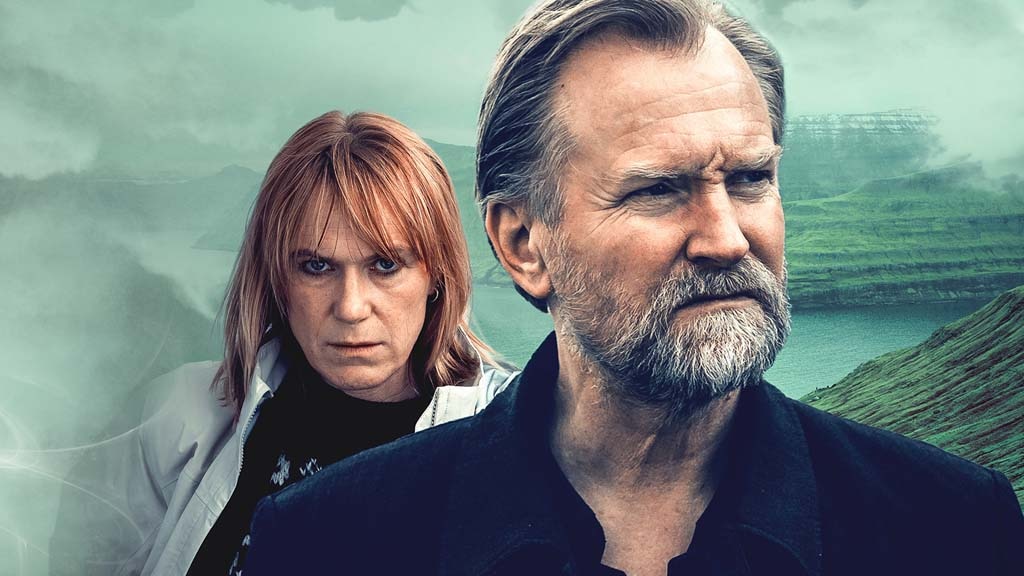 Trom is an atmospheric Danish series on Viaplay US that is set in the Faroe Islands. A local environmental activist who has ruffled a lot of feathers, Sonja á Heyggi (Helena Hedinsdóttir) is working on a top-secret story about corporate malfeasance when her colleague gets into a mysterious car accident. She sends a message via Facebook to famous investigative journalist Hannis Martinsson (Ulrich Thomsen) informing him that A) he is her father, and B) she is scared for her safety. Hannis arrives to the Faroes, which happen to be where he's from, just in time to find Sonja's body in the harbor.  Naturally, Hannis starts looking for answers. Meanwhile, detective chief inspector Karla Mohr (Maria Rich) finds a clue in Sonja's phone that causes her to breach her ethics and steer the investigation in the wrong direction. With its focus on environmental versus business interests, Trom reminds me of Trapped Season 2. While the series isn't very original, it is well-produced with good performances and plausible suspects.
Viaplay Streaming is now available in the US! You can subscribe here. 
The Set-up
Sonja and local journalist Páll Hansen (Dánjal á Neystabø) have teamed up to bring down the enigmatic Ragnar (Olaf Johannessen), a businessman who owns half the town. He has several fisheries among other companies, but the audience is introduced to him as a religious leader with a dedicated following of reformed sinners, one of whom is Sonja's mother, Aurora (Gunnvá Zachariasen). When Trom starts, Páll is informing Sonja that no network will run their story because it's too inflammatory. Frustrated, she says, "So Ragnar will just get away with it?" At 4 episodes in, I still don't know what "it" is, but I do know it extends all the way to politicians and the police. Páll is assuring her that he has the USB of "the interview" when he loses control of his car and crashes over a cliff. The USB, which makes its way to Sonja and then Hannis, contains an interview with a whistleblower who is the CFO of one of Ragnar's companies. Hannis pursues this lead while DCI Mohr guiltily investigates Sonja's death. The day she died, Sonja had told Karla that she was being threatened, and Karla blew it off as typical threats against activists, not knowing about the whistleblower story.
Click here for more Danish Crime Dramas
Our Take on Trom
Trom is a solid small-town Nordic Noir. Although the series begins with Sonja, Hannis is actually the protagonist. He is introduced as a big shot who hasn't been back in a long time, and based on some family interactions, we get the sense that he still wouldn't have come home except for the revelation that he has a daughter who is in trouble. There are some of the usual small-town characters, including the likeable Anita (Mariann Hansen), a no-nonsense and very pregnant detective sergeant. The plotline with DCI Mohr hiding relevant evidence is a good one. And of course, the scenery is magnificent. I should note that other reviewers have complained about the ending, saying that it more sets up a season 2 than resolves the mystery of season 1. But at 4 (out of 6) episodes in, I'm enjoying it.
Looking for more of the best in foreign TV?  Don't miss our other great reviews HERE!