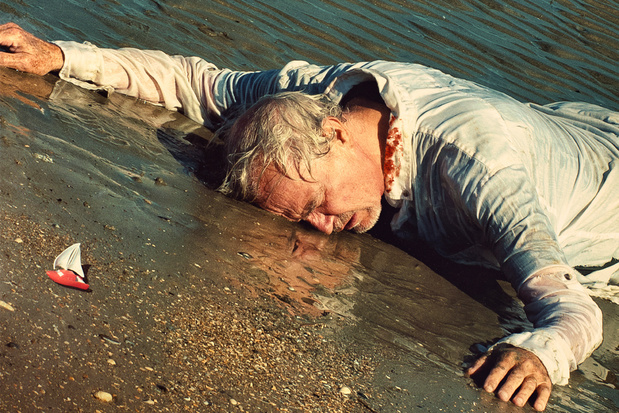 Beau Séjour season 2, a Belgian/Dutch series on Topic, starts dramatically with a naval boat and helicopter attempting to rescue a sailboat being tossed around in a violent storm. An older man is struggling to stay on the boat. As he looks up, he sees his own lifeless body hanging by the neck from the mast. Esther Teirlinck (Emilie De Roo), one of the naval officers on the rescue boat, sees the body through binoculars and gasps, "Dad?" The man's name is Maurice Teirlinck (Gene Bervoets), a senior Naval officer who left his family 7 years earlier. Maurice wakes up on shore, thinking he is alive, but he is not. Soon he realizes that no one can see or hear him, and he sees his body on the slab at the Navy morgue. While he can't remember his death, he is positive that he didn't kill himself, so he sets off to solve his murder. Meanwhile, the family, which includes his estranged wife Bea (Katelijne Verbeke), and daughters Esther, wild-child Alice (Lize Feryn), and Britt (Greet Verstraete), who has a son Jasper (Lennard Corne), is mystified that Maurice would reappear after 7 years, just to kill himself.  As with season 1 of Beau Séjour (aka The Hotel Beau Séjour), some people can see and talk to Ghost Maurice. Unfortunately, none of them are inclined to help him. So, there are several mysteries in Beau Séjour: Who killed Maurice, why did Maurice blow town 7 years ago, and why does his family hate him? Oh, and why did he come back in the first place? Naturally, everybody has a secret, and Maurice has many.
Family Drama
Using a flashback structure, we learn about the family problems at the heart of this mystery. One incident, 8 years earlier, is the impetus for the events that lead to Maurice's murder. At a family dinner, Esther announces that since her kids are teenagers, she is going to join the navy and train to be an officer. Maurice vehemently discourages it. Britt's husband Erik (Kasper Vandenberghe), also in the navy, gives Esther some support. Also at the table is Vinnie Scheepers (Titus De Voogdt), a navy detective and honorary member of the family. In the present day, Esther is indeed an officer, Erik has died mysteriously in an accident at sea leaving Britt widowed, Vinnie is a city cop and estranged from the family, Alice is a lost soul, Maurice is gone, and Bea has a boyfriend, Tille (Jack Wouterse). Britt's son Jasper  is 7 years old. Jasper is the first "seer" who can interact with Ghost Maurice. Maurice doesn't recognize Jasper, but Jasper has a photo of "Sailboat Granddad, " so he recognizes Maurice immediately. At first dismissive, Ghost Maurice ends up bonding with Jasper. The other "seer" is Vinnie, who tries to run Ghost Maurice over because he thinks he's seeing things. Eventually Ghost Maurice convinces Vinnie that he did not commit suicide, and enlists his help in solving his murder. With each flashback, we start to understand how the family got to its current sad state.
Our Take on Beau Séjour
At 10 episodes, Beau Séjour is a little long. Confession time: I didn't make it through Hotel Beau Séjour because it was also a few episodes too long. But I'm sticking with season 2 because I find the characters and the story more compelling, despite its slowish pace. You don't need to see the first season to enjoy the second, since the story is completely different. But the rules of the ghost world are the same, such as when a ghost drives a car, the real car remains in the garage. There is a twist at the end of episode 1 that I won't spoil here, but the storyline that it creates is another reason that I find season 2 more intriguing than season 1. I'm also enjoying the setting of Zeebrugge, which is a Dutch-speaking Belgian port town on the North Sea.  Port towns add a forsaken air to a crime drama, which I welcome. (see Moloch, Cheyenne et Lola, Kepler(s)). If you are looking for an atmospheric, complex mystery with plenty of subplots, Beau Séjour season 2 is for you.
Looking for more of the best in foreign TV?  Don't miss our other great reviews HERE!