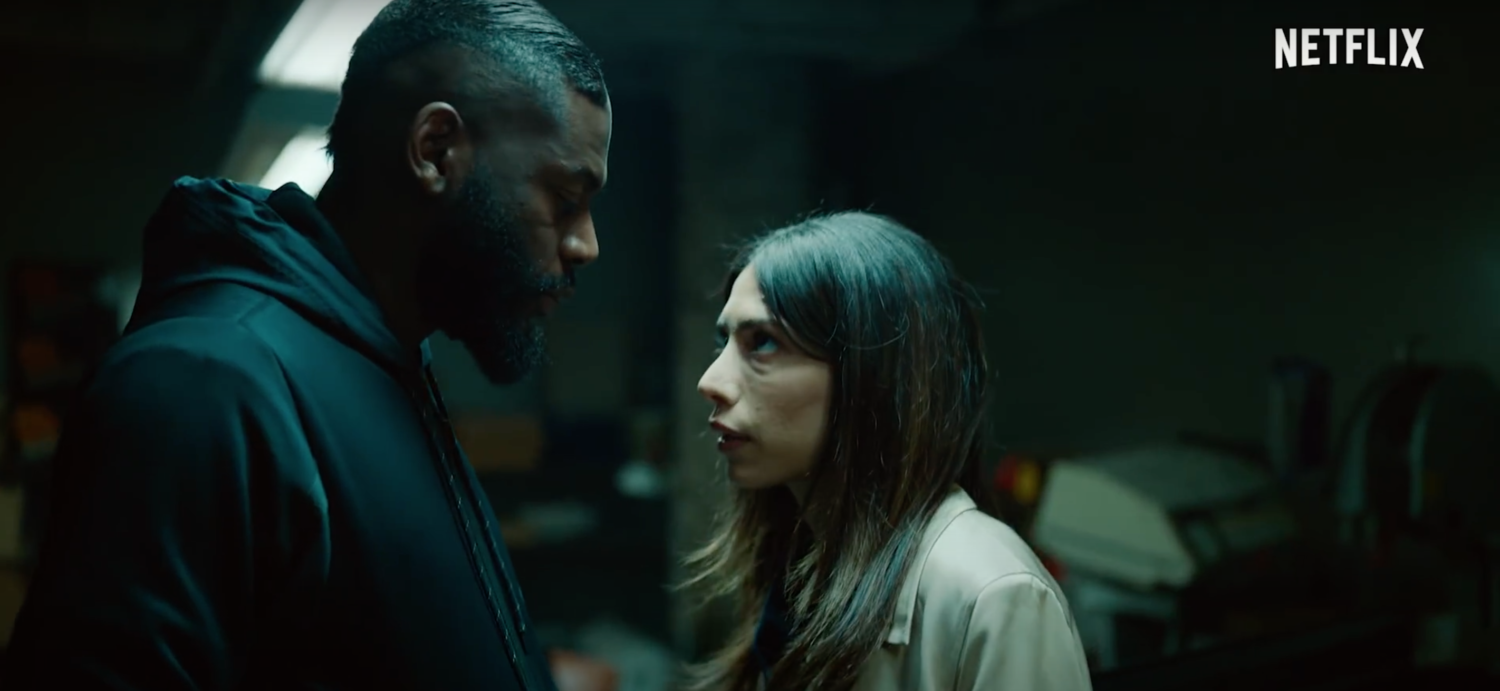 Snabba Cash (Money Grab), on Netflix, is a Swedish series based on the book and movies by Jens Lapidus. The Swedes know how to do suspense. If you enjoyed the stomach-clenching series Before We Die, you will like Snabba Cash. Leya  (Evin Ahmed) is a single mother living in an urban immigrant neighborhood. Her husband, also an immigrant, was gunned down in the street in a drug war. But Leya is working on getting out. She has a promising tech startup that has drawn the attention of famous venture capitalist Tomas Storm (Olle Sarri). Unfortunately, her past clings on to her coattails in the form of brother-in-law Ravy (Dada Fungula Bozela), who is a major drug gangster. When Leya borrows money from Ravy to get out from under a previous investor, she sets off a chain of events that ratchets up the tension episode by episode.
Leya
Leya lives a seriously stressful life. By day, she hustles to get investors for her tech startup, constantly promising impossible things, figuring she will find a way to make it work. In the evenings, she works at a middle eastern restaurant, doing the books and also waitressing. She has a 5-year-old son who she bounces around between babysitters and day care. Her brother-in-law, Ravy, insists on seeing her son because "they are family". But Leya wants nothing to do with Ravy and his drug culture, which took her husband away from her in the first place. When she gets the chance of a lifetime to pitch her company to venture capitalist Tomas Storm, she jumps at, moving mountains (and making a million empty promises) to make it happen. Tomas agrees to invest, but insists on no other investors or owners, leaving Leya to jettison some early supporters. In order to ditch one deadbeat investor, she has to borrow 2 million Kroner ($200,000) from Ravy. It seemed like a good idea at the time, but it wasn't. And she continues to make bad decisions as the stakes get higher.
Ravy and his crew
Ravy leads a small yet murderous gang of drug dealers. His right-hand man, Salim, moonlights as a singer at middle eastern weddings. One night, he's singing where Leya works and they hook up, each not knowing the other's connection to Ravy. Leya starts to fall for Salim when he babysits for her son and shows how good he is with kids. Meanwhile, Ravy has problems of his own. He and his rival gang share a supplier, and there is supposed to be a truce in place, but the other gang is cheating. Salim kills one of the other gang, and the war is back on, leading the supplier to dump Ravy. When Leya comes to him to borrow money for her company, he sees a way out of the drug life. There is a third plot line involving a teenager named Tim (Ali Alarik), a native Swede who gets caught up in working for Ravy. At first, his story feels superfluous, but it circles around in a tragic way.
Our Take on Snabba Cash
Snabba Cash is about hustlers. Whether they are hustling for legitimate businesses or for a drug empire, they are the same in that they will say or do anything to get their hands onto money. But as the saying goes, "More money, more problems." We want Leya to win, and we see her struggle that justifies her hustling. She is SO CLOSE to leaving behind poverty for good. Snabba Cash is a unique take on the suspense series with it's tech storyline and female lead. And it is also an interesting view into real life tech start-up culture, where the perception of your company is everything, and the end justifies the means if you get a win. (The story of Elizabeth Holmes  and her company Theranos is an extreme example of how that can crash and burn.) I loved the series for both of those reasons.
Looking for more of the best in foreign TV?  Don't miss our other great reviews HERE!