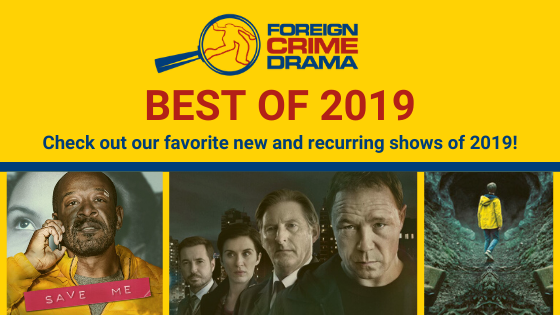 Best New and Recurring Foreign Crime Dramas Released in the U.S. in 2019
It's been a terrific year for anyone who got into foreign crime dramas in 2018. Many recurring series really hit their strides in 2019, so early adopters were well rewarded.
The same can't be said for new series. We were disappointed by the repetitious Criminal, and Undercover was fine but not good enough for us to watch season two. And in a genre filled with enough gruesome, suspenseful, murderous competition to make vampires and werewolves throw in the towel, if you aren't driving audiences mad waiting for your next season to come out, you might as well get out of the game.
For now, though, fill up your holiday watch list with some of the best foreign crime dramas of 2019. Ranging from the familiar to the topical, and covering regions from frigid Iceland to sweltering Delhi, 2019 has a little something for everyone.
Our caveat: We have not yet watched Money Heist season 3, Sacred Games season 2, and some others, so they won't be on this list. There are only so many hours of the day!!
Recurring Series (in order of preference)
Dark Season 2-Germany (Netflix)-In a small town in Germany, a boy goes missing, unleashing a series of shock waves that reverberate through the family, the community, and time. Season 2 takes us further down the rabbit hole, never missing a beat. Why We Love It: This truly epic saga is shrouded in darkness—both atmospheric and ancestral—and in the second season shifts its attention away from the world to the characters, who are haunted by darkness of their own.
Trapped Season 2-Iceland (Amazon Prime)-Detective Andri Ólafsson returns to his hometown to investigate the murder of the unpopular manager of an aluminum plant threatening the local environment and the many townsfolk who make a living off it. Why We Love It: This Icelandic show delivers on its promise of binge-able nordic bleakness all while spinning an intricate tale linking compelling and complex locals, a la Broadchurch.
Line of Duty season 5-UK (Acorn)-A long-standing UK favorite, Line of Duty turns the cop action on the cops; we follow the anti-corruption unit in England's Central Police as they root out the bad egg in their ranks. Why We Love It: A spectacular performance by Stephen Graham (Al Capone in Boardwalk Empire), who plays a cop embedded in a crime ring, invigorates this particularly twisty case that has two prime suspects.
Unforgotten Season 3-UK (PBS)-DCI Cassie Stewart and DI Sunny Khan solve a cold case that comes to light when a set of bones is unearthed. Why We Love It: The relationship between Cassie and Sunny is refreshingly stable and functional, and the personal challenges faced by our characters revolve around loneliness and isolation—suffering shared by the bones of the lost souls they uncover.
Peaky Blinders season 5-UK (Netflix)-Tommy Shelby is under siege: rival gangs are closing in, there is discord within his family, and a mole threatens to sink the entire organization. It's stress like this that can leave even a hard-bitten boss like Tommy plagued by suicidal thoughts. Why We Love It: The inclusion of historical personages, like fascist politician Oswald Mosley, makes this consistently well-performed, well-scored, well-filmed series that much better.
New Series (In Order of Preference)
Save Me-UK (Starz)-Charming barfly Nelly Rowe's life is thrown into a tailspin when he's arrested for the kidnapping of his estranged daughter. Once exonerated, he embarks on his own quest to find his thirteen-year-old before she passes into unthinkable realms of society. Why We Love It: Nelly's motley crew of misfits lend a unique and authentically South London-perspective to this story about a surprisingly decent protagonist descending into the netherworld of sex trafficking.
Delhi Crime-India (Netflix)-Based on a notorious 2012 Delhi gang rape, Delhi Crime follows the police team investigating the savage attack and their search for the perpetrators. Why We Love It: Everything that is familiar to us in procedural crime dramas is well-executed, but we are also treated to an inside look at the Delhi police force, whose job—to solve crime in one of the world's most populous cities— is more difficult than we can possibly imagine.
Our Boys-Israel (HBO)-Based, like Delhi Crime, on real events, this show revolves around the kidnapping and murder of three Israeli teens and the subsequent murder of an Arab boy, believed by the Israeli intelligence unit to be a revenge attack. Why We Love It: Powerful and educative, this show is not a "snuggle up with a cup of cocoa" procedural, but rather a piece of commentary on a modern-day issue, with a strong plot and compelling cast of characters.
Dublin Murders-UK (Starz)-This is an adaptation of two Tana French novels, In the Woods and The Likeness, in which two detectives investigate the murder of a thirteen-year-old ballerina, found in the same spot as two children murdered twenty-five years prior. Why We Love It: Though we haven't been able to review this first season in its entirety yet—and therefore must withhold final judgment—we were impressed with the show's ability to channel the complexity of the protagonists and their partnership from page to screen.
Those were our top picks of 2019! Check back soon for reviews of upcoming series and leave your thoughts in the comments below. Happy watching!
Looking for more of the best in foreign TV? Don't miss our other great reviews HERE!