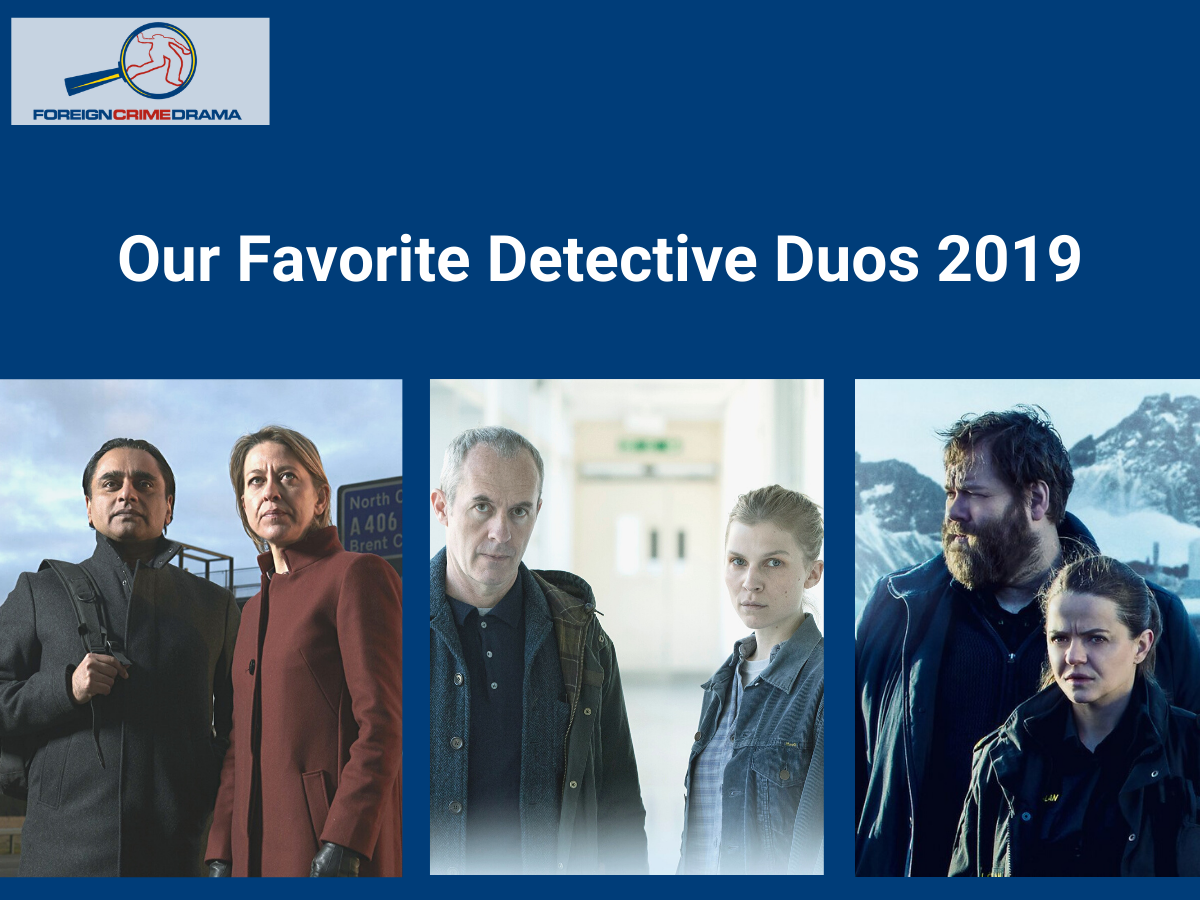 In detective dramas, also known as "procedurals", the real draw for viewers is the relationship between partners, like Sherlock Holmes and Dr. Watson. Let's face it, there are only so many crimes, and if you watch as much murder TV as I do, you begin to see plot repetitions among the shows. So in the spirit of Holmes and Watson, here is our list of favorite detective duos that we watched in 2019*.
The Tunnel
DCI Karl Roebuck (Stephen Dillane) and Captain Elise Wasserman (Clémence Poésy)
The Tunnel is a UK/French remake of Sweden/Denmark's The Bridge, which has been adapted 7 times across the globe. British DCI Roebuck is forced to work with French Captain Wasserman when a body is found in the tunnel between the UK and France. Elise is a genius detective, but is socially awkward, perhaps even on the Autism spectrum. She tends to blurt out sensitive information in the middle of Karl's more diplomatic explanation. Over three seasons, what starts as bemusement from Karl morphs into respect and then genuine affection for his quirky partner, who begins to open up in her own way, learning how to apologize and even offer praise when warranted. (PBS Masterpiece)
The Truth Will Out
Detective Peter Wendel (Robert Gustafsson) and Barbro (Ia Langhammer)
Swedish detective Peter Wendel returns from a leave of absence to find himself dumped in the cold case basement. He brightens when he is told he can select his own team. Unfortunately, the only candidates presented to him are other outcasts, one of whom isn't even a detective. Barbro is an older, breezy admin who ignores Peter's grumpy personality. As the series continues, Barbro, and then Peter, realize that actually, Barbro has a knack for detective work. In fact, she is the lynchpin in solving a vexing cold case that nobody thought Peter and his team could solve. The chemistry between these two is fantastic and they end up bringing out the best in each other. (Acorn TV)
Unforgotten
DCI Cassie Stuart (Nicola Walker) and DI Sunny Khan (Sanjeev Bhaskar)
In this popular British procedural, DCI Cassie Stuart and DI Sunny Khan are the team brought in when human remains are inadvertently dug up in London. They are refreshingly free of the deep dysfunction that seems to plague television cops. Their relationship is not only warm, but also respectful. They don't doubt each other, there are no sexist or sexual harrassment overtones, no challenges to Cassie's authority as the boss. Even if they disagree, it's done quietly and in private. It's a pleasure to watch them work together. (PBS Masterpiece)
Unit 42
Sam Leroy (Patrick Ridremont) and Billie Webber (Constance Gay)
This Belgian series about the all-too-human effects of cybercrime feature a recently widowed cop, Sam, forced to work with young former hacker Billie. It's a generation gap relationship, where Sam knows nothing about computers, social media, etc. and Billie has a lot to learn about detective work in the human world. What starts as mutual dismissal turns into grudging respect as each of the partners starts to experience the others' world. Sam fights the temptation to spy on his kids via the computer, while Billie faces a real-life killer and has to fight for her life. Their partnership brings a grieving Sam back to life and gives Billie some maturity . What I like about this show is Billie's vulnerability, a trait not usually shown in hackers. (Netflix)
Trapped
Andri Ólafsson (Ólafur Darri Ólafsson) and Hinrika Kristjánsdóttir (Ilmur Kristjánsdóttir)
This Icelandic hit is a study in small town crime solving. Police Chief Andri has two underlings: Hinrika and Asgeir. But it's his partnership with Hinrika that stands out. He is a gentle giant, preserving his and others' humanity as he seeks answers. She is a no-nonsense, determined officer who can say more with a frown than a million sentences. They make a great team, even though they disagree at times. It's obvious that they are longtime friends, with a history that began before the world of the show. When Andri gets frustrated by the case, Hinrika is the only one who will tell him to "quit stomping around like a grumpy bear." I like the small town dynamics of both the show and their partnership. (Amazon Prime)
*Although we watched these shows in 2019, some were released in previous years.
Looking for more of the best in foreign TV? Don't miss our other great reviews HERE!