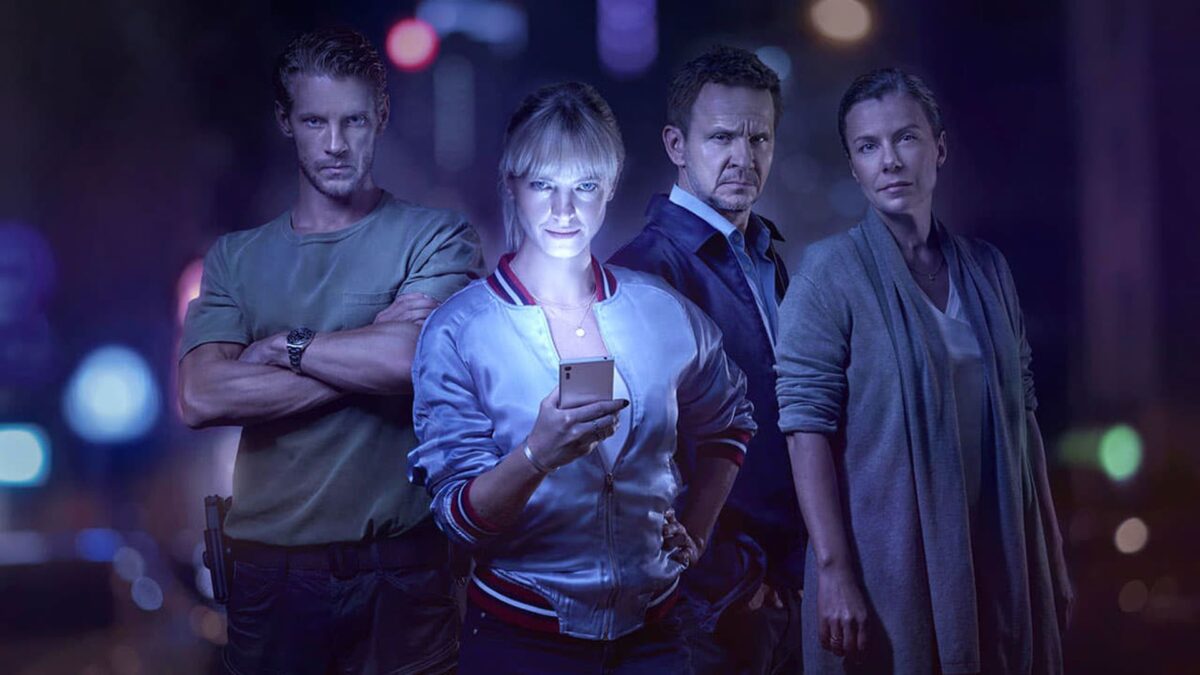 Who among us crime junkies doesn't imagine that we could be excellent detectives like our favorite fictional characters? This is one of the main appeals of Netflix' Polish procedural, Ultraviolet. In the vein of a Janet Evanovich Stephanie Plum novel, Ultraviolet features a fearless, some would say reckless, female amateur sleuth who gets in way over her head while investigating cases that the cops wish she would stay away from. The concept is updated for the 21st century in that Ola, our protagonist, belongs to the Ultraviolets, an online group of amateur crime solvers that she taps into for help with background research on suspects and more.
Down the Rabbit Hole
Ola, our plucky heroine played by the wonderful Marta Nieradkiewicz, has just moved back to Lodz (that's "Wode-jee") from London after she discovered her husband was cheating on her. She's crashing with her grumpy mom who is lonely and recovering from hip surgery. Broke and driving for a ride share company, she witnesses a woman fall from an overpass onto a car below. The cops close the case as a suicide, but Ola is sure that it was something more sinister. She enlists the help of Henryk (Marek Kalita) a dear family friend who retired from the transportation bureau, to help her solve the case. At the same time, she googles "how to solve a case when the police won't help you", and finds the online crime solving group the Ultraviolets. When she returns to the police to present her theory, they grudgingly investigate what turns out to be the solution to the case. Thus begins the series, wherein Ola and her ragtag crew routinely outpace the cops in solving cases, much like Holmes and Watson in Elementary.
It takes a village
This is not an original concept, but as I have said in the past, in procedurals the characters are the draw, not the mysteries, and these characters are very lovable. The Ultraviolets are an unlikely mix-Tomek, the leader, who works for TSA and is trying to get his frustrated wife pregnant, Regina, aka "Muffinka", and her sister who are beauty bloggers, and Piast, a sweet teenage hacker. On the police side, we have the lithe and handsome Deputy Mihal Holender (Sebastian Fabijanski) who, although frustrated with Ola, begins to value her input and may be falling in love with her. His partner and boss are less enthralled. Ola herself is headstrong and clever, if exasperating. Because her heart is in the right place, she is able to rally these unlikely allies around her, even though she needs rescuing time and time again.
Formulaic but fun
Each episode brings a new case that's tidily wrapped up in 45 minutes, but there are some overarching plot lines through the season. There is the "will they or won't they?" between Ola and Mihal, the tense return of the estranged husband, and the original mystery of Ola's life-the murder of her brother at the hands of his wife. Ultimately, that is the case that she wants re-opened by the police, but along the way, she's having a ball solving mysteries, bringing herself and her mom out of the doldrums and Henryk out of retirement. As of now, there are 2 seasons on Netflix. Ultraviolet is formulaic, but it has a sense of humor, and it's fun to live vicariously through these everyday sleuths.
Looking for more of the best in foreign TV?  Don't miss our other great reviews HERE!