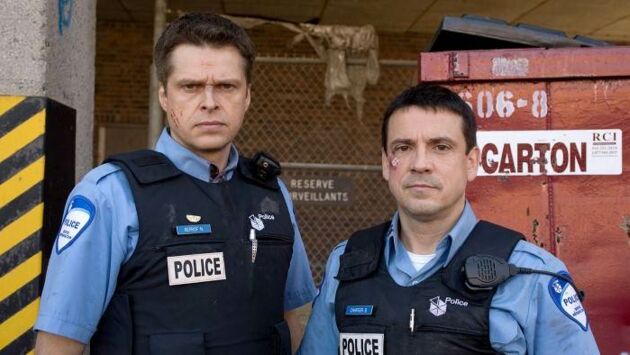 *Note that this review is for the original 2011 series, not the 2014 English-language remake.
19-2 is a French-language Canadian series on Netflix set in a Montreal police station, that focuses on two patrolmen, Nick Berrof (Réal Bossé) and Benoît Chartier (Claude Legault), as they work the streets. Usually, procedurals feature detectives, but 19-2 follows the cops who drive around, answering calls from dispatch. The plot, therefore, doesn't center around cases; more around the lives of the cops. The workday drama resembles the show "Cops," but funnier, scarier and better written. It gave me a new respect for police, who never really know what they're walking into when they get a call. Hence, their jobs are nerve-shattering, and the long-term stress takes a huge toll. 19-2 doesn't shy away from that. Cop dramas are so well-tread that there is literally nothing new to cover in them. However, there is always room for well-executed series with interesting leads, standout side characters, and good writing. 19-2 has all three. And the fact that the series originally aired in 2011 makes it even better.
For more Canadian series recommendations, click here.
Nick and Ben
In the opening scene, Nick and his partner Harvey (Vincent Graton) are chasing someone through a warehouse type building. Harvey wants back-up. Right after Nick says "no", Harvey gets shot in the head. The series really starts three months later, with Nick coming back to work. Some people are happy to see him, some are not. He's referred to as a "cowboy" and "crazy".  Nick assumes he will be on patrol alone, but nope! Captain Gendron (Jean Petitclerc) insists that he partner with the new guy, Ben. Ben has just arrived from the rural police force, which is even worse for Nick. Ben is a good-natured guy and an experienced cop. The captain had described him as "gutsy, dedicated and calm", and Ben shows those qualities immediately. Naturally, Nick is outright rude to Ben for a couple of episodes, but then they become real partners. The marketing materials are built on "the reluctant partnership", but that fades away after several episodes.
To see what else we recommend on Netflix, click here.
Our Take on 19-2
I was hesitant to watch 19-2, but I got sucked in immediately. The writing and directing are fantastic. I've alternately gasped, laughed out loud and yelled at the TV, and that's just in season 1 (of 3 available). There is humor in every episode. A cop I knew told me that what TV shows get wrong is that, in real life, there is a LOT of humor, much of it gallows, in being a cop. So, I appreciate the comedic elements here. The personal drama centers around issues like, "What do I do about my drunk-on-the-job partner?" as well as unrequited crushes.  As in all cop dramas, the show is buoyed by a great cast of characters, both lovable and troubled. The only ham-fisted plot line so far involves the Captain blackmailing Ben into spying on Nick. Outside of that, I'm enjoying the heck out of 19-2. It's like a funnier Hill Street Blues.
Looking for more of the best in foreign TV?  Don't miss our other great reviews HERE!