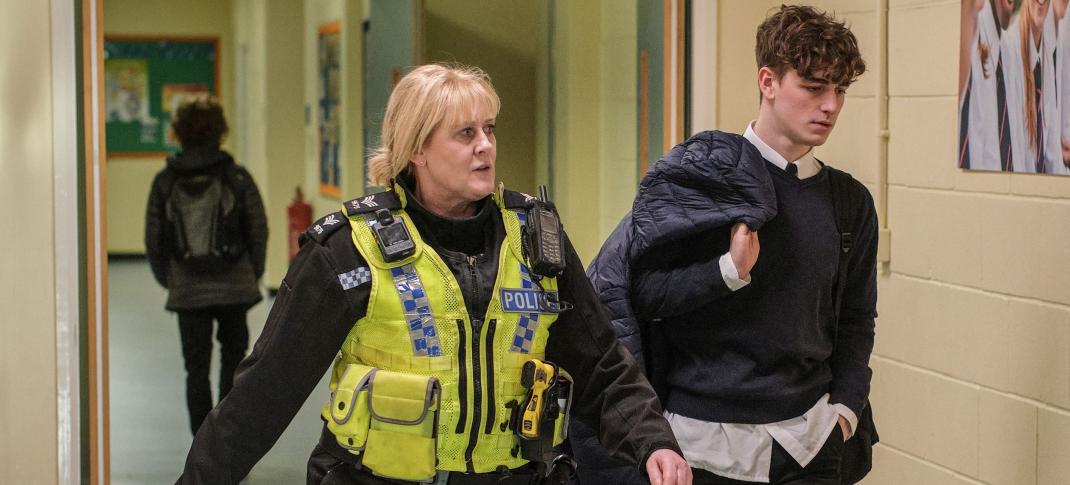 The conclusion of Happy Valley season 3 on Acorn, AMC+ and BBC America, is exactly what you'd want it to be: an emotional showdown between killer Tommy Lee Royce (James Norton) and our hero, Sergeant Catherine Cawood (Sarah Lancashire). This final season starts with Catherine cheerily announcing to anyone who will listen how close she is to retirement. Since season 2, several years have passed, and Ryan (Rhys Connah) is 16. Clare (Siobhan Finneran) and Neil (Con O'Neill) are living together, and everything seems downright peaceful. But a secret is lurking. Turns out Clare and Neil have been regularly taking Ryan to visit Tommy Lee Royce in prison. When Catherine finds out, her quiet, simmering rage rips through her relationships, jeopardizing all she holds dear. A phrase that is used several times throughout the show, "It's complicated," doesn't begin to cover it.
 For more great British crime shows, click here.
The Characters
Catherine is her usual on-the-muscle, spiky self. "Riiigghhtt," she purrs to co-workers, superiors, suspects and family, actually meaning, "Bullshit!" She's not wrong to be cynical, as she is proven right more times than not. But she's pretty pinched up, which can feel a little one-note as a character. Clare is deferential, and tries but fails to stand up for herself during the verbal beating from Catherine when her secret is spilled. Both the chemistry between the actresses and the writing are so strong in Happy Valley; it's one of the most authentic relationships on TV, and as viewers, we desperately don't want them to blow apart. But oh Clare, how could you? The real revelation is Ryan. In earlier seasons he was annoying, but he's grown into a decent young man. Sure, he is sullen and has a temper, but he's a regular kid. He's clearly enamored by Tommy, but of course, he doesn't know any of the details of his father's crimes, nor that his mother killed herself a week after he was born. For his part, Tommy remains the same-delusional, immature and self-assured, telling a character that he "only hurts people when they become wankers." Writer Sally Wainwright has made Tommy almost likable, with moments of vulnerability, and genuine joy at seeing Ryan. It doesn't hurt that James Norton is so damnably handsome, but that's only part of the charm. Norton's performance is BAFTA-worthy.
 Want to know what else we like on AMC+? Click here.
Our Take on Happy Valley Season 3
I haven't laid out the details of this season's crime, which involves a small-time pharmacist selling pills out the back door and a wife-abusing gym teacher, because it's frankly filler, and it's wrapped up in a slipshod way at the end. But who cares? We're here to see the showdown, and Happy Valley Season 3 delivers, to the point that I got choked up. In episode 5, you realize that everything comes down to Ryan. For all of Catherine's admonishing, Neil and Clare's support, and Tommy's charm, Ryan alone must decide how he feels about Tommy. Although it was tough to wait 7 years for Happy Valley season 3, it was completely worth it to have the plot revolve around the judgement of a 16-year-old. I'll miss this family, but I hope that Catherine finds some peace and joy in retirement.
Looking for more of the best in foreign TV?  Don't miss our other great reviews HERE!