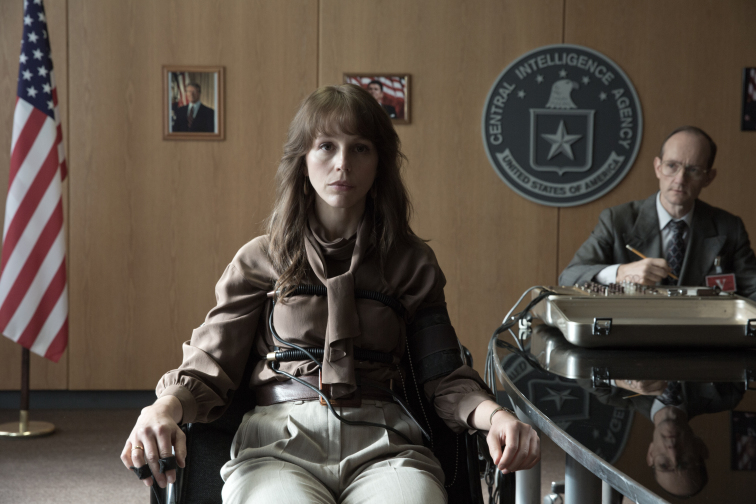 1989: A Spy Story is a German film on MHz Choice about a Stasi spy who desperately works to hide her identity after her CIA co-workers discover there is a mole in their operation. Saskia Starke (Petra Schmidt-Schaller) is a well-heeled West German "Cultural Attaché" in the U.S. Embassy (and CIA station) in Berlin. When word comes down of an East German defector who has information on a Stasi mole in the station, Saskia has to sneak out of her husband's birthday party to find the defector and eliminate him. But the threat is not gone, because the Berlin wall is about to fall, leaving Stasi spies vulnerable to exposure. Although 1989: A Spy Story is not a true story, it is based on true events and features some historical figures, such as Markus Wolf (Robert Hunger-Bühler), head of the Stasi's foreign intelligence division.
For more recommendations of German Crime Dramas, click here.
Saskia
Saskia, née Tatjana Leschke, was given her identity and sent to West Germany 18 years earlier. While there, she met and married the lovely Richard Starke (Harald Schrott) and had 2 children. 5 years later, she got the job at the U.S. Embassy. Mostly her duties include research and analysis on East German opposition to authority, of which there is a lot in 1989. We meet Saskia on the day that CIA agents are headed to East Berlin to pick up the defector. Using her well stocked kit of pharmaceuticals and passports, she feigns a migraine, dons a wig and heads to East Berlin. There she finds defector Ralf Hummel (Marc Hosemann), who is one of only 3 people that know her identity. As they wrestle for the gun, Ralf lets her know that she has a Stasi file, and "they will sell you", just like they do to everyone. When the Berlin wall falls, Saskia has to get rid of that file before the CIA gets it. Meanwhile, the defector's murder triggers super spy hunter Jeremy Redman's (Ulrich Thomsen) arrival at the embassy, and he has his sights on Saskia.
Wondering what to watch on MHz Choice? Click here.
Our Take on 1989: A Spy Story
1989: A Spy Story focuses on a very specific time period-the fall of the wall-and the scramble between the KGB and the CIA to get the Stasi's list of operatives. In the chaos of a falling regime, Saskia prays that she's making the right plays to save her skin. She also has to make a choice between her West German family and her original East German identity, because technically she could flee to Moscow and be safe, whereas if she stays in West Germany, she has to maintain her cover for the rest of her life. To be honest, 1989: A Spy Story is really only 1 level above a TV movie, production and plot wise. It's no Deutschland 83 nor The Same Sky. That being said, it's a good watch for those times when you are between binges, especially if you have a soft spot for Stasi stories, as I do.
Looking for more of the best in foreign TV?  Don't miss our other great reviews HERE!