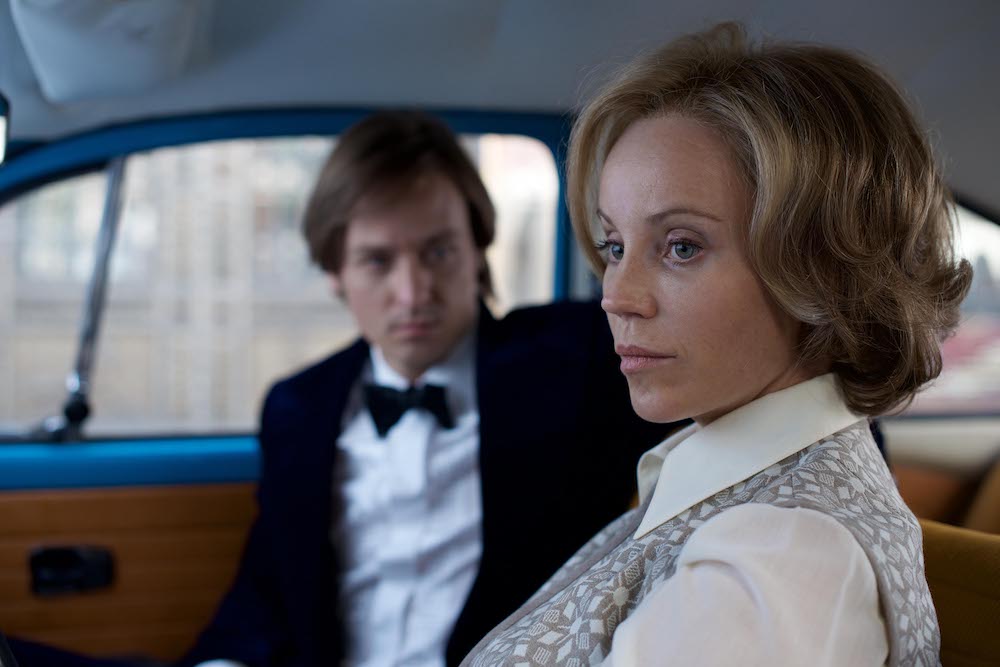 The Same Sky on Walter Presents opens on a class at the Stasi espionage training center. The professor is explaining to his nascent spies that women, especially sexually neglected women, display a "post-coital readiness to reveal classified information." These young men are preparing for "Romeo" missions to West Germany, where they will seduce female employees of various British and American security services in order to gather intelligence via pillow talk. Lt. Col Lars Weber (Tom Schilling) is sent to work his magic on lonely divorcee Lauren Faber (Sofia Helin), an analyst at NATO's Devil's Mountain Listening Station in West Berlin. Meanwhile, back in East Germany, Lars' cousin Klara Weber (Stephanie Amarell) is an Olympic hopeful in swimming, which opens a lot of doors in the communist country, but comes at a cost. There are several other subplots in the series that beautifully demonstrate the frustration of life in East Germany. You might be thinking, "Deutschland 83", but The Same Sky, while completely engaging, doesn't have the humor or affection of the Deutschland series.
Check out other fantastic German Crime Dramas Here.
Personal Drama
For a main character, Lars is a bit of a cypher. Other than his devotion to his single dad, and his ability to seduce Western women, he is a blank slate. As a spy, nothing much happens to him, and his life is never really in danger. After all, his task is simply to woo women who are apparently dim-witted enough to spill state secrets after sex. We get to know other characters in the show a bit better. Klara, the teenaged swimmer, is more complex. Her mother, Gita (Anja Kling), is pushing her to excel so that the family can get a bigger apartment and a better car, all of which is granted by the State. But Klara only wants to please her dad (Godehard Giese), who favors her brilliant older sister. There is a touching relationship between Klara and her uncle Gregor (Jörg Schüttauf), Lars' father, who expects nothing from her but companionship. Axel (Hannes Wegener) is a gay science teacher at the high school. He is exasperated by the way the State hems him in as both a teacher and a person. Interestingly, the State doesn't care that he's gay. There are even gay bars in East Berlin, because the socialists didn't want to be associated with Nazi purity policies. When Axel falls for a man from West Germany, his desire to leave the East becomes urgent, propelling him to take reckless action.
The Real Story
Although it's billed as a spy series, the real story in The Same Sky is life in East Germany. Lars' father, a party loyalist, feels that living in East Germany is far superior than succumbing to the compassionless Capitalism and distracting choices of the West. But with scenes like the apartment building superintendent ensuring all TV antennas are turned so they can't pick up West German cartoons, and Axel being chastened for teaching wind propulsion, The Same Sky reveals the soul-sucking pettiness of the State. The show also touches on the doping scandal. The East Germans want to use the 1974 Olympics to demonstrate their superiority in the world, and they resort to cheating to get it done. (Those of us who are a certain age remember joking about the out-sized women athletes from East Germany at the Olympics.) While espousing utopic philosophies of communism, behind the scenes, the East German government rules this utopia with a pernicious iron fist.
See our reviews of other shows on Walter Presents here.
Our Take on The Same Sky
If you view The Same Sky less as a spy series, and more as a social commentary presented via personal drama, you are more likely to enjoy it. As regular followers know, I love learning new stuff about other cultures, and there are myriad examples of stifling East German life here. And I got deeply involved in the personal drama as well. From dreading the pain that Lars will eventually cause Lauren Faber, to feeling the aching hopelessness of Axel, The Same Sky was as compelling to me as a more dangerous spy story. I have to give you one warning, however. You may hate the ending. It ends with some big questions left open, and there is no second season. Talk about frustration!
You can find Walter Presents selections on the PBS Masterpiece streaming service, Roku or Xfinity1.
Looking for more of the best in foreign TV? Don't miss our other great reviews HERE!