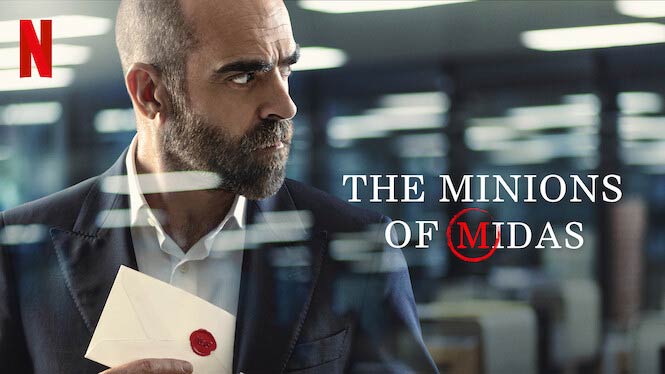 The Minions of Midas, also known as Los Favoritos de Midas, is a 6-part Spanish series on Netflix. Based on a short story by Jack London, the show follows wealthy businessman Víctor Genovés (Luis Tosar) who is being extorted by a mysterious group known as "The Minions of Midas." Víctor recently inherited a large conglomerate known as the Malvar Group, headquartered in Madrid. Just as he's getting settled, he receives a letter informing him that if he doesn't pay the Minions 5 million Euros a week for 10 weeks, a random person will die each week. As Víctor wrestles with his conscience and his pride, his life grows more complicated. He falls in love, his board is trying to oust him, and he is neglecting his son. Ultimately, this slow burn series is about self-determination, and the cost of keeping control of your destiny.
Víctor
When we meet Víctor, he seems like an idealist in a world of snakes. The Malvar Group's least profitable business is the newspaper El Observador Nacional. El Observador is old school journalism, reporting on corruption and unearthing painful truths. The board wants to dump the paper ASAP. But Víctor sees the paper as a symbol to the masses, and the conscience of the company-a way to show that they are "the good guys". When Observador reporter Mónica Báez (Marta Belmonte) writes an exposé on weapons sales to Syria, Víctor gives the go ahead, even though he knows it will compromise their main lender, Banco Industrial. The board immediately calls a vote to boot Víctor, but he manages to survive the coup. Meanwhile, Ms. Báez has caught his eye, and he begins to woo her. But what about the extortion? So far, Víctor has decided not to pay, instead leaving it up to the police to bust the Minions of Midas. When it becomes clear that the police are not getting anywhere, and the bodies start piling up, Víctor has to make a decision-lose his fortune or lose his soul.
Other Players
The series The Minions of Midas takes its skeleton from the short story, then fleshes it out with interesting characters and sub-plots. Mónica Báez is a well-known liberal journalist. She appears on talk shows advocating for the underdog, and her stories take on corruption at the highest level. So when she falls for Víctor, one of the wealthiest men in Spain, and her boss to boot, she struggles to reconcile the relationship with her values. Mónica's editor, Luis (Carlos Blanco), is fighting to keep his paper afloat and maintain journalistic values. Luis carries a compromising secret that is shocking when it's revealed. Inspector Conte (Guillermo Toldedo) is a classic, world-weary detective near retirement who is pessimisstic yet passionate about solving the Minions case. Conte agonizes over not being able to stop these deaths, and both his underlings and his superiors begin to doubt him. But he will not go down quietly. Meanwhile, everyone agrees that maintaining silence about the Minions is best. If the threat was released to the press, people would panic, Víctor would look bad for letting people die, and the police would look incompetent. As you can imagine, Mónica suffers most about this code of silence.
Our Take on the Minions of Midas
I really enjoyed this series. While it has a pithy-sounding plot, it manages to fold in several big ideas, such as the death of newspapers, inequality in society, the (dastardly) invisible powers within the government, letting your children down, and even the taboo of falling in love with your boss. The Minions of Midas is more of a character study than a mystery. It asks of not only Víctor, but also Mónica, Inspector Conte and Luis, "What compromises will you make for 'the greater good', and where do you draw the line?"
NOTE: I recommend reading Jack London's story after watching the series. It's a quick read and can be found here.
Looking for more of the best in foreign TV?  Don't miss our other great reviews HERE!