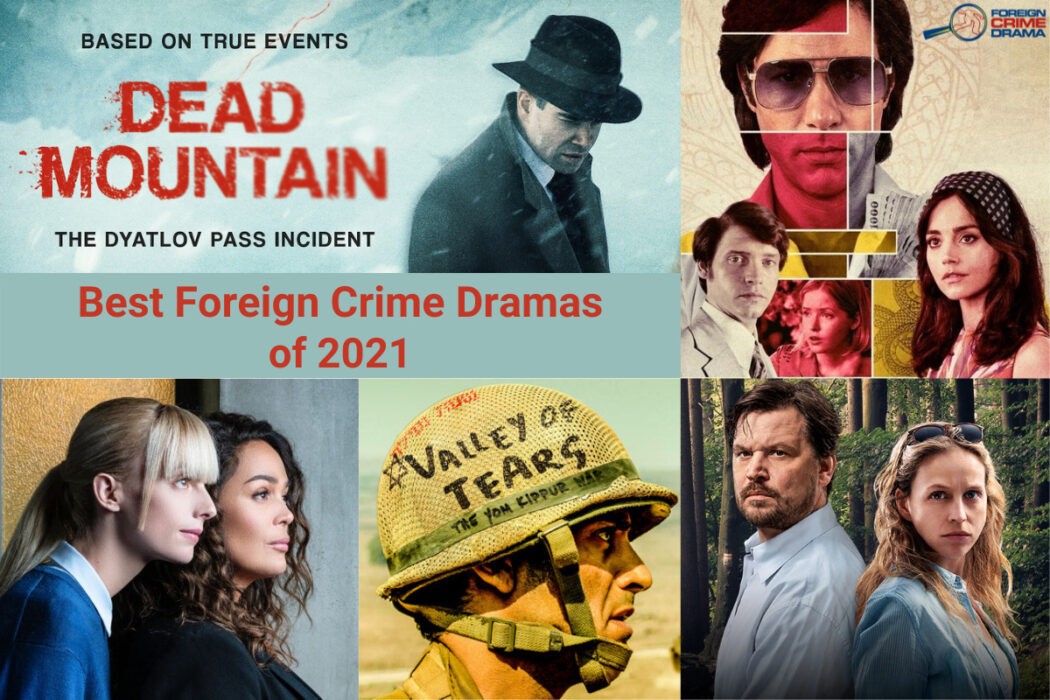 The Best Foreign Crime Dramas of 2021 is an eclectic list. When production on major series was delayed because of COVID, it left the door open for some interesting shows to come to the fore. None of the shows below will make our 10 Best list, but some will bump shows from our Top 40 list (you can get the lists through subscribing to our newsletter). And as always, the selection is based off of the channels I subscribe to. So, it's entirely possible that I missed something fantastic this year because I didn't subscribe to the channel (Spiral season 8 maybe?).
Astrid-France-Walter Presents
Known as Astrid et Raphaëlle in its native France, this charming procedural follows scattered yet brilliant police detective Raphaëlle and her off-the-books partner, Astrid, who is autistic, as they solve homicide cases across Paris. Astrid works in the records room, and sees patterns in the crimes that nobody else notices. Once Raphaëlle discovers Astrid's talent, she commandeers Astrid onto her team. Working together teaches Raphaëlle and Astrid how to be good friends to each other, despite their differences.  The "gifted yet neurologically atypical" detective is not a new concept, but Astrid feels fresh, and it's delightful.
Although it was released in late 2020, I didn't review it until 2021, so I'm including Valley of Tears on the list. This harrowing series follows 4 plot lines during the 1973 Yom Kippur war, when Israel was attacked on 2 fronts during the holidays. The military was completely unprepared, and also on a skeleton crew, so the sneak attack was particularly devastating. The stories of a tank commander trying to get to his crew, a veteran trying to locate his estranged son, an overwrought military intelligence agent on the run, and a tank regimen in a relentless battle weave the series together in a suspenseful, wrenching way. War is hell, and watching the realistic Valley of Tears is tough, but so worth it.
Sometimes a show sticks with you, and in 2021, it was The Serpent. The series is based on the true story of Charles Sobhraj, a French "gem dealer" living in Bangkok during the 1970's. Bangkok was one of the destinations on "The Hippie Trail", so-called because wealthy westerners would take a year off and tramp through east Asia, often with a stack of money. Sobhraj and his accomplices, Ajay Chowdhury and Marie-Andrée Leclerc, would lure the travelers to their home with the promise of a meal and hot shower, then poison them, and steal their money and identities in order to fund their lifestyle. Besides being a tense cat and mouse thriller, The Serpent is a time capsule, with excellent production design that really puts you in the scene.
Marnow Murders is one of those shows, like Trapped, that develops its characters more than it has to. Local detectives Frank Elling and Lona Mendt catch a case that includes several murders that seem unrelated, except for the method. Eventually, it becomes clear that the deaths are tied back to the era when their city was part of East Germany. Marnow Murders is a chewy procedural with some interesting elements-the (platonic) relationship between Elling and Mendt, well-developed sub-plots and backstories, and an inventive mystery-that make it bingeable.
Dead Mountain is a stylish historical fiction series based on the true story of 9 experienced student hikers who went to the Ural Mountains in the winter of 1959 and never returned. The death of the students, known as The Dyatlov Pass incident, has been the subject of countless conspiracy theories from KGB interference to UFOs to supernatural spirits. The episodes alternate between color footage of the KGB investigation once the bodies are found the following spring, and black and white flashbacks to the hikers as they prepare for and embark on their hike. Dead Mountain is a unique take on an incident that has been covered many other times.
Honorable Mentions
I also wanted to mention two shows that I liked but didn't review. One is Manhunt:The Nightstalker on AcornTV, featuring Martin Clunes as real-life DCI Colin Sutton, who solved a 17-year case of a rapist who targeted elderly people in London. Clunes is positively soothing as Sutton, and Manhunt is a true procedural series, breaking down the actual police work that solved the crime. The Salisbury Poisonings on AMC+ is a true story about the 2018 Novichok poisoning of former Russian intelligence officer Sergei Skripal and his daughter Yulia in Salisbury, England. The series focuses on the efforts to contain and trace the contamination before the entire community is exposed to the lethal nerve agent. Both of these series were solid, but not unique enough to warrant an entire review. Yet, I enjoyed them.
Let us know what you think of our list. What did we miss? What did you love in 2021?
Looking for more of the best in foreign TV?  Don't miss our other great reviews HERE!