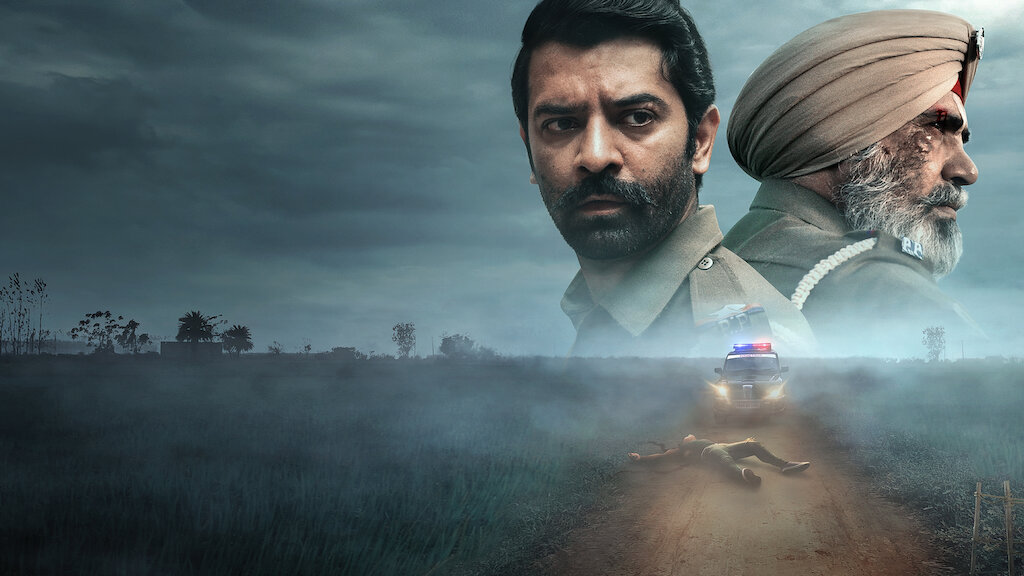 The action in Kohrra, an Punjabi series on Netflix, begins when the body of Paul Dhillon (Vishal Handa) is found in a field with his throat cut and his head bashed in. A posh Non-Resident Indian (NRI) who lives in London, he was back in Punjab for his wedding, an arranged marriage with a local bride. His best man, Liam (Ivantiy Novak), came with him, and now he is missing. The police, led by Sub-Inspector Barbil Singh (Suvinder Vicky) and young detective Garundi (Barun Sobti) roust the local ne'er-do-wells, of which there are a multitude, to find the killer and locate Liam. But Kohrra is more than just a procedural. A lot of time is spent developing Barbil and Garundi's characters, often through after-work drinks around a fire. Barbil needs to reckon with his past, which has ruined his relationship with his grown daughter, Nimrat (Harleen Sethi). Garundi is in an inappropriate relationship with someone he loves, but wants to marry and start a family, and that means having an arranged marriage with someone he's never met. Kohrra may remind you of CAT (our review here), especially since Suvinder Vicky is in both shows, but Kohrra is less political and less serious. There's a lot of dark police humor, but depending on your tolerance for cops abusing suspects, you may not find it funny. (I did).
 For more recommendations of excellent Indian Crime dramas, click here.
Love? Or Marriage?
Paul's death is really a MacGuffin to get us into the subject of arranged marriages and the family drama that accompanies them. Veera (Anand Priya), Paul's bride-to-be, is in love with a local rapper, and although both are sad about her pending marriage and departure to the UK, Veera takes it in stride, ready for a better life. Nimrat, Barbil's daughter, has left her husband and returned home with her son, whom Barbil adores. But Barbil has no tolerance for his daughter leaving her marriage, and he makes her life hellish as she tries to start a relationship with another man. As for Garundi, while he is ready to sacrifice love for an arranged marriage, his brother and sister-in-law, with whom he lives on a farm, fear that the dowry will cost them half of their land, and are putting pressure on him to stay single.
 Click here to see other foreign crime drama recommendations on Netflix.
Our Take on Kohrra
"Kohrra" means "fog", referring to the foggy field where Paul is found. But it also refers to the the fog of not knowing ourselves, of repressing desires, of loneliness, of regret. Even the smaller side characters are struggling with secrets or family feuds. The Punjabi society of Kohrra is violent-the police are violent with suspects, fathers are violent with their children, criminals are violent with their victims. I don't mind this in a series, but I'm glad I don't live in that oppressive society. Meditative in pacing, Kohrra can feel draggy in the middle, but it's worth finishing. Reviews from Indian papers praise the series for having characters experience an emotional arc, which is apparently rare in Indian dramas. For me, Kohrra is another solid entry into the pantheon of modern Indian shows. If you liked Delhi Crime and CAT, you will like Kohrra.
Looking for more of the best in foreign TV?  Don't miss our other great reviews HERE!