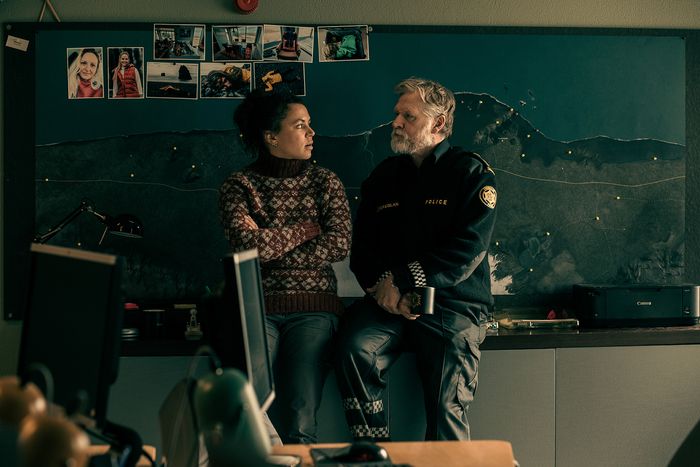 Black Sands, an Icelandic series on Viaplay, is set in a fictional town in southern Iceland, where the black beaches made of volcanic particles draw tourists from around the world. A German woman is found dead on the beach, right beneath a forbidding cliff. She seems to be alone, and no one has reported her missing. Just as she is found, policewoman Aníta Elínardóttir (Aldís Amah Hamilton) is arriving back in town from Reykjavík, where she left the police force after an affair with a married co-worker went wrong. Ragnar (Thór Tulinius), her new boss and longtime father figure, warmly welcomes her home, and asks her to come directly to the crime scene, where she sees old friend Salómon (Kolbeinn Arnbjörnsson), the town doctor who treats both the living and the dead. As she works the case that day, it's clear that Aníta doesn't want to go home to her mother's. Once we meet Elín (Steinunn Ólína Thorsteinsdóttir), we see why-she's a viper, always ready with a cutting remark. As Aníta settles in, she reconnects, somewhat awkwardly, with people she hasn't seen for 15 years, while working a frustrating case that seems like an accident but is revealed to be a murder. Soon, she and fellow policewoman Frída (Lára Jóhanna Jónsdóttir) begin to suspect that other accidents over the years are actually murders.
Love Nordic Noir? Click here for more recommendations.
The Characters
The case, although interesting and vexing, moves pretty slowly. The real drama in Black Sands is between the characters, whom we see through Aníta's eyes. Aníta herself seems like a decent detective, but doesn't always make the best personal choices, as evidenced by her affair with a married co-worker. She is crushed to be coming back home, especially to her mother, who snipes that Aníta has returned "with her tail between her legs." Ragnar is the head of police in town, and he is deeply depressed since his wife died. He can't be bothered to do basic police work, such as securing crime scenes, much to Aníta's shock and dismay. Salómon, the doctor, is handsome and charming, but there is something…off…about him. He's not necessarily the killer, but he's up to something creepy. Frída, who is young and likable, confides to Aníta that she is beyond frustrated with Ragnar's incompetence. Meanwhile, Gústi (Ævar Thór Benediktsson), Aníta's lover from Reykjavík, is sent to the town to clean up Ragnar's mess and solve the case. Although this set-up could spell melodrama, Black Sands is better written and acted than that. The interactions between the characters feel real (and painful).
Click here for more recommendations on Viaplay.
Our Take on Black Sands
Black Sands is a very satisfying series with fantastic acting, especially by Steinunn Ólína Thorsteinsdóttir, who has mastered the dangerous charm of Elín's character. We can feel the oppressive sadness of the town, and empathize with Aníta, even if it's her own bad decisions that are the impetus for her return. People have criticized the running time of the series, and the agonizing slowness of solving the crime. I agree it could have been 6 episodes instead of 8, but I still binged it. If you like Nordic Noir, and are looking for a case that doesn't have an obvious answer, Black Sands is for you.
Note: Those of you familiar with Iceland (I am not) will recognize the Southern city of Vík as the location where Black Sands was filmed.
Looking for more of the best in foreign TV?  Don't miss our other great reviews HERE!