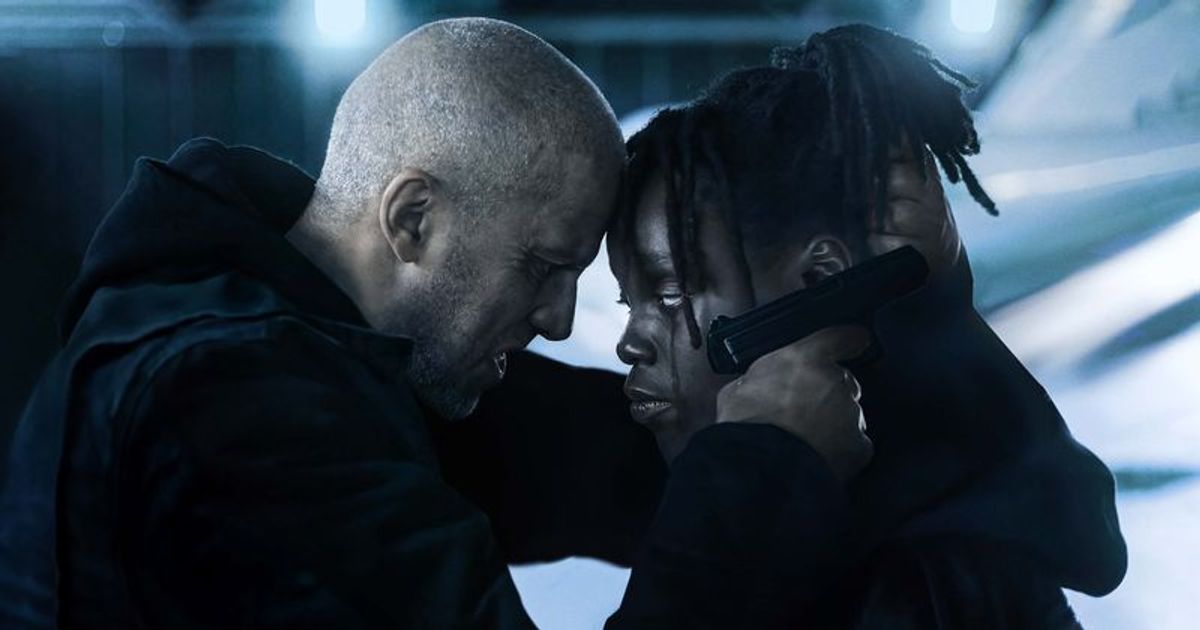 Ganglands (Braqueurs) season 2, on Netflix, picks up soon after the events of season 1. Belgian super thief Mehdi (Sami Bouajila) and his protégé Liana (Tracy Gotoas) are holed up in a run-down trailer, preparing to leave for Canada after one last job. Together with Mehdi's childhood friend and crime partner Tony (Samuel Jouy), they will steal a batch of diamonds that will set them up for life. During the job, Mehdi wounds Javier (Marvin Schlick), the son of a Venezuelan cartel boss. A South American contingent, led by consigliere Almeida (Joaquim de Almeida) shows up and wreaks havoc before Liana, Tony and Mehdi can get out of town. In order to fend off the cartel, the gang has to team up with former enemy Saber Djebli (Salim Kechiouche). Ganglands season 2 is as nail-biting as season 1, with an added sense of dread as our heroes' departure date keeps getting delayed.
See our review of Ganglands season 1 here.
Liana, Mehdi and Tony
Liana and Mehdi have formed a father/daughter bond that confounds outsiders. "What is he/she to you?" people ask. "Everything" or "All I've got," they answer. Although Liana's friends don't understand why she would leave Brussels with Mehdi, she never wavers in her decision to do so. The reckless Liana of season 1 is gone; grown into a more thoughtful and considerate young woman. Mehdi lost his sister and niece in season 1, so Liana is now his only family except for Tony, who has a wife and three kids of his own. Turns out that Tony and Mehdi met in the projects when they were 12 years old, and have been partners in crime ever since. Their loyalty to one another is rare among criminals. "I wish I had a Tony," Saber Djebli tells Mehdi. Don't we all.
 For more recommendations of Belgian Crime Drama, click here.
The Plot
Ganglands season 2 isn't as confusing as season 1. There is only one enemy-The Los Soles cartel, who is trying to establish itself in the European drug trade. Javier was in the process of negotiating with the Djeblis as their European partner when he gets shot by Mehdi. With Javier in the hospital, the Don's right-hand man, Almeida, is sent to Brussels to straighten things out. In reality, the treacherous Almeida wants to take over the cartel by killing heir apparent Javier and blaming it on the Djeblis. He also has instructions to kill the guy who shot Javier, so Mehdi is on the run from the cartel too. Naturally, the only way to get the cartel off their backs is for former enemies Mehdi and Saber Djebli to team up. But can they trust each other?
To see our recommendations on Netflix, click here.
Our Take on Ganglands Season 2
Ganglands season 2 is as much of an adrenaline rush as season 1. The stakes are higher, now that our heroes can see light at the end of the tunnel, and the threat is credible. It's beautifully shot and the action scenes are amazing. However, there is a feeling of repetitiveness to it. And Tony, Liana and Mehdi are presented as all good. They aren't anti-heroes; they're heroes; and that's a little disingenuous. But if you, like me, are up for bingeing a thrill ride with excellent performances, then Ganglands season 2 is for you.
Looking for more of the best in foreign TV?  Don't miss our other great reviews HERE!