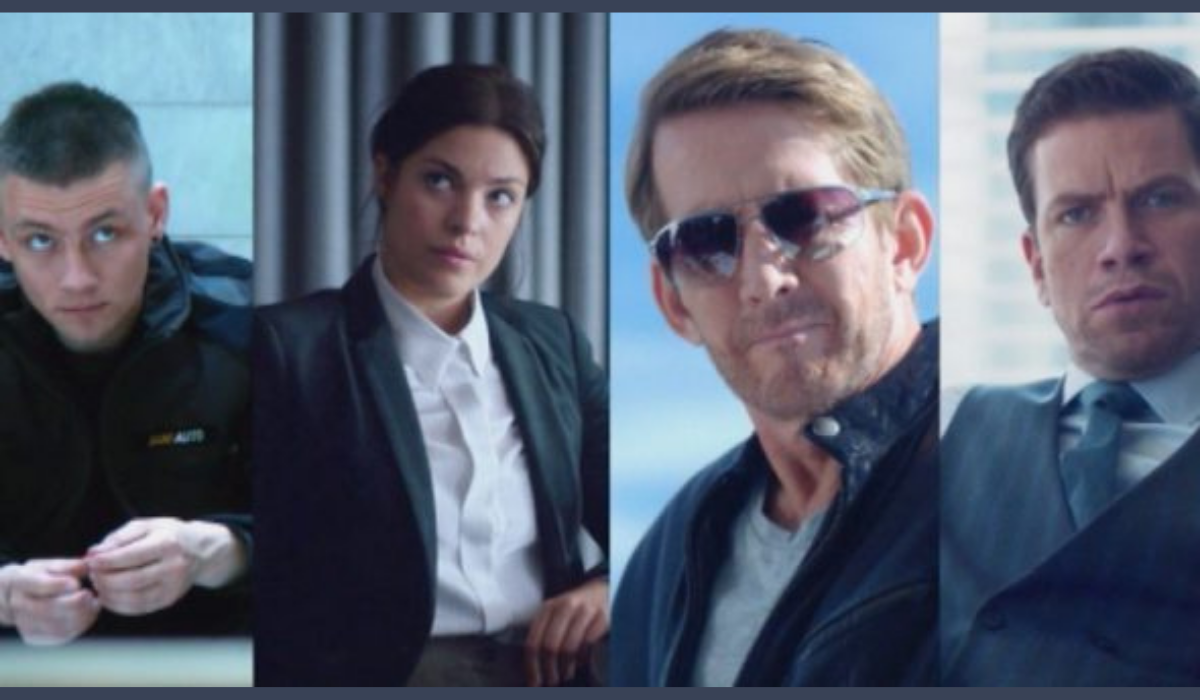 Follow the Money is a Danish series starring the usual suspects of great Danish actors. Currently playing on Topic, Follow the Money, or Bedrag, follows three main characters as they either perpetrate or fight fraud in Denmark's burgeoning renewable energy sector. When a dead body washes up on the shore near a windfarm owned by highly regarded energy company Energreen, homicide detective Mads Justesen (Thomas Bo Larsen) gets the case. As he investigates, he discovers illegal labor practices, which then leads him to a much juicier fraud case. Claudia (Natalie Madueño) is a junior lawyer at Energreen who makes a power move and quickly ends up as the senior legal counsel for the firm, a position that will soon test her ethics. Nicky (Esben Smed) is a retired car thief working as a mechanic to support his wife and baby, when he does one last job for his feckless friend Bimse (Lucas Hansen). When they boost a BMW from an Energreen employee, they discover 2 million Euros in the trunk. Naturally, they keep it, and as careful as Nicky is about keeping a lid on it, things go south.
The cops
When Mads starts digging around Energreen, he is expressly told to back off by his superiors. But when the Fraud department gets wind of Mads' interest in Energreen, they recruit him to help on their long-running case. His partner is Alf (Thomas Hwan), a veteran fraud detective who rides the line between following the onerous rules of traditional fraud investigation, and Mads' reckless and not-quite-legal tactics that get fast results. They're a good pair, and the procedural element of the show is satisfying. Meanwhile, Mads has a wife and two kids. His wife has MS, and when the series starts, she is in the middle of a flair up. Although he drops the ball in the way that typical TV cops do, he does a decent job of keeping the home life together. From the way the creators are developing his personal story, we can guess that his personal life and his professional life will collide in some way.
The Company
Energreen, which is the darling of the Danish renewable energy sector, is run by handsome and charming CEO Alexander "Sander" Sødergren (Nikolaj Lie Kaas). Sander is Machiavellian in his style of running the company, and he is determined to be a much larger player in the global renewable energy market at any cost. Energreen is under investigation for illegal trading, which involves cooking the books to make their company look more valuable than it is. Claudia is a young lawyer who out-maneuvers her superior by telling Sander that the they need to get in front of this fraud case immediately. Sander fires the current head of legal and installs Claudia in the position. She's thrilled, but quickly finds herself doing a lot of dirty work. In her personal life, Claudia is a divorced mother of a son. Her husband, who has primary custody because Claudia is a workaholic, is going to take their son to Paris for 2 years, which upsets Claudia but also leaves her free to work harder for Energreen.
 The Thief
Nicky is a likable guy who has turned his life around. He has a wife and baby, and works as a mechanic at his father-in-law's garage. We find out that he went to prison for stealing cars, but has been clean for a while, and is enjoying his life. Unfortunately, his wife is nagging him to buy a condo in a better neighborhood, which they can't afford. Fellow mechanic Bimse approaches Nicky with a job stealing a BMW from a jerky client, who happens to be one of the crooked traders at Energreen. Originally Nicky demurs, but eventually agrees to do ONE job. They steal the BMW, and in the process, find 2 million Euros in the trunk. Even though Nicky takes every precaution, like burying the money in the woods, not spending any of it right away, preparing to launder it, good old Bimse blabs, and trouble comes calling. I'm don't know how this will tie into the main story yet, but I'm sure it will.
Our Take on Follow the Money
Follow the Money is about ethics-corporate, government and personal. Where is everyone's line in the sand? As much as we like Nicky, he couldn't have actually thought that Bimse would make a stable, trustworthy partner in crime, right? Surely Claudia could see that Sander would push her to do unsavory things. And Mads, despite having an ill wife and a boss that asks him to stop, jumps headlong into a situation that is guaranteed to tick off or disappoint the people he loves. Although financial fraud may sound dull, the story is compelling. Renewable energy seems ripe for corruption, with all the government subsidies floating around, and Sander is a master at working the players against each other. The pacing is relatively slow, mostly because the creators are taking time to develop the characters. As we move along in the series, the dread steadily builds. I've seen posts on social media by people looking for a show they can sink their teeth into, and Follow the Money is it.
Note: As of this post date, you can catch all three seasons of Follow the Money on Topic
Looking for more of the best in foreign TV?  Don't miss our other great reviews HERE!