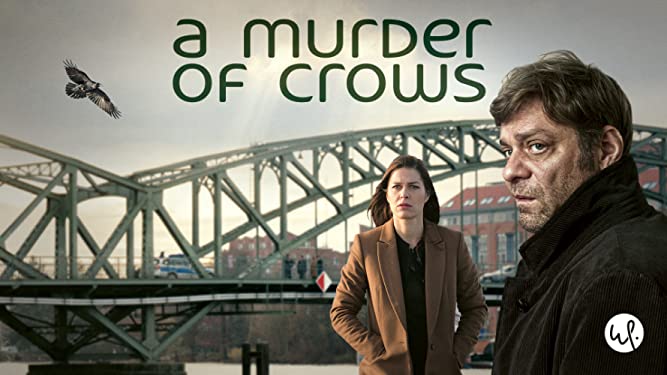 The German series, A Murder of Crows, on Walter Presents USA, are actually 90-minute episodes that each focus on one case. As such, in German, the titles are "Der Kommissar und Die …" which translate into "The Inspector and the X." This season is "The Inspector and Jealousy" (eifersucht). Each episode's theme is reflected in several plot lines of the show. As of now, there are 2 series, and three episodes total. Although I have not reviewed season 1, you can use this review to determine if you'd like to watch it.
Der Kommissar
Chief Inspector Martin Brühl, embodied perfectly by Roeland Wiesnekker, finds missing kids. He is extraordinarily empathetic, which is both a talent and a curse.  He tends to absorb his cases, not sleeping or eating until they are done. At times, he goes too far, insisting that the obvious solution is not the right one, although in his defense, he is usually correct. In season 1, Martin was still reeling from an unsolved case 2 years previous, and when a child is kidnapped from his bed, it triggers Martin's demons, causing him to almost fall apart. In season 2, however, Martin seems better, or at least the show is jettisoning that topic. Martin's girlfriend is Susanne (Meike Droste), the pragmatic police psychologist on his team. She tries to keep Martin from going off the rails during cases.
 Do you love German crime drama? Click here for more suggestions.
The Case
In A Murder of Crows season 2, Martin and the team are called to a playground where a young mother (Stephanie Amarell) insists that her son was kidnapped when she ran upstairs to get a jacket. But something is wrong. She is a bit disheveled. "Where are his toys?" Martin asks. Suddenly a man shows up, Tobias Ritter (Jacob Matschenz), and explains that the woman, who is his sister Dina, has recently been released from the mental hospital. She had gotten pregnant at 15 years old but lost the baby. "There is no baby," he says. But Martin isn't convinced. While it's clear that the boy wasn't kidnapped that day, there is something about Dina that makes Martin wonder if Tobias is telling the whole truth. Susanne implores him to let mental health services handle it, but he can't drop it. Meanwhile, Dina has been showing up outside the Sachtleben family's home trying to lure their 4-year-old son Emil, whom she calls "Benji", to come to the fence and see her. I thought I knew the solution to the case but I wasn't quite right, which bodes well for the series.
 Click here to see what else is on Walter Presents
Our Take on A Murder of Crows
A Murder of Crows is a beautifully shot, well-produced show. While I like that the series has a specific focus on finding kids, there are still some tropes to contend with. There is the tortured detective, naturally, and the boss/team that always doubts the detective's theories or hunches. And of course, missing children in itself is a trope, but it's not used gratuitously here. In season 1, Martin seemed a little bit like the "magical" detective, but in season 2, that goes away. We actually see the police work that leads to his crime-solving theories. "Jealousy" is the strongest episode of the three, so if you want to skip season 1 altogether, you could.  That being said, there is something about Roeland Wiesnekker's face that is extremely compelling, and it's fascinating to watch him work. I frankly wish there were more episodes. If you are looking for a solid show that is a very short commitment, A Murder of Crows is for you.
You can find Walter Presents selections on the PBS Masterpiece streaming service, Roku or Xfinity1.
Looking for more of the best in foreign TV?  Don't miss our other great reviews HERE!