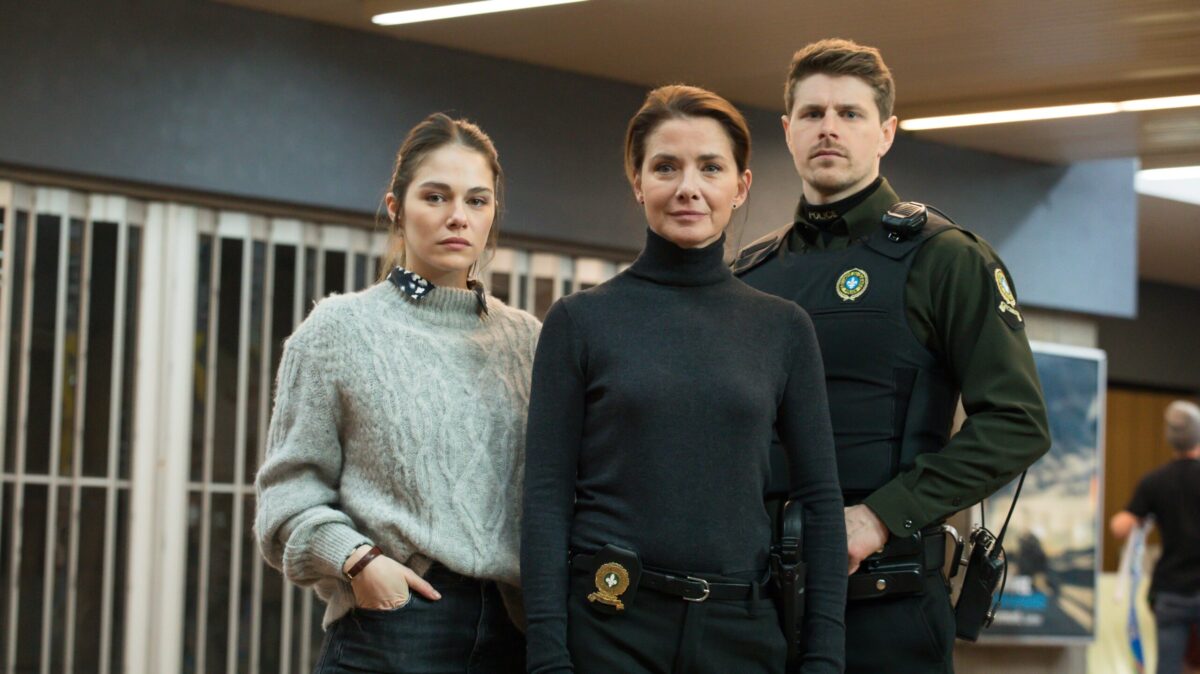 The Wall, a French-Canadian series on Walter Presents, is set in Fermont, a far northern mining town, where there is not really a wall, but more like a settlement. It's freezing and snowy, people get around by snowmobile as much as cars, and most residents work for the local mine. When a local stripper is found dead, stuffed in a heating duct, Detective Sergeant Céline Trudeau (Isabel Richer) is sent up from Quebec City to investigate. Céline is paired up with Boy-Scouty detective Alex Théberge (Alexadre Landry), who almost immediately falls for Céline, even though he is married, and young enough to be her son. Once the team starts digging around, Céline thinks they have a serial killer on their hands, which nobody wants to hear, especially the owner of the mine, Jules Ricard (Marc Messier), who is waiting for a government grant to be renewed.
Céline's Theory
The most obvious suspect is Bruno, the violent father of a child who was found dead under mysterious circumstances a few years earlier. Turns out Bruno was in love with Justine (Mélanie Langlais), the stripper, and he was also known to beat his son. But Céline doesn't think Bruno did it. The way Justine's body was found, with a Chinese mask affixed to her face, signals a more twisted motive than basic jealous rage. When the coroner tells Céline that Justine died of carbon monoxide poisoning, just like Bruno's son, she insists the cases are connected, and that there will be more victims. This is not welcome news, and she is not given additional resources from Quebec City, so she and the small-town team have to find the killer before he strikes again.
The Mysterious Céline
Like most TV detectives, Céline is talented, but damaged. There is something predatory about her. She doesn't flirt with Alex as much as beguile him to fall for her. And she has no apparent guilt about swooping into town, seducing the local married cop, and leaving once the case is over. In this way, she reminds me of DCI Stella Gibson (Gillian Anderson) in The Fall. Céline doesn't understand why she was assigned to this case, until she crosses paths with her estranged daughter, Sophie (Maripier Morin), who wants nothing to do with her mother. This is an unpleasant surprise for both women, especially when Céline discovers that her supervisor knew Sophie was there. Sophie is now married to the mine owner's work-shy son Louis-Philippe (Jean-Philippe Perras), and they have a baby, but apparently, she was a drug addicted stripper in the past. She is overtly hostile toward Céline, who takes it in stride. There's definitely a story there, which adds to Céline's mystique.
Our Take on The Wall
Although The Wall is Canadian, it definitely has a Nordic Noir feel to it. Certainly because of the setting, but also because of the twisted nature of the crimes. There are the standard small-town characters: ex-wives, sneaky teens, creepy store owners, stressed out business people, self-interested government officials, earnest but inexperienced cops. Although she may not be likable per se, Céline is an interesting protagonist. The show is a pretty typical procedural, with several red herrings, but the crimes, and their resolution, are more interesting than usual. My only beefs are that the story with the teens is kind of a waste of time, and that the last episode gets silly, but other than that, The Wall is compelling noir.
You can find Walter Presents selections on the PBS Masterpiece streaming service, Roku or Xfinity1.
Looking for more of the best in foreign TV?  Don't miss our other great reviews HERE!