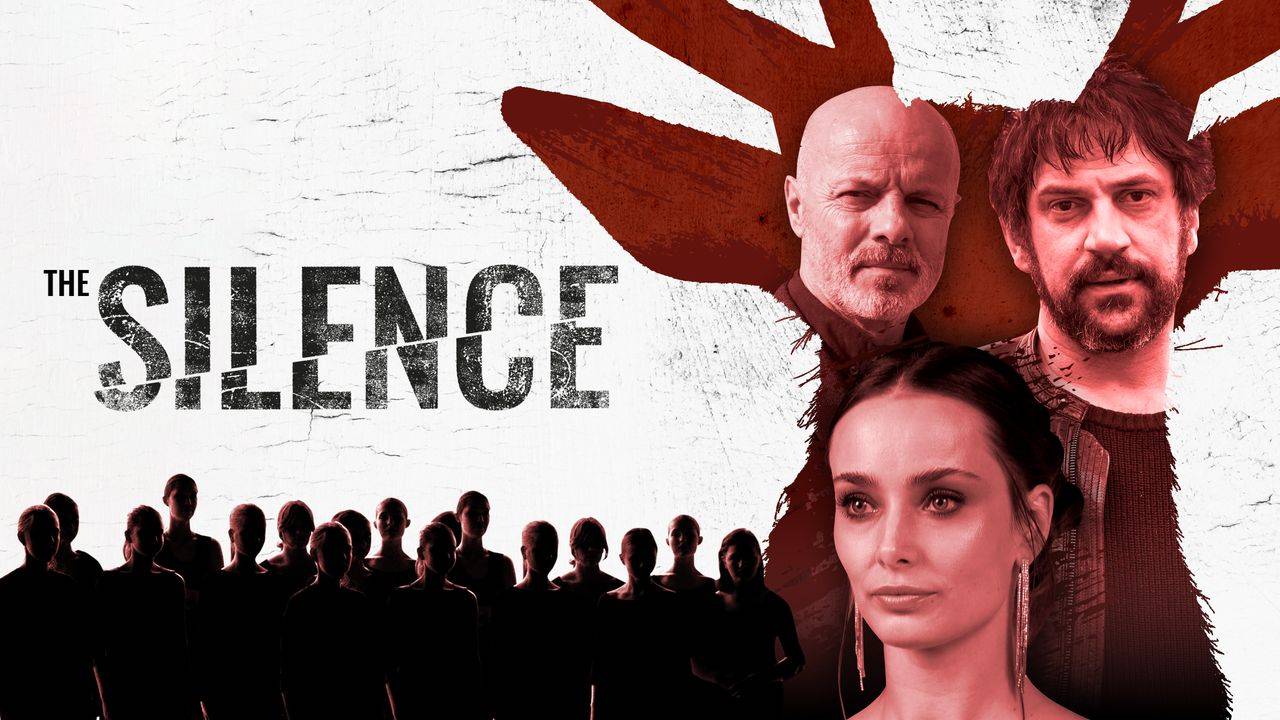 The Silence is a Croatian series on the Topic channel based on true events uncovered by journalist Drago Hedl.  The series opens, like so many do, with the discovery of a young woman's body. She is found on the bank of the Drava river in Osijek, Croatia. Soon, a second body turns up. Neither have ID, and nobody seems to know them. Meanwhile, in Kyiv, Ukraine, Olga Romancenko (Kseniya Mishyna), the Ukranian wife of Croatian businessman and politician Ivan Horvatic (Leon Lucev), is hosting an event for her foundation that helps young girls in Eastern Europe get an education and escape poverty. While in Kyiv, Olga finds out that her niece, Katja, is missing. As she frantically searches for Katja in Kyiv, Ivan has to give her the bad news that Katja's body has been found in Croatia-she is the third victim.  Meanwhile, journalist Stribor Kralj (Goran Bogdan) is looking for a story. When he hears about the young girls' deaths, he starts investigating, creating a love-hate situation with the cops. Croatian detectives Vlado (Darko Milas) and Vesna (Sandra Loncaric) land the case, but are looking at the wrong suspect. The truth about these murders is much darker than they think.
Read our review of Croatian series Uspjeh here.
The Characters
Stribor, who is based on Drago Hedl, is a likable guy. He is scruffy, broke, talented, and happily married to the kooky Lana (Tihana Lazovic). He works part time for the Osijek paper. When he finds out Lana is pregnant, he asks for a full-time job, but they don't have the resources, so he reaches out to the Zagreb daily and promises to give them sensational exclusive stories about the murders. As the investigation progresses, to appease his editor, Stribor must publish things that make him uncomfortable. Vlado is divorced, living in the world's saddest bachelor pad, and doting on his dying mother. His head isn't quite in the game. When Stribor approaches him with important information in exchange for access to details of the investigation, he agrees, but it's a tense relationship. Meanwhile, his chief is pressuring he and Vesna to pin the murder on the old man who found the first victim. Olga is a beautiful woman who left her sister and niece in Kyiv to marry Ivan, who is running for interior minister of Croatia. Ivan and Olga are happily married, but once details come out about how the girls died, and how they got from Ukraine to Croatia, their relationship starts to suffer. Ivan clearly doesn't want any scandal around him during election season, but Olga is fiercely determined to find out what happened to Katja, even if it means taking down some of Ivan's business associates.
See what else we recommend on Topic here.
Our Take on The Silence
The Silence (Zlomovchannya) is engaging and well-developed. Each protagonist has a conflict and a ticking clock. The story of what happens to the girls is upsetting, especially when we see how they are recruited in Kyiv. The fact that The Silence is based on real events gives the series some gravitas. But here is my beef. WHY doesn't anyone suspect sex trafficking until the middle of the season? It seems that they would think of that immediately. When Olga goes to Kyiv for her event, the foundation chair has some of the young teen "hostesses" dressed in black, with full makeup. "Absolutely not," says Olga. At the event, she clocks the older men looking lasciviously at the young folk dancers. So, it's frustrating that she and other characters seem surprised when the trafficking ring is exposed. The other complaint I have is that the police chief is both ham-fisted and ridiculous. Because of the upcoming election, he is determined to pin the murders on a hapless war veteran with PTSD, despite having no evidence. It takes Vlado and Vesna too long to push back on that. Despite these complaints, I enjoyed the series, and both the creators and the actor Leon Lucev do a great job of keeping the audience wondering if Ivan is a bad guy or not. The Silence is a well-made, satisfying series that I recommend.
Looking for more of the best in foreign TV?  Don't miss our other great reviews HERE!