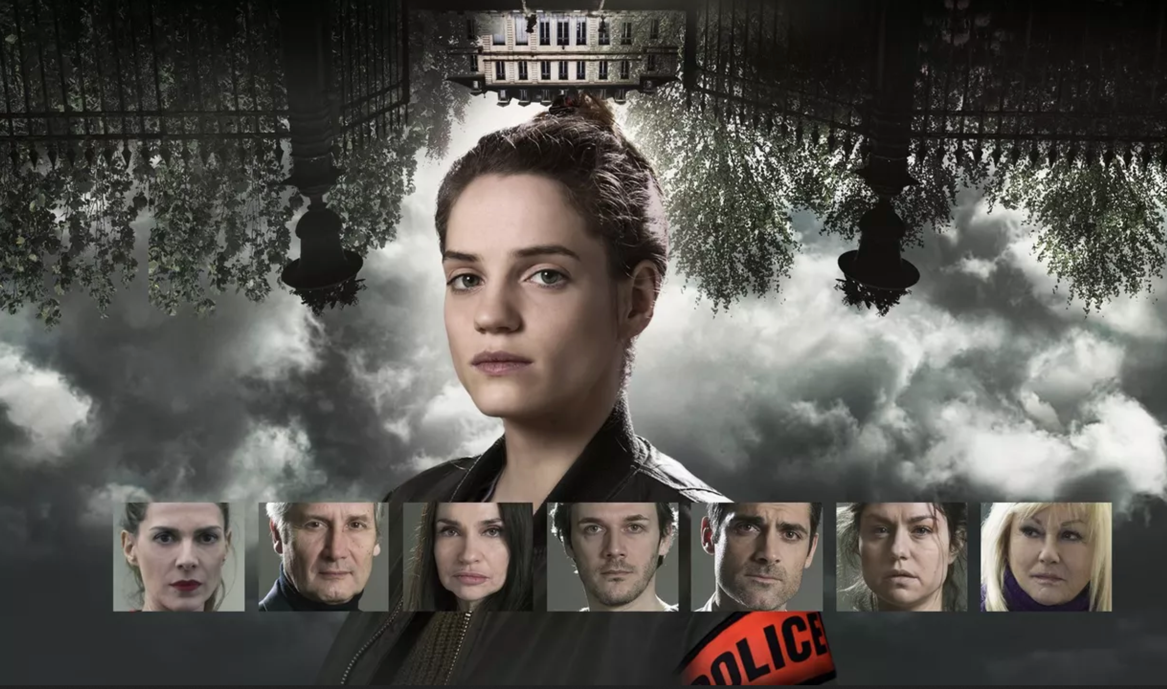 Inside is an engaging French TV series on Walter Presents about Lieutenant Angèle Maury (Noémie Schmidt), a young detective leading her first case, which is the gruesome murder of a patient in a private psychiatric hospital. She lands the case because she has a knack for talking to the patients without agitating them. As she investigates, she is stymied by that pathologies of some of the patients-double talk, lying, manipulation, paranoid delusions, etc. In addition, the owners of the hospital, Raphaël and Alexandra Santi (Hippolyte Girardot and Judith El Zein) have secrets of their own. But Angèle doesn't give up. In fact, she becomes obsessed with solving the case, to the degree that she alienates her fiancé and ticks off her boss, played by the curiously casted Béatrice Dalle, who did a great job, but is working against type here. (Look her up and you'll see what I mean)
The Characters
Like many crime dramas, the murder that kicks off Inside is an entry into telling a character-based story. Throughout the series, we get to know several of the inmates, as well as the Santis. The victim was Ana (Fleur Geffrier), who was committed involuntarily by her mother because of suicidality. There is Valerie (Florence Thomassin), who suffers from erotomania, which isn't as fun as it sounds. Louis (Achille Ridolfi) is an autistic IT programmer who is incapable of lying, but is easily agitated. Arnaud (Jérémy Gillet) is a young man suffering from depression, which has deepened because he was close to Ana. Simon (Samuel Theis) is a concert cellist who checks in and out of the hospital as his bi-polar disorder dictates. Maxime (Grégoire Leprince-Ringuet) is an arrogant manipulator who is ostensibly there for drug rehab. Camille (Émilie Dequenne) is depressed and doesn't want to return home to her husband and kids. Guillaume (Scali Delpeyrat)) has paranoid hallucinations, and Rose (Mylène Demongeot) is clairvoyant, and is tired of being plagued by visions. The Santis are having trouble in their marriage, and there is a question of sexual impropriety between Raphaël and his female patients. Meanwhile, Alexandra is slipping out, spending the night away from home.
Angèle's story
Angèle is eager to get her first case, so it's a thrill when Commandant Favard gives it to her, and she is determined to solve it. Angèle's fiancé is Bastien (Antoine Gouy), who is a judge, and should understand what kind of strain detective work puts on relationships. Yet he is angry that Angèle isn't around and he puts pressure on her to stop working so hard. In his defense, once she gets embroiled in the case, it becomes clear that she's losing interest in being his wife. Unfortunately, the premise of Inside is that Angèle is possibly losing her mind as she works this case. This doesn't work at all. It feels artificially tacked on, and they didn't need to go there. The show is interesting enough without it, and her arc as a young detective discovering her talent and learning from her mistakes is solid.
Our Take on Inside
I really enjoyed Inside. I got invested in the characters, and the case was genuinely perplexing. It's a "locked room" mystery, and, happily, my prediction of the killer was wrong. The show took some surprising turns, although one plot point was totally predictable, but I won't spoil it here. I thought they handled the mental illness realistically, using the murder investigation to focus on the frustration and heartbreak that these disorders cause, rather than the "crazy".  If you are looking for a solid procedural with interesting character exploration, and you can ignore the premise that Angèle might be losing her mind, Inside is for you.
You can find Walter Presents selections on the PBS Masterpiece streaming service, Roku or Xfinity1.
Looking for more of the best in foreign TV?  Don't miss our other great reviews HERE!