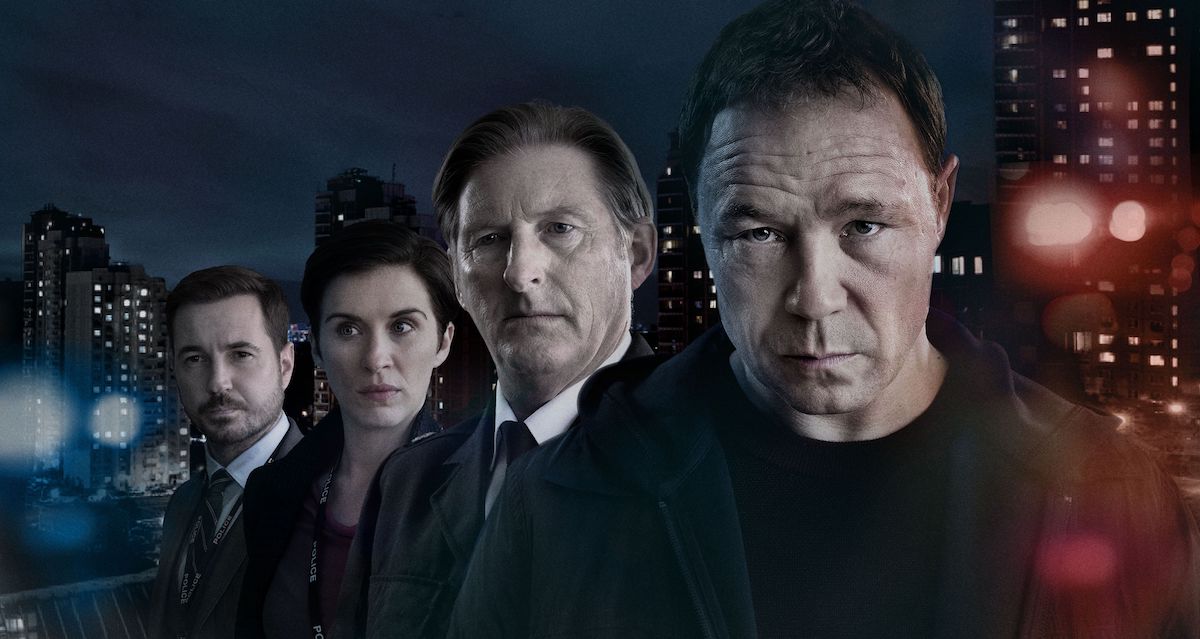 Line of Duty on Acorn TV follows DS Steve Arnott, DC (now DI) Kate Fleming, and Superintendent Ted Hastings, three members of the AC-12, which is an anti-corruption unit in England's Central Police. Each season takes on one corruption case, and the "bent copper" in question is often a well-known guest star. Season 5 features no less than Stephen Graham of Boardwalk Empire fame. In addition, there is a series long arc about corrupt police running organized crime, and with each season, our team gets closer to uncovering which top cop is at the helm. In season 5, Arnott and Fleming reluctantly begin to suspect their own guv, Hastings.
One of the most popular shows in the UK

Line of Duty is one of the most popular shows in Britain, and it's easy to see why. The plot moves swiftly, episodes end with cliffhangers, the guest stars are A+, and Hastings (played by Adrian Dunbar) is beloved for his melodic declarations of righteous anger. Arnott and Fleming are excellently played by Martin Compston and Vicky McClure, but the characters themselves are not exactly lovable. It takes a lot of backbone and a healthy ego to work in anti-corruption, because no one likes to see you coming. Arnott is famous for putting his foot in his mouth, especially with top brass, and Fleming is chilly, to the point of seeming heartless. But their friendship is warm, and we grow to love them and their foibles.
Season 5 goes a little deeper
The format of Line of Duty is that the audience sees the activities of the corrupt cop while simultaneously watching AC-12's progress against them. It's usually an open and shut case. In season 5, however, the suspect is an undercover cop (Stephen Graham) embedded with an organized crime gang, and his task is to find out which top cop (known as "H") is helping the gang succeed with hijacking illicit goods seized by police in drug and other busts. Graham seems bent because he hasn't been in touch with his supervisor in a long time. But he swears to Arnott that the reason he has been silent is because leaks to "H" keep interfering with his undercover work, so he had to go rogue, but he is very close to routing out "H". Arnott is deeply conflicted about this, and so is the audience. Graham is fantastic-he has such charisma and plays the lead of an organized crime gang so well that it really is tough to tell whose side he is on. Especially when we see him cross the line a few times. It's Graham that points to Hastings, and while Hastings is acting suspiciously, the show is careful to set up several legitimate reasons for that.
A Return to form
I love this show, although season 4 was plagued by some scenery chewing by Adrian Dunbar and some credulity straining plot points. Season 5 is back to form, but I do have two beefs. One is that they are working really hard to make Hastings seem suspicious, which is leading him to do some out-of-character stuff. The other is that the "H" plot is confusing. Part of the reason is that they are talking about cops from all 5 seasons, and it's just too hard to remember who all these people are and what they have done. But really, who cares? I'm all in on the main questions of the season, which are "Is Stephen Graham corrupt or not?" and "Is Hastings 'H'?", and you will be too. By the way, Line of Duty is a show where it really helps to understand what all the DC, DI, DS type acronyms mean, and if you haven't already, you can read our article about that here.