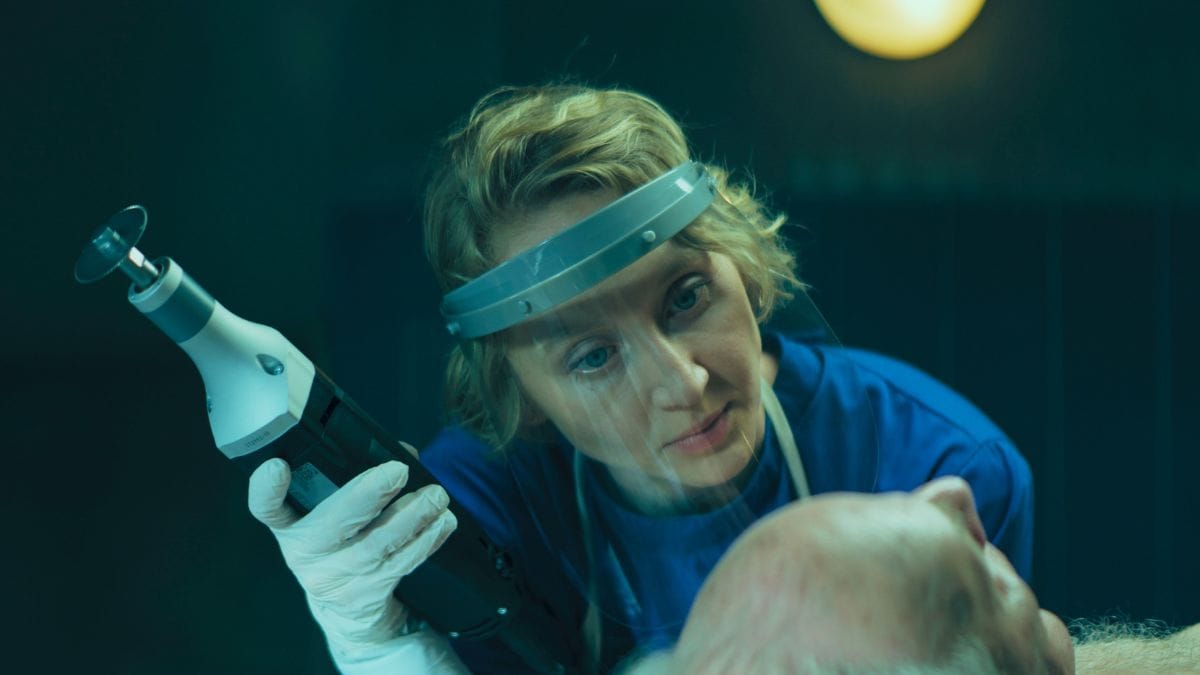 Woman of the Dead (Totenfrau), is an Austrian thriller on Netflix about a woman, referred to by her last name, Blum (Anna Maria Mühe), who is a wife, mother, and owner of a funeral home that she inherited from her parents when they died. Her husband Mark (Maximilian Krauss) is a cop. One morning, as she waves him off to work, Mark gets killed by a hit and run driver. When the police aren't finding any answers, Blum decides to investigate his death on her own. What she discovers is unimaginably ugly. Fortunately, her husband was on the right side of it all. Enraged and disgusted, Blum takes matters into her own hands, exacting revenge as she searches for her husband's killer.
Woman of the Dead is based on a trilogy by Bernhard Aichner (affiliate link)
Blum
Blum lives adjacent to her funeral home with Mark, her two kids and her father in law, Karl (Hans-Uwe Bauer). Her assistant is Reza (Yousef "Joe" Sweid), who we learn was a refugee caught stealing by Mark and given a second chance. When Mark dies and Blum starts acting strangely, such as riding Mark's rebuilt motorcycle and staying up all hours of the night, both Reza and Karl are suspicious. What's interesting about Woman of the Dead is that Blum is introduced as a respectable local business owner, but as the series goes on, and she becomes more unhinged, we realize that she may have been a bit "off" all along. In one of the first scenes, she decides to cut a few inches off a dead man's legs so he can fit into a more affordable coffin. That's kind of sweet and quirky. But later her quirks become more alarming. Starting in episode 3 (of 6), we get flashbacks to her unsettling childhood growing up in the funeral home.
For more German Language Crime Dramas, click here.
The Plot
The setting is a ski resort town in the alps, near the Austrian border. A powerful local family, the Schönborns, are trying to buy up land in order to connect their two ski hills. They seem a little shady right from the get go. Mark's partner, Massimo (Felix Klare), has a thing for Blum, but out of respect for Mark (and presumably his own wife), Massimo sublimates his passion. When Mark dies, and Blum recruits Massimo to help her, this becomes a complication. I don't want to spoil anything, so all I'll say about what Blum discovers is that it has to do with Men Doing Bad Things. As you would expect, the men are respected members of the community, and Blum is determined to bring them down.
 To see what other foreign crime dramas we recommend on Netflix, click here.
Our Take on Woman of the Dead
This is not a cozy British "small town has lots of secrets" series. Woman of the Dead is darker, funnier (if you have a dark sense of humor), and features an unreliable narrator. Is Blum a bad-ass vigilante, or is she crossing serious moral lines? Each episode ends on a major cliffhanger, and there are some gasp inducing moments. After four episodes, I think I know where this is going, but I could be wrong. I'm definitely curious to see just how far Blum will go to exact revenge. And what happened in her past? If you like a swiftly paced thriller that takes unexpected turns, Woman of the Dead is for you.
Looking for more of the best in foreign TV?  Don't miss our other great reviews HERE!