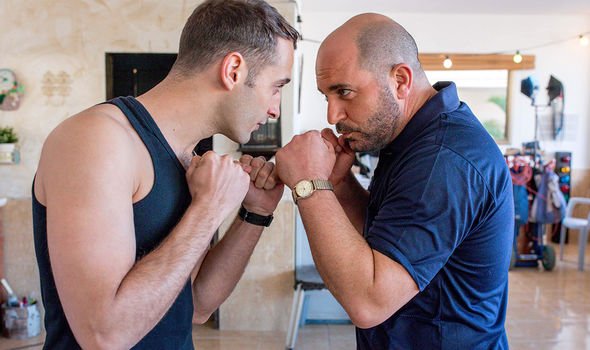 Fauda season 3 picks up 6 months after the events of season 2. Israeli Defense Force agent Doron Kavillio (Lior Raz) is undercover in the West Bank, edging closer to a young Hamas terrorist. The action starts when a group of Hamas operatives from the Gaza Strip sneak into the West Bank to create a footing for high ranking Gaza terrorist Abu Mohammad (George Askander). Apparently, this crossing from Gaza to the West Bank is unusual, and unusually bad news for Captain "Gabi" Eyov (Itzik Cohen), who brings Doron's team back together to root out this unfamiliar menace in the West Bank.
Doron's Dilemma
Doron is posing as a boxing coach, and his charge, Bashar Hamdan (Ala Dakka), is the cousin of Fauzi (Amir Khatib), who is rising up the ranks in Hamas through executing increasingly chaotic terrorist attacks in the West Bank. Meanwhile, Bashar's father, a beloved and famously tight-lipped Hamas resistance fighter, is being released from prison after 20 years. Doron is understandably reluctant to meet Bashar's father, as he is about to turn Bashar into an unwitting collaborator in finding Fauzi. Throughout the season, Doron's guilt at his betrayal of Bashar, of whom he was genuinely fond, wreaks havoc with the team because his mission (save Bashar) is different from the team's mission (capture Abu Mohammad).
Who is Back in Fauda Season 3?
Doron is in a dark place. His son won't talk to him, he has no real home, and he is still reeling from the losses in season 2. The team is his family: Steve, Avishai, Eli, Sagi and Nurit. When the season starts, Nurit (Rona-Lee Shim'on) has retired, and is engaged to a nice young civilian, much to Sagi's despair. Steve (Doron Ben-David) and his wife have a colicky baby, making Steve grateful to be on duty again. Eli (Yaakov Zada Daniel) is in charge of the team, dispatching from the war room overseen by the well-connected Captain Gabi Eyov. Sagi (Idan Amedi) is a young hot head in love with Nurit, and Avishai (Boaz Konforty), their top-notch sniper, is a family man. But this season the story really belongs to Bashar Hamdan, whose happy days of boxing and hiding an inappropriate girlfriend are abruptly ended when his association with Doron lands him in hot water with the fanatical Abu Mohammad. When Bashar's father, Jihad (Khalifa Natour), steps in to try to redeem Bashar, he ends up making things worse. Sadly, this becomes the story of how a young man gets radicalized in Palestine.
Nothing New Here
Unfortunately, the events of Fauda season 3 are repetitive of earlier seasons and therefore season 3 lacks emotional heft. We saw the radicalization of a young man in season 1 with sweet-then-scary Walid (Shadi Mar'i), a more realistic and fanatical leader than Bashar ever could be. We've already seen the team fight terrorists, succeed against suicidal odds, and lose people they love. What stands out this season for me is how futile the team's efforts are. Wherever they kill a terrorist, another one arises, and the collateral damage of their methods ends up radicalizing a new generation of young Palestinian men. And you can see why. Deceiving their collaborators, making promises they know they can't keep, menacing family members, then apologizing over and over again for the destruction they have wrought on peoples' lives is bound to have dire consequences. But that's one thing that is great about Fauda-it's not afraid to show the ugly side of Israel's role in the conflict. And this two-sided view has led to its massive popularity in its home region. Even though it's 2 episodes too long, and I wasn't as emotionally involved as I was in season 1, Fauda season 3 is still gripping television, and I did binge it, but I just don't see where it can go from here.
Looking for more of the best in foreign TV? Don't miss our other great reviews HERE!