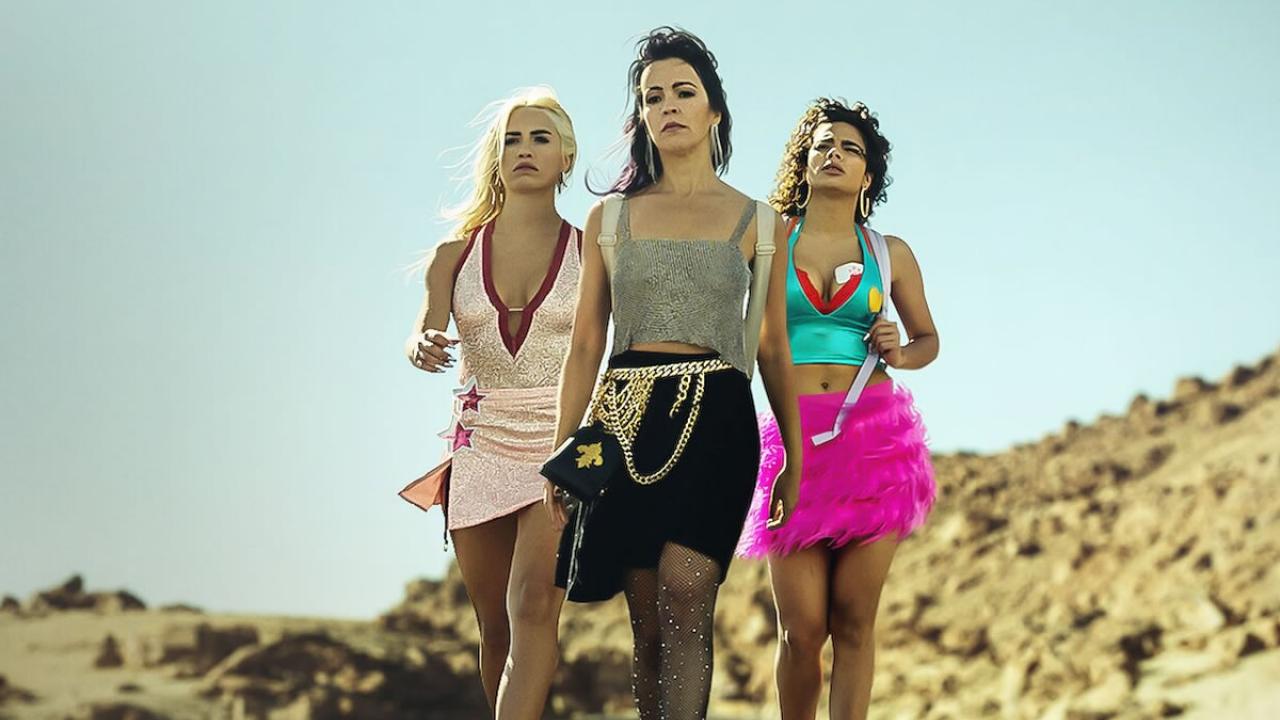 Sky Rojo, an over-the-top Spanish series on Netflix about 3 hookers on the run from their violent pimp, isn't for everyone. And women especially will have ambivalent feelings about it. It was created by Álex Pina, the man behind Money Heist, and if you have seen that series, then you know the frenetic pacing, addictive plotting, sexy cast, and slick production values that comprise Sky Rojo. Yet, it's a show about sex trafficking. So, while I admit it was hugely entertaining, and I binged all eight 20-minute episodes in one sitting, I feel kind of queasy recommending it. Because, despite the tragic backstories and frank dialogue about the type of sex that hookers have to endure, Sky Rojo does glamorize sex work. This is not an exposé or realist drama; the girls are gorgeous and healthy, the bad men are hot, the club is pumping, and the camera angles are flattering. If that will make you furious, this show is not for you.
The Ladies
Las Novias is a flashy nightclub on Tenerife, a Spanish island off of Morocco which draws millions of tourists each year. The owner, Romeo (Asier Etxeandia), employs 30 girls as glammed up hookers, and they are not allowed to leave the club, where they both work and live. On the day of Romeo's wife's funeral, Gina (Yany Prado) makes the mistake of asking to quit. She has saved up the money she owes Romeo for "getting her set up", and she wants her passport back. Instead she gets stabbed. When Wendy (Lali Espósito) comes in and sees the situation, she attacks Romeo, who bashes her head against the wall. Finally, Coral (Verónica Sánchez) walks in and smashes Romeo with a vase and kills him. The girls take off. As they frantically try to avoid Romeo's men on the island, we learn their stories. Gina is Cuban, and she was tricked into coming to Spain to be a "waitress" by Moisés (Miguel Ángel Silverstre), Romeo's right-hand man. Wendy is Argentinian, and she came to the club to earn money for a better life. Coral is the anomaly. She has a degree in biology. When she arrives at the club, she looks like a soccer mom. We don't know why she is there, but we do know she has a nasty suburban pill habit, like Nurse Jackie.
The Men
Moisés is Romeo's top guy. He's calm, detached, and will use violence to keep the girls in line. His brother Christian (Enric Auquer) works with him. Christian is a jumpy addict with a slippery moral compass. The two of them, who love Romeo like a big brother, take off after the girls. Meanwhile, turns out Romeo didn't die! He's severely injured and majorly ticked off, and he requests that Moisés and Christian bring the girls back in one piece. Easier said than done. As the series progresses, we learn that there are complicating factors here. Specifically, love. Again, if you've seen Money Heist, you know what I'm talking about.
Our Take on Sky Rojo
As I mentioned, I'm on the fence about this one. Even though Romeo shows his soft side, he's a bad dude. He and Moisés basically kidnap girls from all over the world and force them into sex work. The show is explicit about how men exploit women, and how unhappy the women are about it. But it's also a revenge fantasy, and the story of women taking back their power, in admittedly bonkers ways. It's fun and has an amazing soundtrack. Which brings me to this analogy. One of the songs they use is "S.O.B" by Nathaniel Rateliff and the Night Sweats. It's one of the catchiest songs you'll ever hear. The chorus goes, "Son of a bitch! Give me dri-i-ink." You'll find yourself singing along. And then you get to the line, "If I can't get clean, I'm gonna drink my life away." Oof. Now we're talking addiction, and it's no longer fun. The song wraps a deadly serious subject in New Orleans style party music. That's how Sky Rojo is. I enjoyed it, but felt guilty about doing so.
Looking for more of the best in foreign TV?  Don't miss our other great reviews HERE!