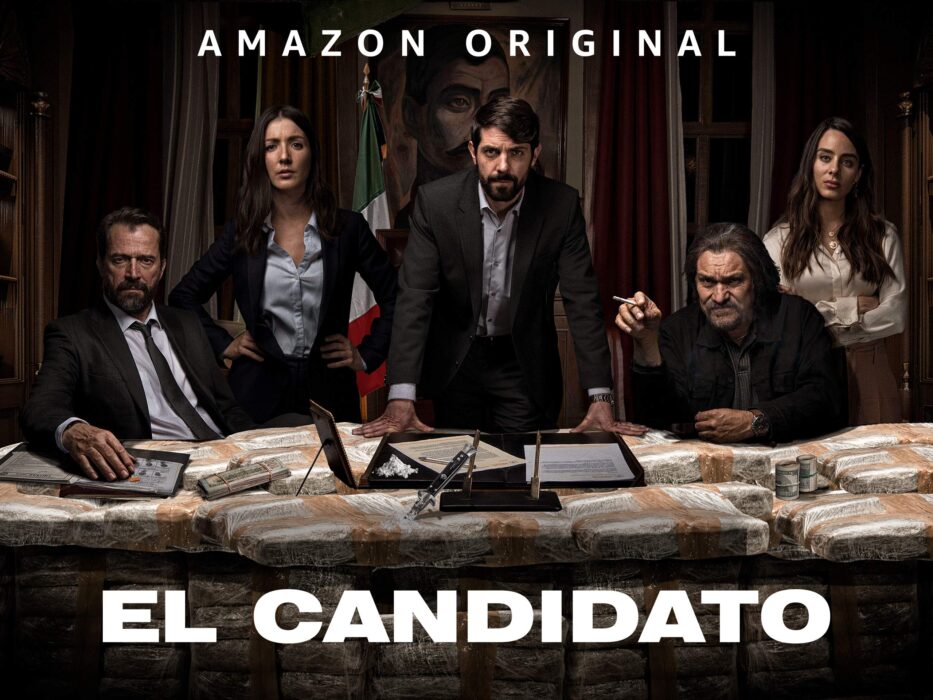 El Candidato, a fast-paced and twisty Mexican series on Amazon Prime, is about an off-the-books CIA operation to take down the Guerrero cartel in Mexico. The series opens with Mexican-American CIA analyst Isabel Alfaro (Eréndira Ibarra) arriving in Mexico City from the US to work in the field. Unfortunately for her, she works for Wayne Addison (James Purefoy), a grizzled veteran agent who is way past his prime. Soon Isa discovers that Wayne is operating under their boss's radar, and that she was recruited because she is the ex-girlfriend of Mayor Yzaguirre (José María de Tavira). Her task is to reconnect with him and uncover suspected ties between him and the Guerrero cartel, fronted by ruthless killer Rafael Bautista (Joaquín Cosio). While it sounds like a story you've seen before, there is a complexity to the plot, the political issues and the relationships that make El Candidato must-watch TV.
Wayne and Isabel
Wayne's first words to Isabel are "What the fu$k are they teaching you dipshits these days?" The day goes downhill from there. Wayne is a superstar veteran agent who is the deputy chief of station of Mexico City. Isabel is an idealistic desk jockey just released into the field, excited about her promotion. It's a bummer of a welcome. And to be honest, it's a bit hammy. We get it-Wayne's jaded, Isabel is naïve, he wants to do things in a way that gets results, she wants to be more above board, etc etc. But after a few episodes, when she realizes he's right, and he discovers that she has some chops, they gain a grudging respect for one another. And thus, they become more likable. Fortunately, the show never moves in the direction of a romance between them.
The Actual Candidate in El Candidato
The candidate of the title is boy-scout mayor of Mexico City Eduardo "Lalo" Yzaguirre. The series opens with him on TV, telling the new US Ambassador that there will never be narco-terrorism in Mexico City, not while he is mayor. Bold words that come back to haunt him immediately. Meanwhile, Wayne leans on a reluctant Isabel to plant a bug in Lalo's house, because he is sure that Lalo is owned by Bautista, and has been for 10 years. According to Wayne, Bautista and Lalo are working the long con, prepping Lalo to become the next President of Mexico. As a disbelieving Isa worms her way into Lalo's life, we learn that he dumped her in the US 10 years ago, and they haven't spoken since. Although it crushed Isa at the time, she has moved on, and is able to form a tentative new bond with the married Lalo.
Our Take on El Candidato
What makes El Candidato better than your average Narco show is Lalo's story. He is the son of a progressive presidential candidate who was gunned down in front of his family at a rally. When he was with Isa in college, he was a fine artist, and now he is mayor of the largest city in Mexico. Is he tied to Bautista? And if he is, does he want to be? He definitely has secrets, such as the fact that he injects himself with something to keep from getting his wife, who wants kids, pregnant. As the series goes on, loyalties change, motives evolve and yet some things are politics-as-usual. Originally, I didn't love the casting of the Isabel and Wayne, but the performers grew on me, as did the characters. The Bautista character is interesting in that he is so superstitious that he doesn't make a move without visiting the pre-teen priestess who doles out protective spells, yet he is a brutal and manipulative tyrant. Although it's no Sicario (one of my favorite movies), which shares some of the same plot lines and character archetypes as El Candidato, I found the series gripping and binge-worthy.
Looking for more of the best in foreign TV?  Don't miss our other great reviews HERE!